September 6, 2014… the day the Big 10 no longer mattered.
Today started with so much promise for the once mighty football conference — #7 Michigan State had the chance to knock off  #3 Oregon, Michigan was the darling of ESPN College GameDay against Notre Dame and Ohio State was playing in prime time against Virginia Tech. There was talk of Michigan State or Ohio State having an inside route to the first ever college playoff if they pulled off wins today.
Well, things could not have gone worse for the conference. Not only did Michigan  get absolutely pounded 31-0 by the Fightin' Irish (the first time in their 42 game rivalry they didn't score), but Michigan State decided to not show up in the second half against Oregon losing 46-27. The icing on the cake — Ohio State was upset at home after being heavily favored to beat Virginia Tech. In total, the top three teams in the Big 10 were outscored 112-48 on Saturday.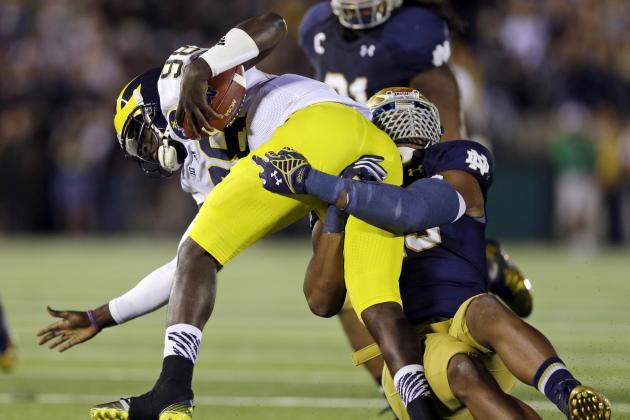 The rest didn't fare much better on day packed full of "cupcake" opponents: Central Michigan ran all over Purdue 38-17, Northwestern looked lost against Northern Illinois, Nebraska needed a last minute miracle to defeat McNeese State (where the hell is McNeese State??) and Iowa was losing to Ball State deep into the 4th quarter.
The Big 10 is officially approaching joke status. We're two weeks into the college football season and all 14 teams in the Big 10 are officially out of the running to reach the first ever college football playoffs. Pathetic.
This would have been unthinkable a few years ago. Michigan, Ohio State and Penn State used to be perennial favorites to win the national championship. Wisconsin, Iowa and Michigan State could hold their own against the top teams in the country. Hell, this is the conference that produced Tom Brady, Drew Brees and Russel Wilson.
What happened to this once great conference? The booster money and scholarships are still there. The rabid fan bases are still there. Legions of kids still grow up dreaming of playing in the Big House or the Horseshoe.
The only answer — the Midwest just doesn't produce good football players any more. Not saying they are awful, but the  players coming out of California, Florida, Texas and Alabama are just on a completely different level.
Will things ever get better for our beloved Big 10? I'm not optimistic. Even after bringing in the biggest names in college coaching the past eight years like Rich Rodriguez, Urban Meyer and James Franklin, these teams still can't compete against the likes of the Pac 12 or SEC.