If everyone could kindly focus on the dumpster fire that is the NFL's politics instead of the dumpster fire that were my picks last week, that'd be great.
Holy shit. Every game was pretty much exactly the opposite of what I expected. Went an abysmal 4 and 13 for week 3. Four picks correct. That's it. Wow. On the season, I'm 43% at 20 and 27.
Without further ado, let's move on from that shit and get into the picks for week 4 and a few fantasy tidbits for your edification.
Chicago (+7) @ Green Bay
So week 3 saw Chicago get their first win against the Steelers (more on that later), while Green Bay needed a tremendous comeback to earn the W over the previously awful Bengals. As I always say, a win is a win, and that win for Green Bay was a tough one. It was one that saw Aaron Rodgers do Aaron Rodgers shit and ultimately lead his team to a win in a tremendous effort.
Jordan Howard has been a huge revelation, putting up gaudy numbers on a pedestrian Bears offense. He's so good that he's getting his when everyone knows he's the only one they have to stop.
The Pick?
If this were in Chicago, I'd be tempted to go with the Bears. They beat the Steelers and also played the Falcons very tough. But it's in Green Bay, and the Bears got smoked by the Bucs on the road. Green Bay needs a game where they start strong, so I'm looking for them to come out at home focused and cruise to victory on Thursday night.
PACKERS
New Orleans (in London) Miami (+3)
So the Saints defense was a sieve for two weeks, and suddenly they stymied Cam Newton to the tune of 167 yards, three picks, and four sacks. That effort allowed them to easily handle the Panthers. The Drew Brees machine rolled on and now we're wondering if the Saints have found something defensively.
Meanwhile, Miami had a brutal day. A week after showing some mental toughness in beating the Chargers on the road, they went to face the lowly Jets and got smoked. Were it not for a touchdown on the final play of the game, that offense would've been shut out. Under no circumstances should a team stacked with talent at the skill positions like the Dolphins be shut out, especially against the fucking 2017 Jets!
The Pick? 
Well the Saints are going to score, but are the Dolphins? We don't know. No one knows. Now we have to decide whether or not we want to play Jay Ajayi and Devante Parker, when a week ago they would've been RB1 and WR1 against the sieve Saints.
SAINTS
Pittsburgh @ Baltimore (+3)
Well Pittsburgh is currently a shit show thanks to the attention they paid to the political situation last weekend. Former Army Ranger and veteran of three terms in Afghanistan Alejandro Villanueva was the only one to emerge from the tunnel, and earned a rebuff from coach Mike Tomlin. It's understandable Tomlin was pissed his team didn't do what he expected, but he looks like a fucking asshole now. On what planet does Tomlin think it's OK to be critical of a guy with the credentials of Villanueva when it comes to the flag? The fallout was enough for Ben Roethlisberger to come out against the Steelers' decision to stay in the tunnel, and now we have a fucked up situation in Pittsburgh this weekend.
The Pick?
When shit like this happens, a team either unites around the chaos or they fracture and lose their way. Villanueva is doing his part of an amazing leader, taking the blame for the ordeal. It's inconceivable Tomlin wouldn't come out and apologize. If I'm on that team, I've lost all respect for Tomlin and it's a legitimate problem for me. With that said, no fucking way I'm picking Pittsburgh. Even though Baltimore is the lesser team, I'm banking on some disgruntled players and waiting to see how it shakes out.
RAVENS
Carolina (+8.5) @ New England
Two squads trending in opposite directions. Tom Brady is 40 and threw 378 yards and 5 touchdowns. Dude hasn't even thrown a pick this year and he's 40. He's forty! It's unreal how good Brady continues to be, and he's got this offense firing on all cylinders.
Cam's not playing so hot, struggling against New Orleans as I mentioned. Christian McCaffrey caught 9 balls for 101 out of the backfield, but only got four rushes. With McCaffrey and James Stewart, you'd think they would focus on establishing a run game with Newton struggling through the air.
The Pick?
It really seems like the perfect time for Cam to bust out a monster game. Then again, New England's got just the type of disciplined scheme to make Cam uncomfortable and force some mistakes. With how good Brady is rolling, I'm liking their odds with this big spread.
PATRIOTS
LA Rams (+8) @ Dallas
The Cowboys haven't had that overwhelmingly dominate performance from any of their studs, yet they're 2 – 1. Zeke hasn't taken over a game, nor have Dak or Dez put up big numbers in the air. It's just a solid team balancing their offense and playing enough defense to win games.
The Rams have put up some gaudy numbers against shitty teams, with 46 against the Colts and 41 against the Niners. The only decent team they played (Redskins) held the Rams to 20, which LA lost.
The Pick?
Dallas is much better than the Redskins, but will they cover this spread? I don't think so. Jared Goff has had enough success through the air that he can score late if the Cowboys are up and ease up a bit. I like the Rams to lose but barely keep it under 8.
RAMS
Detroit (+2) @ Minnesota 
There's no line yet because who knows if Sam Bradford is going to play. After Case Keenum terrorized the Bucs for 369 and 3 TD's, I'm not sure if it should matter that much. He struggled the first game replacing Bradford, but figured it out against the Bucs. The real winner was everyone who owned Stefon Diggs, and he showed he doesn't need Bradford to put up gaudy numbers.
After declaring my Super Bowl pick the Lions and Raiders, it's only fitting they both lost. For the Lions, the loss was by one inch as time expired. Maybe less. They went blow for blow with Atlanta, which only lends credence to my deep faith in their abilities to play come February.
The Pick?
UPDATE (4:08 PM 9/28/17): We have a line! Lions get two points in Minnesota. It'll still likely be Case Keenum, and despite his amazing effort last week, I love my Lions this year!
LIONS
Tennessee @ Houston (+1.5)
It was an admirable effort from the Texans, but Tom Brady's too damn good. There's no such thing as a moral victory in the NFL, but if there were, it would've been one last week. Deshaun Watson has the rushing thing down, and if he can get the passing accuracy down as well, the Texans have a shot at the post season.
Tennessee is just cruising this year. When you put up 33 on the Seahawks, you know you've got it figured out. It's going to be odd seeing the Titans as the favorites most games this year, but we'll just have to get used to it because that's how it's going to be.
The Pick? 
My baseline for this pick is how Tennessee performed on the road against a very good defense in Jacksonville. They were awesome. Houston has a great defense, but it's trailing the Jaguars at this point. That alone gives me faith to pick Tennessee.
TITANS
Jacksonville @ NY Jets (+3.5)
People want to knock Josh McCown, but the guy does a solid job of leading a team and making enough plays while minimizing the mistakes. He did just that against the Dolphins last week, and it got the Jets off the snide for one of the few wins they'll have this year.
Jacksonville's defense is dominating. They might be the best in the league. For real. They're so good, even Blake Bortles played well, throwing four touchdowns. They have to dominate the Jets, right? I mean, they just HAVE to!
The Pick?
This seems real safe. Pick the Jaguars. Make bank, bro.
JAGUARS
Cincinnati @ Cleveland (+3)
Just when you have a little faith in the Browns, they go right back to being the Browns. The Colts scored 28 points on them in the first half. I actually picked up the Browns defense thinking the Colts would shit the bed and the Browns would benefit from it. WRONG!
Cincinnati somehow played with the Packers after looking like jokes for two weeks. They smelted down in the final three minutes, giving up a game tying touchdown drive and the winning field goal in overtime. No moral victories!
The Pick?
I feel like the Browns would lose 56 – 3 against the Packers, so we have to pick the team that made it a game against the Pack.
BENGALS
Buffalo (+8) @ Atlanta
The Falcons have already planted their flag smack in the middle of NFC preeminence. Having handled the Lions and Packers, they've proven they're the class of the conference. At home, there should be no doubt they're going to win, but this is a large enough spread to give you pause.
Buffalo is a perfect example of why I went 4 and 12 last week ATS. They score 3 fucking points against the Panthers, and then smack the Broncos? I mean seriously, WTF is that crap? That crap was particularly aided by Trevor Siemian throwing two picks, which Buffalo was able to capitalize on.
The Pick?
Matt Ryan's not going to be providing the assistance Siemian did last week. On their turf, that offense is fast and potent. The Bills shouldn't stand a chance in this one, and that spread is as good as covered.
FALCONS
NY Giants (+3) @ Tampa Bay
So do we credit the Viking offense for finally getting cozy with Case Keenum or do we take it as a bad omen for the Bucs defense? We know the Vikings have an excellent defense, which accounts for giving Jameis Winston a tough time last week. But that Tampa D? Who knows just yet.
The Giants are in disarray. Their jabroni looking coach threw their two-time Super Bowl winning QB under the bus, which is just dipshittery 101. Don't do that bro. Own it. Seal it up. Move on. Don't own it, then lob a grenade at your QB. That's not owning it.
The Pick?
I'm big on Tampa Bay. Still. It's not just the Hard Knocks effect brainwashing me. Mike Evans is as elite as it gets, and Winston has what it takes to form a dynamic duo with him. Back home, I like the Buccaneers to right the ship and cover this one.
BUCCANEERS
Philadelphia @ LA Chargers (Pick Em)
Carson Wentz got a great win, but it cost him his game check. Wentz didn't make any mistakes, and his backfield combo of LeGarrette Blount and Wendell Smallwood combined for 24 carries and 138 yards. With Darren Sproles devastating double-injury, they'll need to keep it rolling and carry a larger load going forward.
Philip Rivers has to be licking his chops after seeing Eli Manning throw for 366 against the Eagles defense. At 0-3, the Chargers need this one real bad. After they get the Giants next week, it's a gauntlet. Raiders. Broncos. Patriots. Jaguars. Brutal!
The Pick?
On a pick em, I'm going with the home team on the West Coast against the East Coast team. Plus, there'es an air of desperation in LA. With his back against the wall, I like Philip Rivers.
CHARGERS
San Francisco (+7) @ Arizona
Larry freaking Fitzgerald. In his 14th year, he had 13 for 149 and a TD last week. He's awesome. But the Cardinals aren't very awesome. They've only beat the Colts, and lost to solid teams in Dallas and Detroit. In San Francisco, they get another pushover they should handle, but by 7?
The Niners are a strange team. After an anemic 3 points against the Panthers and and 9 against the Seahawks, they erupt for 39 in a losing effort to the Rams. It's not like those teams have shown to have the greatest defenses so far this year.
The Pick?
I wouldn't bet on this game with your money. It's a big spread for two inconsistent teams, so anything can happen. I'm going to bank on Arizona keeping the Niners in the game long enough that they cover, but don't bet this one.
49ERS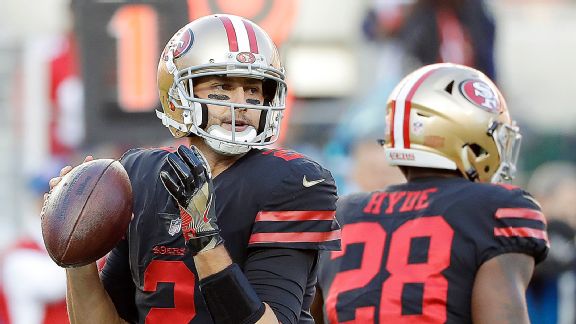 Oakland (+2.5) @ Denver
With KC atop the AFC West, one of these beasts is going to fall even further behind. That should be all the enticement they need to have an epic battle out West. Both are coming off of losses that qualify for the "WTF? How'd they lose?" games.
As I type this, I'm not even sure who I'm going to pick. My heart tells me to trust the Raiders on the road getting the points, but my head is reminding me that Denver D can make even the most potent offenses look pedestrian.
The Pick?
I'm still baffled as to how Denver choked out against the Bills last week. That loss seems way worse than Oakland struggling against the Redskins. Let's trust Derek Carr gets fired up for the formidable task of facing the Broncos, and he gets a game winning drive on the road in impressive fashion.
RAIDERS
Indianapolis (+13) @ Seattle
Just because the shitty Browns let the Colts look impressive for a week doesn't mean they've figured anything out. The Browns are a disaster, which means the Colts are just a dumpster fire. Still there's no chance they beat Seattle. But with a monster spread, is there a chance?
The Pick?
The Seahawks eked out a 12 – 9 win over the Niners. Yet, Vegas makes them give Indy 13? I'm not buying it.
COLTS
Redskins (+6.5) @ Kansas City
Conspiracy theory: Dan Snyder is pushing the anthem protests in order to divert attention away from his team name. Seriously, not one person is talking about the Redskins name this year when it was all the rage the past few years. Still, the losers at Sports Illustrated wont' even use the name. Look at this. While the Chiefs and every single other team get this:
The Redskins get this:
The Pick?
KC is rolling. Kareen Hunt is the shit. They've got it firing on all cylinders. The Washington Redskins aren't good enough to beat them, and on the road, they're not going to cover on Monday night.
CHIEFS