When Villanova won the National Championship in 2016, the Wildcats' lack of NBA talent on the roster was much discussed. While many didn't believe there was a first round draft pick on that roster, many were more conservative and deemed the best player, Josh Hart, wouldn't go in the lottery. Ultimately, Hart fell to the final pick of the first round.
Two years later, my how things have changed!
After their second title in three seasons, Villanova is set to flip the script and dump a batch of youngsters into the 2018 NBA draft.
Player of the Year Jalen Brunson declared, and he's projected as a possible late first rounder with a chance to slip into round two. The savvy point guard is a lock to have a long career in the league, even if he lacks the prototypical athleticism to find a path to super stardom.
Meanwhile, Mikal Bridges projects to be Jay Wright's first lottery pick since Randy Foye entered the draft back in 2006. He's a 6'7" wing with a 7'2" wingspan that can knock down triples and finish in transition. That's exactly the type of player GM's salivate over in today's style game.
Both juniors will graduate, and Wright had already expressed his opinion they should pursue an NBA career before either even declared for the draft.
That wasn't the case with 2018 title game hero Donte DiVincenzo or freshman big man Omari Spellman.
After both players broke out on the game's biggest stage, Wright opined that it would behoove the young men to return to Villanova for a year and refine their games. It wasn't a case of Wright looking out for his program, but expressing what he felt was best for his players. He's adamant a guy should leave if it's in his best interest, and stay if they need more time.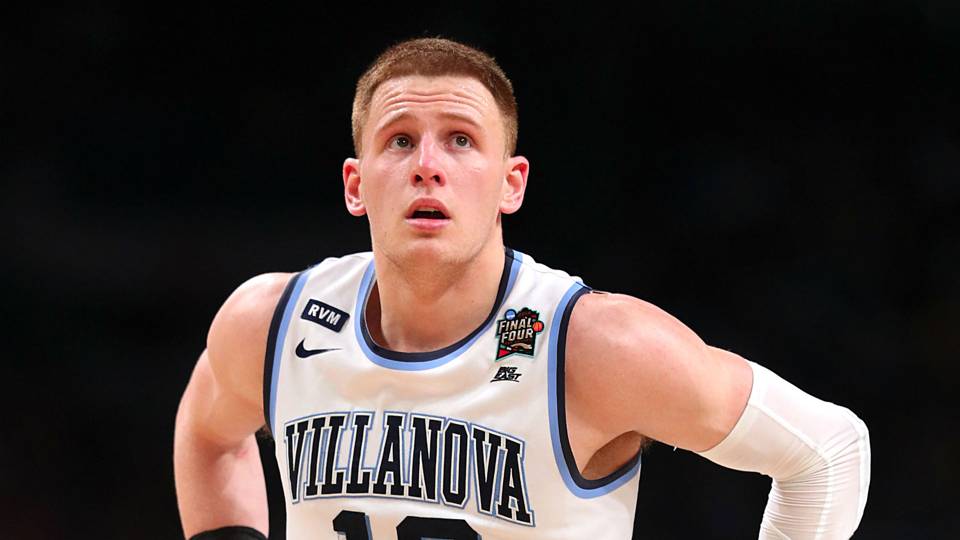 On Tuesday, Albany grad transer Joe Cremo announced he'd be pursuing an opportunity at Villanova next year. At 6'4", it's not hard to parallel Cremo's game to DiVincenzo's. After an epic 31-point performance against Michigan in the National Championship game, DiVincenzo's draft stock is sky high. He's a 6'5" athletic freak who can score in bunches. He's NBA ready, even if Jay Wright might suggest otherwise. Wright picking up an insurance policy for DiVincenzo's departure seems to speak volumes about his looming decision.
Spellman is another story, as the big man didn't necessarily go stratospheric in his breakout, but he certainly made a name for himself. At 6'8" with a 7'2" wingspan and the ability to defend the rim and comfortably shoot from long range, he's another specimen that is vital to today's NBA teams. Wright's not wrong when saying Spellman should spend one more year on the Main Line. For all his big moments in big games, Spellman's never gone to his left once, and his post game is relatively nonexistent. He would benefit from a season to work on his ball handling since he'll likely be forced to the perimeter at his height at the next level. But, he's already worked out for Boston and Minnesota and the early whispers were overwhelmingly positive.
While Brunson and Spellman were highly regarded as recruits out of high school, you'd have to scroll a ways down the list to find Bridges and DiVincenzo. Wright and his staff of ace recruiters acutely identified the potential in these players, developed them with expertise, and get to watch them fly the coup early. It speaks volume to the program Wright has developed at Villanova, which is undisputedly the best in the country the past five seasons. That's what happens when you take two out of three titles in dominating fashion.
Losing four studs to the draft will be a blow to Wright's program in the short term, but a boon quickly after. They've already landed two recruits for 2019 and are in discussions for a number of high profile kids in that class. Wright's refocused his efforts to bring in kids that are fits for "Villanova basketball" instead of going after those loved by recruiting rankings. He's done a great job recently, and now he seems to have his pick of the litter with the verbals he's obtained for 2019. Putting four underclassmen in the NBA draft will only make it easier for the NCAA's best coach.
There's still a possibility Spellman and/or DiVincenzo withdraw from the draft, but don't count on it.