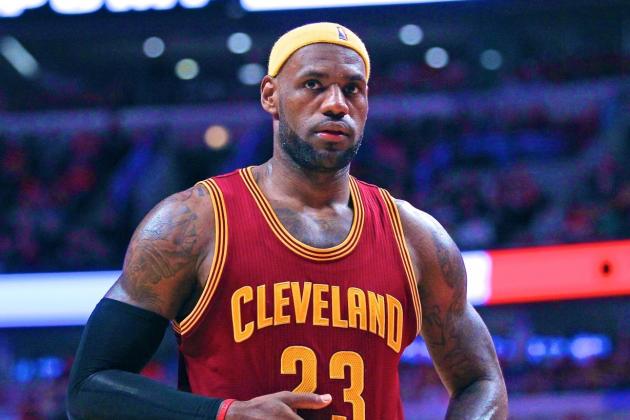 LeBron James returned to Cleveland with the angst that one would expect. The prodigal son coming back home, the incredible pressure of the national media…no one was expecting a dominate Cavs team on opening night.
Then as the season took off, LeBron James appeared a shell of his old self. Cavaliers fans noticed a certain reluctance on offense. He wasn't dunking with force. He wasn't driving into the paint with that locomotive strength. He looked like a different player.
As everyone continued scratching their heads, the offensive numbers were there. 26 ppg and 7 apg. Miami Heat LeBron numbers.
That certain reluctance Cavs fans were seeing actually had very little to do with offense. The core issue of Cleveland's failures fall on LeBron James' effort on the defensive side of the ball. He's consistently playing effortless defense…and by effortless, I don't mean in the "he looks so good it almost seems effortless" kind of way.
And here's the difference between 2013 LeBron James and 2015 LeBron James. #cavs #heat #lakers https://t.co/W5S5nX2aTv

— BIGPLAY (@BIGPLAY_com) January 16, 2015
James is averaging his lowest defensive rebounds per game (4.6) since his rookie year in 2003. He's averaging his lowest steals per game in his entire career (1.4). He's averaging his 3rd worse season in blocks per game for his entire career (0.7). How many LeBron James patented chase down blocks have we seen this year?
Outside of the stats, his body language continues the story, leading to a couple different theories. 1.) he's hurt and older than he once was, incapable of dominating on defense. 2.) he's trying to get his coach fired.
Brian Windhorst of ESPN hinted on ESPN Cleveland 850 WKNR that certain Cavs players were purposely playing lethargic defense in an attempt to see their coach fired. Obviously no one has come out and said this publicly, but the rumblings continue to grow.
Does the LeBron James close out above look like the kind of effort David Blatt is looking for from his most important player? Sure he may not have come close to contesting the shot. But that's not the point.
Lethargy is contagious. Especially when it goes undisciplined.
The Cavaliers aren't mediocre because Kevin Love is struggling. They aren't mediocre because their percentage from the arc is down. They're mediocre because LeBron James has and continues to set a defensive intensity disorder in Cleveland. And it will be interesting to see how Dan Gilbert approaches him this time around.