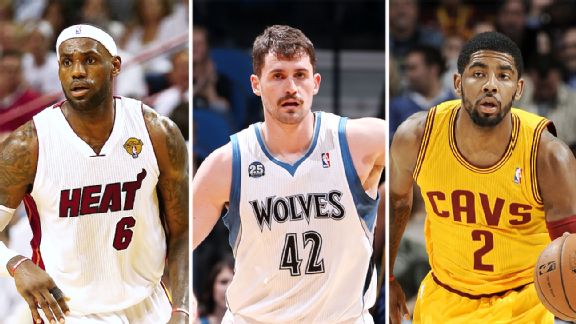 Woj dropped another Woj bomb this morning. The Kevin Love to Cleveland trade is a reality. Although it won't be finalized for another 2.5 weeks, it appears to be a done deal. Cleveland will now have the strongest big three in the league for years to come (if you actually think LeBron is leaving in a year, get over it).
Per Woj:
Cleveland will ship off their uber athletic #1 pick Andrew Wiggins, their promising bust #1 pick Anthony Bennett, and a future first round pick for Love.
It remains unclear as to why Cleveland was willing to give up Wiggins when there was no one else in the Kevin Love sweepstakes. One can come to the conclusion that it had very little to do with David Griffin, Cavs' pseudo GM, and everything to do with the real deal maker in Cleveland, LeBron James.