Twenty-five years ago today, the world of video games sports changed in the most amazing way imaginable.  Four years after the release of its smash hit, Tecmo Bowl, Tecmo released Tecmo Super Bowl.  It was, and still is, the single greatest sports video game of all time.  A quarter century later, the game holds up, with owners accumulating thousands of hours playing the game over the years.
While Tecmo Bowl was great for the game play, the limited teams, rosters, and play calls contributed to out-dating the game.  But when Super Tec, as it's affectionately known in my circle, arrived on the scene, the full rosters, seasons, stats, and playbook allowed an immersion into the world of the NFL never before seen.
In fact, licensing with the NFL and NFLPA made it the first game to accomplish such a feat.  Sure, the NFL Quarterback Club stole Randall Cunningham, Bernie Kosar, and Jim Kelly, giving us QB Eagles, QB Browns, and QB Bills, but we knew who that insanely fast guy under center for Philly was.
When I look back on the hours I spent playing this game as a kid, I could've been a virtuoso violinist if I had just redirected my man hours.  Instead, Tecmo hooked me on the crack of chasing 8-bit perfection in the form of a digital Super Bowl.  When winning the Super Bowl with every team got boring, it was time to set epic records with individual players.  The game had it all.
In honor of the 25th Anniversary of the greatest Nintendo game of all time, here are the 25 greatest players on Tecmo Super Bowl.
25.  Michael Cofer – OLB – Detroit Lions
Cofer was the left outside linebacker for the Lions, and he had epic speed.  It was of particular importance when blocking field goals and extra points, as he was one of the few guys with the speed to get it done on a consistent basis.  Defensively, you could rack up the sacks with Cofer and chase down deep passes if the quarterback got the throw off.  Despite Chris Spielman and Jerry Ball as outstanding options on that Lion defense, Cofer stands out.
24.  Andre Rison – WR – Atlanta Falcons
The Falcons were the fucking coolest team at the time of Super Tec's release.  Deion Sanders, Tim McKyer, and Brian Jordan were anchoring the swagger-filled secondary, flipping the ball numerous times with every takeaway.  It was so exciting.  It made you want to play with the Falcons defense, even though Timmy didn't make the Tecmo cut.  Offensively, Mike Rozier and Steve Broussard were too slow to rush the ball with success.  Instead, you just lofted the shit out of the ball with Chris Miller on deep routes to Andre Rison, who always made the leaping catch when it appeared impossible.
23.  Mark Carrier – Safety – Chicago Bears
That Bears defense wasn't the dominating squad we loved on the original Tecmo Bowl, but it still was to be feared.  While Carrier wasn't the fastest guy or the toughest, his interceptions were above and beyond everyone else.  He seemed to be the only guy you could get a user pick with on a regular basis, and because of that, you loved picking him over Mike Singletary in passing situations.
22.  Jerry Ball – NT – Detroit Lions
I know, I know, another Lion defensive player in the top 25??? Well, Ball was vital because of his ability to do The Lurch.  Maybe you don't call it The Lurch, but it's when you just immediately dive at the QB upon the snap of the ball, and tackle him before anything can be done.  Against the computer, you could do it all day and rack up the sacks.  It was unstoppable, almost.  Ball was one of the best, but not the king of the lurch.  We'll crown him later…
21.  Earnest Byner – RB – Washington Redskins
Byner was fast, elusive, and an amazing receiver out of the backfield.  If you had him on the go route, he was one of the few RB's who routinely made the leaping or diving catch.  His receiving corps was one of the best in the game, but the quarterbacks on the Redskins were shitty.  As a result, you always had to count on Byner to get it done when Mark Rypien couldn't complete a pass to the amazing trio of Art Monk, Ricky Sanders, and Gary Clark.
20.  Reggie White – DE – Philadelphia Eagles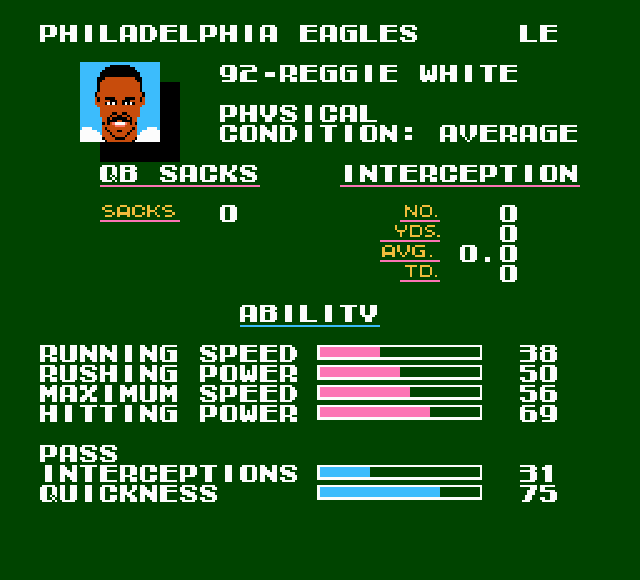 White was a monster in real life, and it translated over to his dominating presence on Super Tec.  He had speed, and his ability to get off the line and into his top gear quickly made your opponents terrified to see you select him at the line of scrimmage.  On a dominating Philly defense, White was the anchor of the line and someone you had trouble overlooking, despite a number of worthy players, including Eric Allen at corner and Seth Joyner at OLB.
19.  Marion Butts – RB – San Diego Chargers
For all his abilities in TSB, you'd think Butts would've had a much more amazing career.  Butts was a beast, and in some games, he'd couple his excellent speed with an ability to fucking truck the shit out any tackler in his path.  He wasn't much as a receiver, but that trucking ability made him super fun to play with.  The Chargers didn't have much else going for them, though Gill Byrd was a fast CB.  Despite his penchant for fumbling, you'd risk it for the chance to control the speed and power of Marion Butts.
18.  Deion Sanders – CB – Atlanta Falcons
Prime Time aka Neon Deion was the most electrifying football player of the early nineties.  Tecmo gave him insane speed (tied for most on the game), but he wasn't quite the same without the ability to flip the football to his defensive mates after fumbles and picks.  Even though he wasn't the most lethal option on the game, you felt like you had it all under control when your cursor was blinking above #21.
17.  Jerome Brown – LB – Philadelphia Eagles
Sadly, both Eagles defensive players on this list are deceased.  Brown died tragically, in his prime, the victim of a car crash.  He was a lineman in real life, but manned the interior linebacker spot for the Eagles.  He was so fast, and no one seemed to break away from a grapple when #99 had a hold of him.  Despite Reggie White, more times than not, you found yourself trusting Brown to make the crucial play with the game on the line.
16.  Ronnie Lott – S – San Francisco 49ers
For a guy who chose finger amputation over missing playing time, Tecmo sure made him as tough as his real life persona.  Lott flew around the Niner defense, wrapping up opponents and bringing them down as sure as anyone on the game.  When you had Lott, it sure seemed ball carriers fumbled more when he got to them than anyone else.  With the high-powered  Niner offense, you selected Lott on defense all game long, and he gave you plenty of chances to get it back in the hands of Joe Montana.
15.  David Fulcher – S – Cincinnati Bengals
The Bengals sucked ass on offense, which made Fulcher the only reason to even pick the team.  He was so dominating, with speed and hitting power on par with Lott, but he had a better knack for making interceptions.  Unfortunately, Fulcher slipped through the cracks since no one could gain any yards with Ickey Woods or James Brooks.  Boomer Esiason had joke receivers as well, so there was no reason to chose Cincinnati.  Fulcher, though, was essentially the best of Mark Carrier and Ronnie Lott in one player.
14.  Thurman Thomas – RB – Buffalo Bills
Thomas was the definition of a do everything running back.  If you handed him the ball, he had the speed to go the distance on every snap.  If you threw him the ball, he was as good as most of the wide receivers on the game.  The play-action pass up the middle to Thomas where he takes off on a fly route down the middle of the field is my single favorite play on the game.  QB Bills would lob it up and Thomas would go get it.  It was nearly unstoppable.
13.  Mike Singletary – LB – Chicago Bears
Singletary is infamous for those eyes bugging out of his head like a man possessed when he chased down running backs in real life.  He was so good on TSB, it was almost like you could see those eyes when he approached you on the field.  Controlling him was so fun, because he had pretty good, not great, speed, and all the power needed to get the running back down in the hole before help could come.  While Mark Carrier was the secondary play, you picked Singletary every time you felt the run coming, or when you needed a sack.
12.  Bruce Smith – DE – Buffalo Bills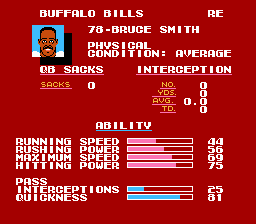 The Buffalo offense had everyone loving to play with them, but it was Bruce Smith you had to count on defensively.  Sure, Cornelius Bennett was a great outside linebacker, and was perfectly fine to utilize.  However, the big, bad, motherfucking Bruce Smith was so much better you couldn't pick against him.  He was truly above and beyond any other defensive end on the game, with the speed of defensive backs and the power of…well…no one else really.
11.  Derrick Thomas – LB – Kansas City Chiefs
Another brilliant defensive player gone before his time.  Thomas was the second best outside linebacker on the game.  He had all the speed you needed to block kicks and extra points.  If you played against a buddy, they had about a 95% chance to get it blocked or miss a kick.  Thomas also flew around the field, be it through the line for a sack before the QB had time to look at his second target, or a running back before he hit the hole.  Thomas was an absolute beast.
10.  Drew Hill – WR – Houston Oilers
Warren Moon had the best receivers on the game, and Hill was the best of the best.  Haywood Jeffries was a safe short route guy, and Ernest Givens was a solid slot guy.  But Hill was a freak of nature, who could leap and dive catch better than anyone in the AFC.  Not to mention, he was one of the fastest guys on the game.  If you put him on kick returns, he was your safest bet to take it to the house.  Even though WR's had a knack for fumbling when you put them at RB, Hill was so fucking fast he usually was never touched, so he was a viable option in the backfield.
9.  Bob Nelson – NT – Green Bay Packers
The Lurch, as mentioned earlier, was the most unstoppable move in the game.  In fact, we make it illegal in a man vs. man game.  The main reason is because Bob Nelson is the King of the Lurch.  If you're the best at the most unstoppable action in a game, that makes you the most important player on the game.  Against the computer, Nelson racked up a sack on nearly every single passing play.  Even though Sterling Sharpe was the only fun offensive tool, you were never bored lurching like a motherfucker with Bob Nelson.
8.  Christian Okoye – RB – Kansas City Chiefs
The Nigerian Nightmare's baseline was what peak performance Marion Butt could attain.  Sure, Okoye fumbled a lot and got hurt a lot in your season mode, but he was a fucking behemoth.  What was more fun than trucking 8 defensive players with Okoye?  Nothing.  Nothing at all.  There's a reason when you hear his name, the first thing you usually associate with him is his abilities in this game.
7.  Wayne Haddix – CB – Tampa Bay Buccaneers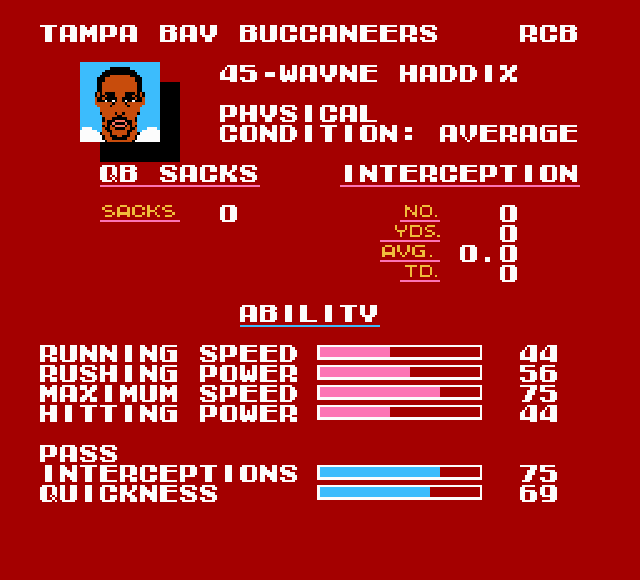 You never worried too much after a Vinny Testaverde interception, because it meant you got more playing time with Haddix.  While he lacks the hitting power of Fulcher, he's the fastest guy on the game and one of the best pick off artists.  Haddix is the only redeeming quality of the Tampa Bay Buccaneers.  They're offense sucks ass, yet Haddix is so fucking dominating you occasionally select them just to control this freak of nature.
6.  Neal Anderson – RB – Chicago Bears
Though Gale Sayers was dominating before video games, Walter Peyton took the crown of best running back on the original Tecmo Bowl.  Anderson was the heir to the throne in Chicago, and he was incredible.  He's one of three backs with the speed to break a big gain when the opponent picked your play.  His hands were great, meaning you could go with the West Coast Offense and find him in the flat for big gains.  Without Anderson, you probably don't pick the Bears, despite the plethora of defensive stalwarts.  With him, the Bears are one of the hardest teams to beat in TSB.
5.  Jerry Rice – WR – San Francisco 49ers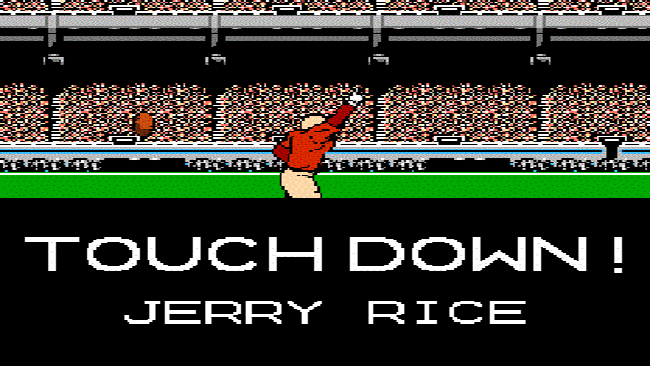 Drew Hill is the second best receiver on the game, and he's a poor man's Jerry Rice.  Montana is the best passing quarterback on the game, meaning Rice is getting the ball where it needs to be more often than any other pass catcher.  Rice gets the ball and no one catches him.  If it's a throw that requires a leap or a dive, the ball doesn't go anywhere else but into Rice's perfect hands 99.9% of the time.  One of the all time greatest feelings is dropping Montana back to the back line of his own end zone, waiting an impossibly long time, and then heaving a ball 120 yards to Jerry Rice for a touchdown.
4.  QB Eagles – QB – Philadelphia Eagles
Randall Cunningham was like the offensive version of Deion Sanders to kids in the early nineties.  A quarterback who was faster than everyone else on the field?  He was Mike Vick before Mike Vick was even a twinkle in his mother's eye.  Tecmo captured that play making excitement Randall brought to every single play, by making him the only QB that had any speed, and his speed was outstanding.  Run 4, with the three pulling lineman, was nearly impossible to stop because of QB Eagles' speed.  You pretty much had to pick it every time, and hope you could stop the Eagles offense's 7 other plays personally.
3.  Lawrence Taylor – LB – New York Giants
LT.  A man who needs no introduction.  Kicking a field goal?  He'll block it.  Seriously, you had no choice but to A-tap furiously and just pray the cursor lined up so you could make it.  A touchdown typically meant 6-points against NYG, because LT was going to block your extra point.  Passing against the Giants?  Pray your first receiver is open or you'll be sacked.  Running against them?  Better hope you get lucky, because odds are LT catches you behind the line, and  your only hope for salvation is a blocker freeing you up once LT grapples with you.  As an adult, I recently played against the Giants in the Super Bowl with the Browns.  My heart was beating out of my chest and my hands were sweating because every play I ran, LT was fucking up my existence.  I mean, shit, they even modeled the default defensive guy after LT.  He was the best defensive player on the game!
2.  Barry Sanders – RB – Detroit Lions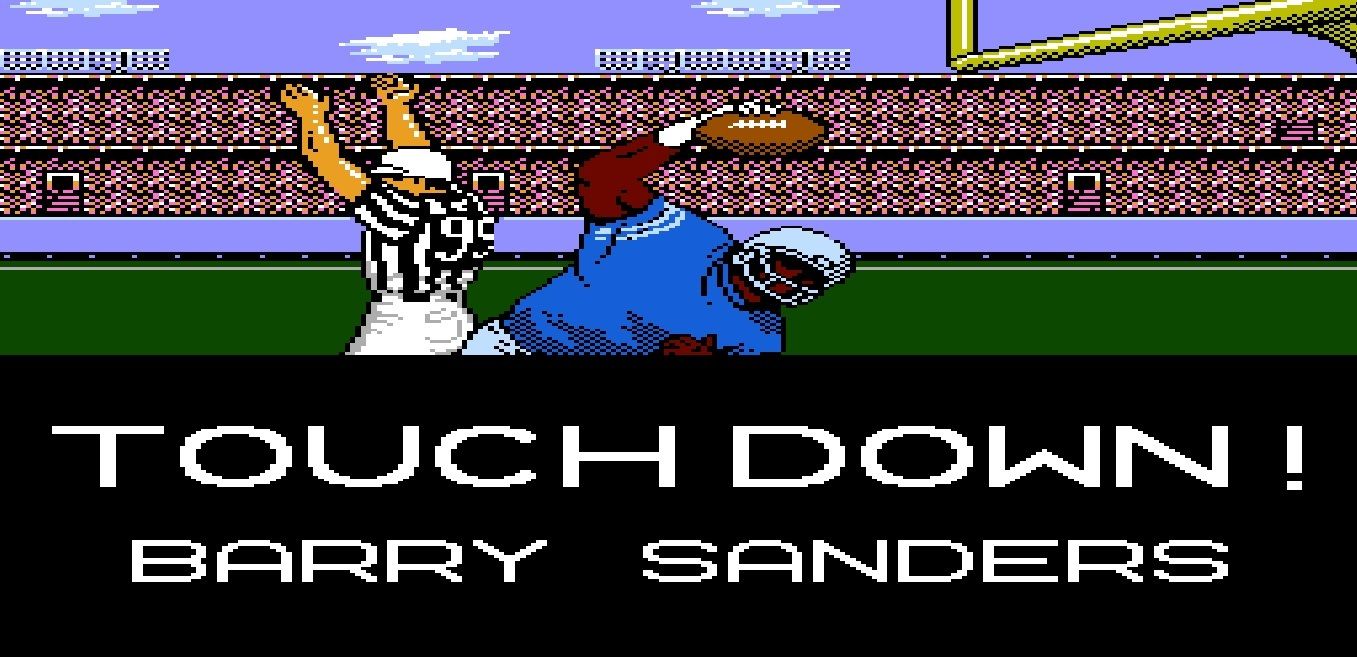 When it comes to running the football, Barry was the best in the NFC.  If you broke through the line of scrimmage, odds are you were taking to the house with him, assuming you were at all adept at the game.  His breakaway speed was insane, and once he got going, it took a lot of yards before the defensive player's computer-aided speed increase built up enough to catch him.  In an exhibition game, he's unstoppable.  Sure, he got injured and fumbled a bit too much during seasons, but he'd rack up so many damn yards when healthy it was worth it.
1.  Bo Jackson – RB – Los Angeles Raiders
Duh.  There's a reason Kia is using his TSB prowess in commercials 25 years later.  Everyone remembers Bo in this game.  He was the biggest athlete in the world back then, and TSB knew it.  It was almost unfair to pick the Raiders because Bo was gonna get his.  I got a reminder of his domination a few weeks ago, in that same TSB season.  Browns against Raiders in the playoffs.  Bo scored nearly every time he had the ball.  He was on bath salts all game long, and there was nothing you could to to prevent him from eating your face.  Bo.  He was the best.  Everyone knows it.  Not even up for debate.