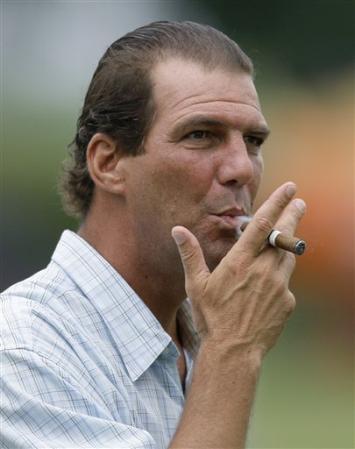 Ravens' owner, Steve Bisciotti, who appears to be the spawn of Steven Seagal and Super Macho Man….
…took time out of his busy schedule to hold a press conference about the awful way his franchise has handled the Ray Rice debacle, on casual Monday apparently.  Nothing says "I take this shit seriously" like some no socked loafers, jeans, and the blazer-shirt-no-tie combo.
Slick Steve wasted no time providing insight into the psyche of a man who would go to great lengths to protect a player who knocks out his fiancee.
In reference to Janay Rice, Bisciotti dropped this bomb.
"She's still the one who's suffering the most.  She's still suffering because now she has an unemployed husband."
Never mind the fact that Janay Rice clearly has a victim's mentality, going as far to publicly take the blame for the left hook Ray Rice delivered to her face.  Let's forget all about the fact that she's now married to the man who dragged her unconscious body out of an elevator, not looking for someone to help her, but more of, "oh shit, how do I make this look like I didn't just knock my fiancee out?"
Nope, Janay Rice's number one problem is her big strong man, the one she relies on for her sustenance, who is no longer making millions.
Since Janay Rice apparently relies entirely on her husband for her well-being, you can see why Bisciotti would go as far as he could to cover up the elevator video.  It wasn't because he wanted his starting RB on the field to keep his team in contention. It was because without Ray Rice making his NFL salary, Janay Rice would be suffering.
It wasn't the only cringe-inducing gaffe for Bisciotti during his press conference.  He was asked if they reached out to any women during their train wreck decision making since Rice dropped his fiancee in the elevator, and he had this gem.
"If I can get Kevin out soon, maybe we'll replace him with a female."
Bisciotti, thinking he was clever, was actually smugly grinning with pride over the comment, insinuating he'd replace long time public relations guru Kevin Byrne with a female.  Considering Byrne, who was a lifelong Clevelander, remained loyal to the Ravens when Art Modell moved the franchise, the poor attempt at humor shows Bisciotti is not only out of touch with public opinion on his handling of Ray Rice, but how to treat loyal employees.
Bottom line, it's pretty damn obvious Bisciotti and the rest of the top level executives in Baltimore were aware of Rice's knock-out blow the night it happened.  If NFL players were in Vegas showing the video to each other on their cell phones, you have to be pretty arrogant to claim ignorance to the video's existence if you're the Ravens.
Then again, we're talking about an owner who welcomed back Ray Lewis from that pesky murder trial, despite no one finding the white suit Lewis was wearing the night of the slayings.
Anything for Rays that make the Pro Bowl, eh Steve?