Will Grier, QB, West Virginia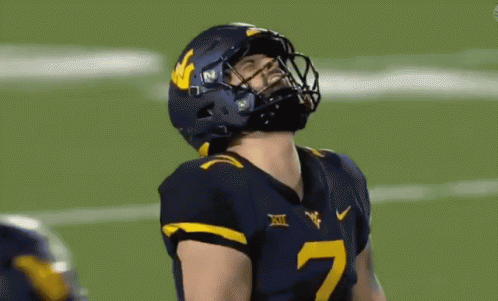 (GIF: Tenor)
Scouting Grades are on a scale of 1-4. 1=Below Average, 2=Average, 3=Excellent, 4=Elite.
Strengths:
-Very smooth motion
-Good athlete
-Throws with good anticipation
-Accurate on short to intermediate routes
-High football IQ; coach's kid
-Experienced
-Very efficient; completes high percentage
-Does not often get too greedy
-Very accurate in the red zone
-Throws well on the run
-Fearless in the pocket; will hang in there with guys in his face
-Throws a very tight, catch-able spiral
Weaknesses:
-Arm strength is merely average
-Deep balls tend to flatten when he is not given a clean pocket
-Slight build at 6'2 212lbs
-Comes from a college oriented system; needs to run a system similar to Kansas City
-Must improve field vision in the NFL; tends to lock onto his primary
-Has a bad habit of drifting at the top of his drops which gets him into bad spots in the pocket
-His release elongates on deeper throws
-Leadership?
Grier is an intriguing prospect from a standpoint of boom or bust potential. He has some nice physical tools, but also some deficiencies. His arm strength is a 2, accuracy on mid level routes is a 3, anticipation is a 3, size is a 2, pocket navigation is a 4, downfield accuracy (when his feet are set) is a 3, ability to throw on the run is a 3, feet are a 1, leadership is a 2 until proven otherwise. His skill set reminds of me of Andy Dalton with a higher ceiling and a lower floor. Due to the value of his position, Grier will likely be either a late first rounder or a day two guy.
Here are a few examples of his better down field throws that highlight his potential.
https://twitter.com/i/status/1066183280704307201
He throws this ball with solid anticipation and great accuracy.
Will Grier is dropping absolute dimes pic.twitter.com/s3Q6E10fpn

— CBS Sports (@CBSSports) September 29, 2018
When he sets his feet he can really spin it.
This is the game tape from his worst outing of the year against Iowa State. This really displays his deficiencies as an NFL prospect:
(Video: YouTube)
Teams of Interest: Oakland Raiders, Cincinnati Bengals, Jacksonville Jaguars, Miami Dolphins
Overall Prospect Grade: 2
(Featured Image: The Athletic)