Quarterback. The most important position in fantasy football. Don't agree? Go ahead, draft Ray Rice again ahead of Peyton Manning, you nerd. Yes we know, every league's points system is different…but securing the best pigskin cannon in the league will keep you in the race, week in and week out. Here's who Las Vegas  picks when it's QB time.
odds as of 8/23 courtesy of sportsbook.ag
 14.
Eli Manning
Most Passing Yards:
+3000
Eli oh Eli. One of the most frustrating fantasy QBs over the past 5 years. At +3000 odds to pass for the most yards, and off the radar for any meaningful TD odds, I'd let Peyton's little bro slide down your board. All the way down.
13.
Philip Rivers
Most Passing Yards:
+2000
40+ TDs:
+2000
Talk about your average QB. Outside of looking like a complete psycho, (that's a positive), Uncle Phil doesn't bring much to the table.  Vegas tells us this guy is going to be completely average. Won't lose it for you, but definitely won't get you into the conversation.
12.
Tony Romo
Most Passing Yards:
+2000
40+ TDs:
+2000
At an even tie with Philip Rivers, Romo gets the nod ahead for one reason- his regular season magic. Since fantasy only takes place during the regular season, you could be worse off than having Romo as your signal caller. However, another year older and another year banged up, we'd be surprised if he makes it an entire season. Then again, with Brandon Weeden as the backup, there's little doubt that Jerry Jones will let Romo sit.
11.
Jay Cutler
Most Passing Yards:
+2000
40+ TDs:
+2000
Another chump stuck in the middle of the pack, Jay Cutler slides ahead because of two names: Brandon Marshall and Alshon Jeffrey. Bomb threats and TD machines, this duo will keep Cutler slightly above Romo and Rivers this year.
10.
Cam Newton
4000+ Passing Yards :
+2000
10+ Rushing TDs
+500
25+ Passing TDs:
+1000
Superman…barely breaking the top ten. Vegas plans on Cam to get it done on the ground, but not in the air. +1000 to toss up 25 TDs is nothing to get excited about. Watch for Cam to go way earlier than this in your league
9.
Nick Foles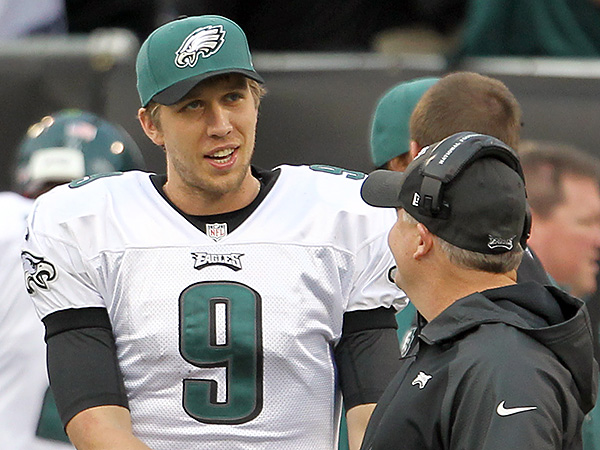 Most Passing Yards:
+2500
35+ TDs:
+700
Will Chip Kelly keep the magic going? Vegas seems to think it's a possibility. Although he is not favored to throw for a bunch of yards, fantasy goers will be happy with his TD production. at +700 to put up 35 or more TDs, look for Foles to find the end zone regularly. Nick took a lick in the odds department with the loss of Desean Jackson. This is more of a gamble than most in the top 10.
8.
Colin Kaepernick
4000+ Passing Yards:
+1600
7+ Rushing TDs
+700
30+ TDs:
+1200
Surprised Kaepernick got the call ahead of Cam? Same. A sporadic arm combined with crazy legs makes for a wild fantasy ride. Who knows…maybe Michael Crabtree has a Richard Sherman sized chip on his shoulder and plans on getting 20 TDs himself this year. If the mobile QB is your fancy, Kaepernick comes in at #2 on the big board.
7.
Matt Ryan
Most Passing Yards:
+2000
40+ TDs:
+900
Another frustrating QB over the past couple years. But with a healthy Julio Jones back in action, Vegas is banking on a shit ton of TDs for Matty Ice. And at +2000 to throw for the most yards out of the entire league, Matt Ryan is worthy of a starting QB pick in your fantasy league.
6.
Andrew Luck
Most Passing Yards:
+1800
30+ TDs:
+600
7+ Rush TDs:
+1300
If you're in a league with your mom…she'll be so proud that you picked such a gentleman to lead your squad. God I hope you're not in a league with your mom.
Luck presents the best option from a dual threat TD perpective. A white guy? Yes, a white guy. Although Vegas doesn't see Luck throwing up more than 30 TDs, he should add another 5+ in the rush department. Combine that with the +1800 odds of throwing more passing yards than any other QB in the game, and you have yourself a solid pick to lead your team. Not number one pick calibur by any means, but if you decide to snag some other offensive weapons first, Andrew is a great pickup.
5.
Matt Stafford
Most Passing Yards:
+800
40+ TDs:
+1600
Vegas favoring the young gun slinger over Tom Brady in passing yards is probably pretty accurate. But with Gronk back in full force for the regular season, Stafford falls to the 5th best pick in fantasy this year. Another year the wiser, in his prime, with MegaTron at 100%…it'd be hard to pass on him after Brady is off the board.
4.
Tom Brady
Most Passing Yards:
+1000
40+ TDs:
+900
45+ TDs:
+2800
It's tough to get super excited when you draft a man who wears Uggs. And will Gronk actually play a full season? Vegas bets yes, placing Brady at +900 to hit the 40+ mark. The fact that he even has odds to break 45 shows you that Vegas is set on Brady throwing up big numbers this year. Will they be Brady/Gronk/Hernandez numbers of old? Absolutely not. Brady is however, a top 4 QB this year.
3.
Aaron Rodgers
Most Passing Yards:
+340
50+ TDs:
+10000
A large group of fantasy GMs were in shock last year as the discount double check cracked his collar bone against the Bears. But with a clean bill of health, this signal caller is still considered by many as the greatest QB available. Even with the 2013 injury, Rodgers is coming back with something to prove.
A healthy Randall Cobb, Jordy Nelson and Eddie Lacy are reason enough to have some faith in Aaron Rodgers this year.
2.
Drew Brees
Most Passing Yards:
+340
45+ TDs:
+350
50+ TDs:
+1500
If you are looking for a safety pick, then Drew Brees is your man. Coming in 2nd in Vegas Odds for most passing yards in the season, you will be satisfied that he's on your sideline. A cannon for an arm, and a healthy Jimmy Graham is all you need to know in order to take Brees this high. +350 to throw 45 or more touchdowns is insane. And you don't want to pass on that insanity.
1.
Peyton Manning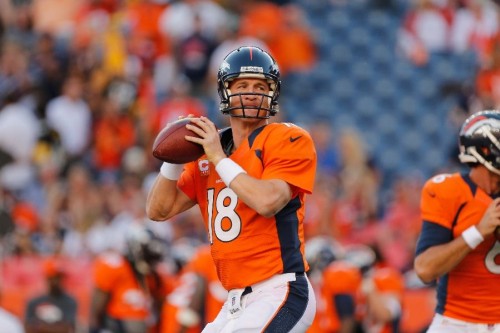 Most Passing Yards:
+300
60+ TDs:
+3000
The fact that there is a prop bet to hit 60 TDs in a season is reason alone to draft Peyton. Vegas isn't even taking any action for him throwing anything less than 60 TDs. Old man Omaha made you pay for passing on him last year. This year, the best decision you will make is picking up this signal caller. As the favorite to secure the most passing yards in the upcoming season, he's as close as you get to a lock. Still worried about his neck? Peyton was sacked 18 times last year. Aaron Rodgers was sacked 21 times, in 7 less games.