Last year, the Eastern Conference was like watching two WNBA juggernauts slap eachother around. You either watched two shitty teams battling it out in a meaningless game, or saw Miami pounce some hopeless squad by 30. Thankfully this year, the balance of power in the East has shifted significantly with the breakup of Miami's big three…meaning we may actually see some solid match ups this fall.
[AdSense-A]
5. Washington Wizards
Key Additions: Marcin Gortat (retained), Paul Pierce
Key Subtractions: Trevor Ariza
You wouldn't think that losing Trevor Ariza would be a huge blow. But then look back at last year. His consistency on both sides of the court kept this squad going when the grind got tough. There's no doubt that the old ass Truth will be able to fill that void, but it's not going to help get them out of the first round this year.
4. Indiana Pacers
Key Additions: CJ Miles, Rodney Stuckey
Key Subtractions: Lance Stephenson, Evan Turner
Did Indiana accomplish a little addition by subtraction (on the team chemistry front) by not resigning Stephenson? Sure, maybe…but they got a whole lot worse in the win column. We'll see what losing does for that team chemistry in the grand scheme of things. The Pacers still have a solid squad, but sadly for my boys in Broad Ripple, they are no longer legit contenders.
3. Chicago Bulls Key Additions: Pau Gasol, Kirk Hinrich (retained) Doug McDermott (draft)
Key Subtractions: Carlos Boozer, DJ Augustin
Pau Gasol is a solid pick up for Chicago. Chi-Town hopes that he can be a key piece in a short term playoff run, while acting as a mentor to Nikola Mirotic. Dougie McBuckets will also be a solid contributor for a team that previously lacked a legit deep threat. However, there's no way to rank this team higher than 3 without a healthy Derrick Rose…and we all know how that's going to turn out.
Update– if the Bulls somehow pull off this proposed trade of Taj Gibson, Mirotic and McBuckets for Kevin Love, and Rose stays healthy, they are a lock to take down the following 2 teams.
2. Miami Heat
Surprised?
Key Additions: Dwyane Wade (retained), Chris Bosh (retained), Chris Andersen (retained), Mario Chalmers (retained), Danny Granger, Josh McRoberts, Luol Deng, Shabazz Napier (draft)
Key Subtractions: LeBron James, Ray Allen
Yes, Dwyane Wade is playing with my grandpa's knees. But he's back playing the alpha dog role, and will not disappoint going into this upcoming season. Chris Bosh will return to his Toronto days, putting up 10-12 more shots per game.  Add in Luol Deng who is only 29, and you have an older team that will make some noise. But not enough noise to do this again.
1. Cleveland Cavaliers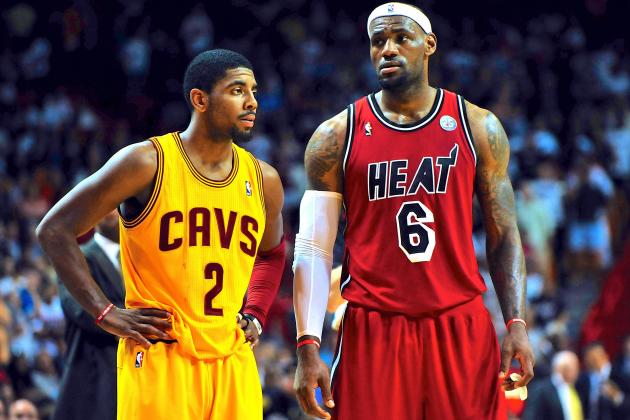 Key Additions:  Kyrie Irving (retained), Andrew Wiggins (draft), LeBron James, Mike Miller, James Jones
Key Subtractions: Tyler Zeller, Luol Deng, Spencer Hawes, CJ Miles
2007 Cavs NBA Finals starting lineup:
PG– Boobie Gibson SG– Sasha Pavlovic SF– LeBron James PF– Drew Gooden C– Zydrunas Ilgauskas
2008 Cavs who won 66 games:
Mo Williams, Boobie Gibson, Sasha Pavlovic, Delonte West, Ben Wallace, Joe Smith, Darnell Jackson, Wally Szczerbiak, Zydrunas Ilgauskas, JJ HIckson, Anderson Varejao. 66 wins.
I'm pretty sure that's all you need to know. If that scrub roster won 66, how many will Kyrie, Wiggins and LeBron win? Oh, and Kevin Love…which according to some guy in Portland is already a done deal.