The NBA regular season concludes tonight, which means the real season begins this weekend. No one really gives a shit about the regular season, except Russell Westbrook I suppose. He really gives a shit about it. Russ needs 16 rebounds tonight to average a triple-double for the second straight season, which is just insane considering how long its been since Oscar Robertson did it.
Why do awards predictions for shit no one really gives a shit about?
Mostly to just bitch about some other shit to be honest with you.
Now get the hell of my lawn so I can give you the definitive list of the NBA's meaningless season awards from the person whose opinion matters most: mine.
Coach of the Year
Of all the meaningless NBA awards, this one is the most meaningless. Common sense tells you the winner should be the coach with the team that has the best record, because that coach is coaching better than all the other coaches. But that's not the case. In fact, it's not even true. Did it really matter if Steve Kerr or Luke Walton or Mike Brown were at the helm in Golden State? Nope. They just won because they took the greatest regular season team of all time, added the second best player on the planet, and kicked the shit out of everyone. That effectively eliminates Mike D'Antoni from consideration, even though his Rockets finally bested the almighty Warriors in the West this year.
The award no longer goes to the best coach in the league, otherwise Gregg Popovich would win it every year. Seriously, take a poll of NBA players and the smart ones will unanimously tell you Pop is the best in the business. More on this phenomenon in the MVP section later, I promise.
Since I'm the definitive authority on meaningless NBA awards, my selection is Brad Stevens. He's pretty much like the young Pop, and is only two decades away from having the media fawning all over his thoughts on President Ivanka Trump and grumpily giving Craig Sager Jr. shit during halftime interviews. This year, he lost Gordon Hayward like thirty seconds into the season, which was basically the equivalent of a marathon runner getting shot in the ankle by the starting pistol. He had to make due with Kyrie Irving, who has low key marketed himself as the Diva of All Divas, and a bunch of youngsters he'd never have been able to recruit at Butler. Then he lost Kyrie, and proceeds to still hold onto the second seed in the East. That's some serious coaching.
Most Improved Player
Ah,  yes, the award for the guy who had a pretty damn good season, but he's not really good enough to get MVP votes, and probably won't be on the All-NBA teams. Most seasons, this is just the award to honor the best player to have a season ending injury the previous season that returned as close to form as he could the next. A bunch of studs missed chunks of last season, but nothing particularly devastating so that's not really in play this year.
Instead, the award goes to Victor Oladipo for breaking out this season. Oladipo was the cornerstone of the trade that shipped grumpy Paul George away, and had the media freezing-cold-take the fuck out of the trade because they figured Indiana got fleeced. Oladipo proceeded to cement himself as a top 20 NBA player after spending the first four seasons of his career as a solid supporting cast member. He set career highs per game in points, assists, rebounds, steals, blocks, 3P%, and FG%. I guess you could say he really improved himself. He is also the man on the Pacers, and should be an All-Star for years to come. You can look forward to him losing to LeBron's Cavs for the five years as well.
Sixth Man of the Year
Otherwise known as the Jamal Crawford award, this award is stupid. Eric Gordon won it a year ago, and he started twenty-percent of the games in which he appeared. When Crawford won it in 2013-14, he started thirty-five percent. It's just dumb. Who cares if you come off the bench for most of your games?
This year, Lou Williams averages 22.6 point a game for the Clippers, and he's started twenty-four percent of his games. I guess that's low enough to give him this award. Congrats Lou Williams. No one cares.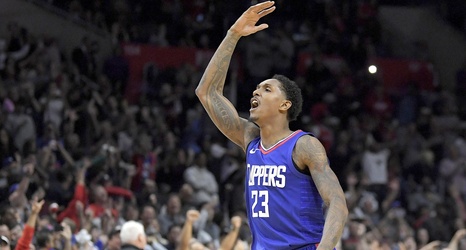 Defensive Player of the Year
Some nights, NBA players actually make a determined effort on the defensive end. Those are what we call playoff games. They occur from April through June. For the regular season, this award typically goes to the guy who blocks a prolific amount of shots. Other times, it's the guy the media has crowned the fiercest perimeter defender in the NBA. They also have to like you, which is why Ron Artest only won the award once.
This year, the media loves Rudy Gobert, even though he only played in 55 games so far. That's a joke because Anthony Davis is the best defensive player in the league. No one blocks more shots per game than he does. He rebounds at a top-ten rate, and can guard on the perimeter as well as protect the rim. Sure, Gobert is a great defender…when he actually plays. And that's the thing about defense: you're not playing any if you're out with an injury, and Davis has only missed a handful of games this year. He's not only the best defensive player, but he does it while essentially single-handedly carrying the offensive load down in New Orleans.
Rookie of the Year
Donovan Mitchell's troll game seems impressive, but it really just exposes him as a dumbass. I'll explain.
https://twitter.com/sportingnews/status/983852059207323649
See, this all started because Ben Simmons stated he's "100%" the RoY, which is true. His numbers are staggering for a rookie as he's putting up 16-8-8. Mitchell averages over 20 a game, but under four assists and four rebounds. Also, Simmons led the Sixers from the cellar to a home court advantage series in the playoffs. Impressive stuff.
Mitchell's a dumbass because he thinks Simmons isn't a rookie because he was drafted in 2016, even though Simmons missed all of last season with an injury. So he had a custom hoodie printed up with the definition of "rookie" on it to troll Simmons. Right there, it says "playing in his first season" which is why Mitchell is a dumbass, because Simmons never played last year. He didn't appear in a single game, so he never played professionally for the Sixers. So why would Mitchell don a hoodie trolling his RoY competition that proves Simmons is in fact a rookie, which contradicts Mitchell's premise?
Because he's a dumbass.
And Simmons is unquestionably the Rookie of the Year.
All-NBA First Team
G – James Harden
G – Russell Westbrook
F – LeBron James
F – Giannis Antetokounmpo
C – Anthony Davis
The only question was would Damian Lillard pass Russ this year, and the answer is no. I know Portland had a great season and Dame drove it, but Russ just posted another regular season triple-double. Even if he doesn't get 16 boards tonight, he'll still get the trip-dip via rounding up, so shut up.
James Harden is the best player on the best team and he's the leading scorer and third assist guy in the league. LeBron James is the third leading scorer and second leading assist guy. Anthony Davis is the second leading scorer and the league's best defensive player, so these are no brainers for the first squad.
Giannis is just incredible. He's leading the Bucks to the playoffs and he averages 27 and 10 and the most "holy shit did you see that?" moments for a guy not named LeBron. My first team is better than yours so no one cares what you think. This is the best lineup in the NBA. If the Monstars show up, I'll run these guys out there and watch reruns of Dawson's Creek because they're not going to lose.
All-NBA Second Team
G – Damian Lillard
G – DeMarcus DeRozan
F – Kevin Durant
F – LaMarcus Aldridge
C – Karl-Anthony Towns
Dame's the sixth man, with KD right behind him. Durant gets knocked down a peg because I was sick of his fake tough guy shit this year. Seriously, you're not a bad ass bro. Stop getting ejected. Stop racking up technicals. Leave that shit to Draymond. You go score 30 a game and remind everyone that Steph needed you and injuries to Kyrie and Kevin Love just to get his two titles.
DeRozan and Aldridge are kind of the guys you forget about being amazing basketball players, but they quietly lead their teams to the playoffs every year. The Spurs in particular don't make it without Aldridge, and DeRozan has had a better season than Kyle Lowry, so he gets the nod.
Big Kat is up in Minnesota eking out a shot at the playoffs without Jimmy Butler for a long stretch, putting up 21 and 12. One of these years soon we're going to have to classify Anthony Davis as a F to accommodate Kat's spot at C on the first team.
All-NBA Third Team
G – Victor Oladipo
G – Ben Simmons
F – Paul George
F – Al Horford
C – Joel Embiid
I arbitrarily decided you needed to play in 75% of your team's games this year to make All-NBA so I could include Embiid, who was so vital to the Sixers winning 50 games this year. That allowed me to leave out guys like Stephen Curry, DeMarcus Cousins, John Wall, Chris Paul, Jimmy Butler, and Blake Griffin.
Simmons was incredible statistically, and is the heir apparent to the LeBron James mold of point-forward stat machine. Oladipo sneaks in thanks to those injuries. Paul George averages over 20 PPG and is a defensive stalwart, so he gets a nod on the third team. Horford was the only guy on the second-seeded Celtics to endure the entire year, so he gets the blue-collar nod.
Yeah, I know, those injured guys are better than these dudes, but you gotta play to make the team!
Most Valuable Player
This award is the dumbest of all these awards. LeBron James has been the undisputed best player in the NBA for just over a decade, and he only has four MVP awards. That is so fucking stupid. The media just gets bored and is like "well yeah, LeBron is good, but that guy is suddenly almost as good as he is, so let's vote for him!"
This stupidity was on full display in the 2015 and 2016 NBA Finals, when LeBron made Curry look like a little kid in comparison. Curry had won two straight MVP's, the second one unanimously. The MVP award should go to the best fucking player in the god damn league, not the trendy guy with awesome stats on a really good team. So sorry, Harden, you're not winning this award.
Last year, an exception was easily made for Russell Westbrook. When you average a triple-double over the course of an NBA season, you win the fucking MVP award. It's a one-time special exception though. This year Russ doesn't nab it if he gets 16 caroms tonight. He got it last year for that insane season, which we now see is feasible for him every year.
LeBron did everything he had to do to win the award this year. They've made arguments  in the past that he rested too many games, so LeBron plays in all 82 this year. He's the third leading scorer, the second leading assist guy despite all the ups and downs of the Cavs roster this season. Sure, he swooned a bit in January, but a LeBron James swoon is still better than probably everyone else in the league.
Give the award to LeBron James. Rename the award for LeBron James. And while you're at it, go back in time and give him the award from 2009 onward like he should've. He's in his fifteenth season and he's averaging career highs in rebounds and assists. He leads the league in minutes per game and he's played in every single fucking game.
Think about it this way. Gun to your head, you've got to win one basketball game or the guy pulls the trigger. You get to pick any player in the world first to start your team. Who you going to pick? The same person everyone else with half a brain will choose. The league's Most Valuable Player, LeBron James.
Subscribe now!
Evan Lazar joins the BIGPLAY Podcast to talk Tom Brady free agency and Patriots offseason!
BIGPLAY Podcast is talking #marchmadness2020, #coronavirus and it's impact on sports, free agent QB