When Sir Charles called Peter Vecsey a scumbag, the writer and former NBA TV analyst didn't take too kindly to the label.  He tweeted and deleted the following, which warranted a response from some "ignorant slut" on Twitter.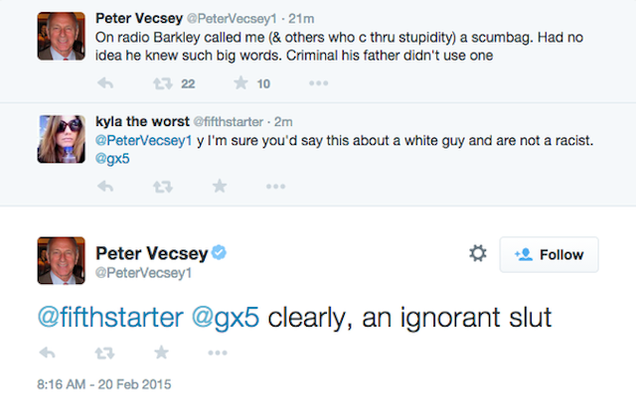 @fifthstarter has a fitting handle, since she clearly is the worst and is most definitely ignorant, but without further research, her promiscuity level remains unknown.
A "scumbag" today essentially means someone who is a "piece of shit," but it was common slang for a used condom back in the day.  Vecsey utilized the latter meaning as he rued Barkley's father didn't use protection, thus preventing Sir Charles from entering the world.
However, @fifthstarter is one of those incredibly stupid people in the world who only sees racism when a white person is critical of a person of color.  In this instance, she lacked the reading comprehension to understand Vescey simply wished Barkley had never been born, but instead, she saw a white guy use the word "criminal" towards a black guy and construed racism where none was even remotely intended.
Kudos to Vescey for, while not using language befitting a professional journalist, taking a stand against this worthless Internet person, and giving her the disrespect she deserves.