Last week, BIGPLAY.com writers Sean and Joey set you straight and hooked you up with significant value plays (DeAngelo Williams), fantasy studs (Amari Cooper), and players to avoid (Brandon Marshall). If you followed their advice, you now have some extra money in your pocket. Congratulations.
Now it's time we put their research to work once again, and set our favorite DraftKings lineup (sorry NY readers) for 1:00pm kickoff. We were 2 players away from a 25k payday last week, so fingers crossed…
Want to win, but don't want to pay? We got you, bro. Sign up below, and play our Sunday lineup FOR FREE.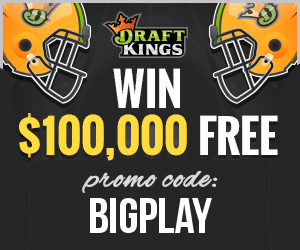 Let's get to it.
Quarterback
Derek Carr has a tough match up at home this week in Minnesota, as you might have read in our NFL studs and duds. The Vikings have quietly become a top tier team through their defense. Yet at 5800 bucks, it's almost impossible to ignore the upside of Carr in a million dollar contest. He will be owned by less then 10% of fantasy players, and has the potential to shoot you into huge money making rankings. With 11 TDs over the past 3 games, while averaging 300 yards per, you can't pass up the potential. We would not recommend Carr in a smaller tournament or a double up league, as the risk of the Vikings shutting him down is high. Even so, Carr's WR tandem in Cooper and Crabtree have been highly productive all year, and will not disappoint against the tough MN defense.
Running Backs
Justin Forsett is a no brainer at $6000. The Jags D is horrible, and are ranked 26th against the run.
Jeremy Hill is a wildcard. A back that most had pegged as a low end RB1 in standard leagues heading into the year has disappointed to say the least. Yet the star out of LSU loves the spotlight, and should shine on MNF vs the Texans. He's proved to Marvin Lewis that he is worthy of the majority of reps, even with Gio Bernard's strong performance. Jeremy Hill will find the endzone Monday night.
Wide Receivers
Giants/Patriots is shaping up to be an incredibly high scoring game, according to Vegas. Look for PPR stud Julian Edelman to rack up the points early and often, while Rueben Randle benefitting from a heavy 2nd half passing attack while the Giants play catch up.
Demaryius Thomas is a must play vs the Chiefs. Hauling in over 100 yards in their last match up, Thomas will go off once again, even with a washed up QB legend at the helm.
Tight End
We've been rolling with Ben Watson for 4 weeks, and we're not stopping now. Over paying for a TE can ruin your entire roster, and at $4300, Watson is well worth the value. Drew Brees will continue the trend, and target Watson at least 5-8 times on Sunday.
Flex
If you follow us on Facebook, then you saw my fleecing of Mr. Saturday to snag Amari Cooper in my standard league. I'll be starting him there, and I'll be starting him here…because if Derek Carr has the day we think he will, Amari will follow suit in terms of points. It's that simple.
Defense
I am a huge fan of going cheap on defenses and playing the match up game. If the Bears can hold Gurley to 1 TD, then the $2200 salary we spent on them is worth it.
The Lineup
Good luck bros. We will be taking your lineup questions Sunday morning on Facebook and Twitter. Talk to you then.