Baltimore @ Cincinnati (Pick Em)
Two weeks and two pick ems! Glorious!
I'm pretty sure there's nothing we can glean from the Ravens' throttling of the Bills, because Buffalo is awful. Flacco spread it all over the place, so despite Crabtree nabbing a TD pass in his first game, still too early to go for any Ravens in your dailies. They're on the road in Cinci, who is coming off of a nice road win in Indianapolis.
The Pick?
Joe Mixon had a solid fantasy day, as did AJ Green, but the Thursday slate means you probably can't get them into your dailies. This should be a good game for a Thursday night, but there's the old adage about never trusting Andy Dalton when he's the only game on TV. I'm going to rely on it in this early season match up between divisional foes.
RAVENS
Indianapolis (+5.5) @ Redskins
Alex Smith's first game as a Redskin was classic Alex Smith. Solid completion percentage, a couple of touchdowns, and no interceptions. He was bolstered by a solid 26 for 96 and six from Adrian Peterson, who is apparently ageless. He's the new Frank Gore. I'm not sure if All Day can keep it up All Season, but he's got Chris Thompson spelling him for 13.0 yards per carry on five attempts, so there's some indications that running game could be something to take note of.
The Pick?
Andrew Luck returned from like seven years off and threw 53 times in a loss at home against the Bengals. At $7,500 in FD this week, he's a QB you may want to put into your lineups. He's going to get volume, and they have nothing to speak of in the backfield so it's really all they have in Indy. If you're looking to save a few bucks, Luck is the choice this week .
REDSKINS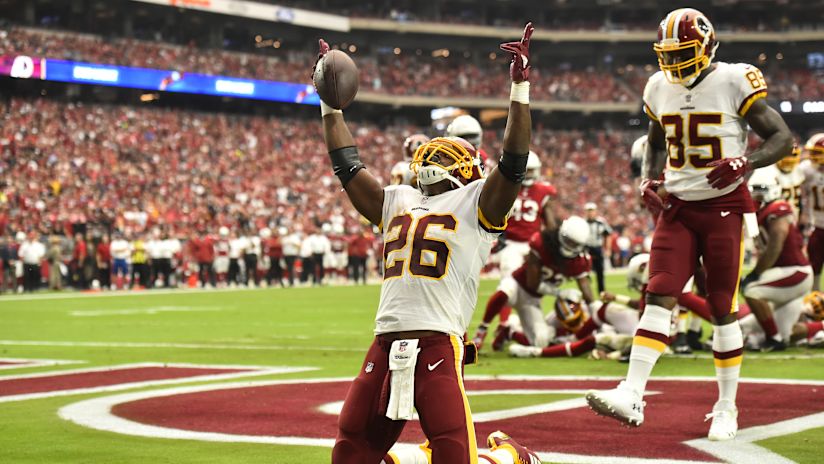 Carolina (+5.5) @ Atlanta
I didn't get to see the Thursday night game, but did see Julio Jones doing work. Matt Ryan's $400 cheaper than Andrew Luck, and at home, he might be an even better value play. He's going to target Jones incessantly, so stacking these two would be a wise combination this weekend.
The Pick? 
Cam Newton had a quiet game in a win against Dallas. My inkling that Dallas wasn't going to be very good this year seems spot on, so Cam didn't really have to do too much to beat them. He had a nice day on the ground very early, but let the rest of the boys do the heavy lifting. Greg Olsen, a favorite tight end of everyone not paying a premium for Gronk, was in street clothes and a walking boot for the second half of of Sunday's game. He's a huge loss to an offense that is already limited on star power. It's a boost for Christian McCaffrey and Devin Funchess, who will get extra targets without Olsen. Both guys are relatively cheap, so pick one if you're looking for that mid range priced guy to get touches.
FALCONS
Minnesota @ Green Bay (+1)
Aaron fucking Rogers. What a guy he is. One-legged Aaron Rogers is better than every other quarterback not named Tom Brady. Not only did he return from what was clearly a painful injury, he did it knowing Khalil Mack was bearing down on him every single play. The Packers adjusted, Rogers slung it around, and it was an incredibly enjoyable football experience, unless you're a Bears fan. This showdown with Minnesota will have serious implications as both teams are figuring to go down to the wire for the NFC North crown.
Kirk Cousins had a good rapport with Adam Thielen, connecting on 6 of 12 targets for 102. At $7,600, Thielen will be a high percentage play this weekend. It could be a shootout, with Rogers and Cousins vying for one last possession to pull it off. It might be wise to get Randall Cobb for $6,200 after his big game last week, knowing someone in GB will score big each weekend with Rogers under center.
The Pick?
Unless something negative comes up with Rogers' knee as the week progresses, you have to love Green Bay at home getting a point. There's a ton of deserved respect for the Viking defense, but this is Rogers at home after a magical come back win. I'm going to ride that mojo every time.
PACKERS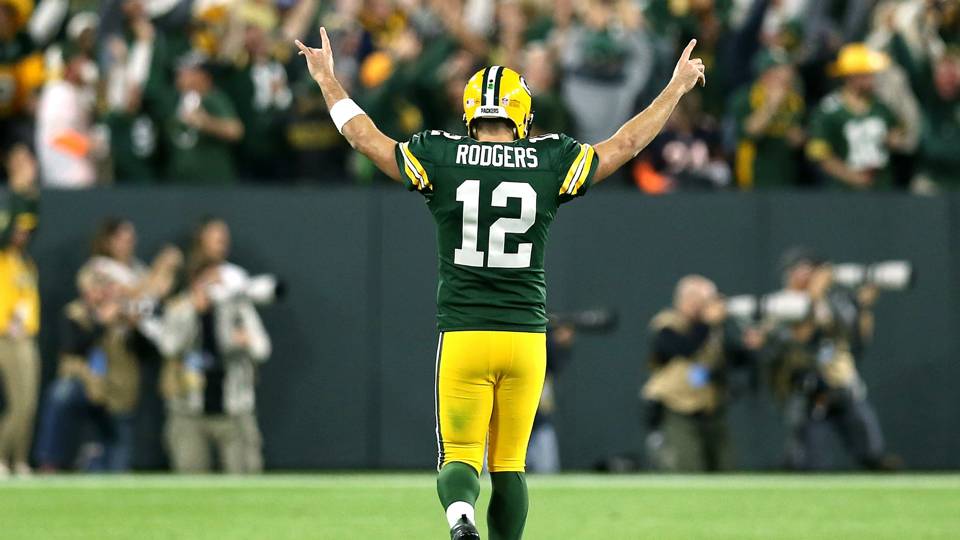 Chargers @ Buffalo (+7.5)
So the one certainty so far is don't start anyone on the Bills and don't pick them to cover any spread just yet.
The Pick?
Philip Rivers was outstanding in trying to rally back down 31 – 12 in the second half against KC last week. He wound up with 424 yard and 3 TD's. I can see him picking this Bills corpse apart early, and letting Melvin Gordon run out the lead. Gordon is a near must play this weekend, even as the fourth priciest RB.
CHARGERS
Houston @ Tennessee (+2.5)
Tennessee couldn't have had a more devastating start to their season. They played in a five-plus hour marathon delayed repeatedly by lightning down in Miami. Then Marcus Mariota lost his best weapon in the passing game when Delanie Walker was probably lost for the season. Mariota then lost feeling in his fingers after a hit, so who knows how that injury will affect him going forward. More Derrick Henry would be ideal, but Dion Lewis got the bulk of the carries instead of the big man in the backfield.
The Pick? 
Deshaun Watson was OK against the Patriots, but you knew they wouldn't let him go off after having all preseason to prepare. Lamar Miller had a quiet 98 yards, which is ideal for Houston. They need him to take pressure off Watson so the young slinger can find Nuk and Fuller for some yardage. This will be the week the Houston offense looks impressive behind Watson leading the way. I'm not suggesting any players for your dailies from this one, but it'll be a Houston win and cover.
TEXANS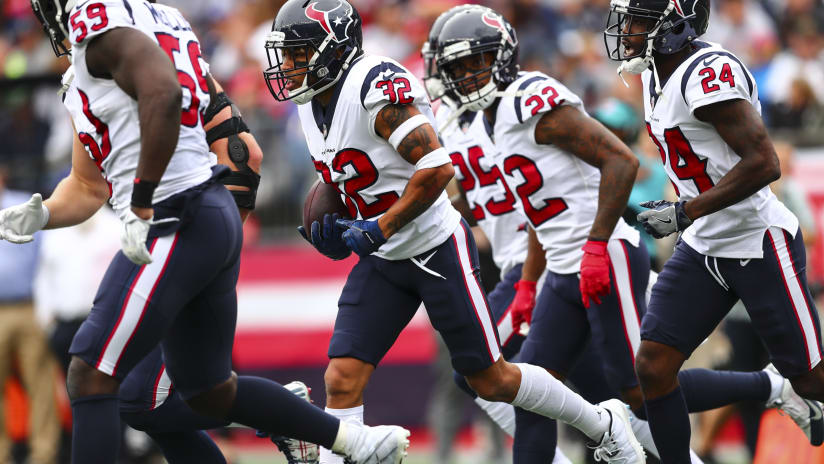 Kansas City (+5.5) @ Pittsburgh
There's a lot to unpack in this match up. First, it's another year with drama in Pittsburgh. Last year, there was a bunch of malarkey surrounding the Anthem crap, and now it's the Le'Veon Bell soap opera. His offensive linemen are talking shit in the media about him sitting out, and James Conner gets his carries and gets results. The Bell leverage lessens with every yard Conner picks up, and he's only $7,000 this weekend if you're feeling it. Big Ben was sloppy as fuck against Cleveland, but the weather was bad and Myles Garrett established himself and an absolute monster, so it happens. For all the turnovers and disappointment in the tie against Cleveland, the Steeler offense was still prolific. You can always justify having Antonio Brown, JuJu Smith-Schuster, or their running back in the daily lineup.
The Pick?
I really can't believe this spread. KC is legitimately a Super Bowl contender, and even though they're going to Pittsburgh, it seems like too big of a spread. The Steelers had a lot of issues in Cleveland, and KC was firing on all cylinders against a tough Charger team. I can't pass this many points up, even if it's in a tough shit hole like Heinz Field.
CHIEFS

Miami (+3) @ New York Jets
So Sam Darnold's first attempt is an awful pick six. Everyone writes the Jets off. Then, they beat Detroit 48 – 17. Holy shit that's a quick turnaround. Darnold was slinging it around a bit, even if his yardage wasn't impressive. Isaiah Crowell had a monster 60-plus yard touchdown run in going over 100 and also had another touchdown. The Jet defense looks impressive. Apparently, second year coach Todd Bowles knows what the hell he is doing.
The Pick?
I'm just not particularly intrigued by anything Miami. Pitbull is cool and all, but this team is just boring. I know they won last week, but that was one of those games. Weather delays, injuries to key opponents, at home….the list goes on. This Jets thing looks fun, so let's ride it out early and see how stupid we can be.
J – E – T – S! JETS! JETS! JETS! 
Philadelphia @ Tampa Bay (+3)
Fitzmagic is real and it's spectacular! After I told you all last week how highly I think of Fitz, I predicted the Saints would roll TB. Well, always trust your gut. I'm an idiot. It was awesome. They scored 48, Fitz had 5 touchdowns, and even the guy I hoped would be amazing last year, DeSean Jackson, had 146 yards and two touchdowns. I'm doubting this can repeat against the defending champs, but it was fun to watch them blow up the turf in New Orleans.
The Pick?
The Eagles overcame more bad QB play from Nick Foles to eke out a win against Atlanta. I'm assuming the Eagles are quite prepared for Fitzmagic and stifle it this week on the road.
EAGLES
Cleveland (+8.5) @ New Orleans
Only Cleveland could end a losing streak without winning. Despite the good vibes of taking Pittsburgh the distance, there's some serious turbulence just under the water in Cleveland. Hue Jackson continues to find new ways to expose his ineptitude. He made a big deal out of letting everyone know Josh Gordon wouldn't start after missing most of training camp, only for Gordon to start on a "mistake." His team committed double-digit penalties, most of them just a lack of discipline. Jackson's inconsistency and inability to pay attention to detail overshadowed a monster effort for inevitable defensive player of the year Myles Garrett and his defense, which forced six turnovers and still lost.
The Pick?
New Orleans put up 40, but surrendered 48 to Fitzmagic as we just discussed. Cleveland's defense will create turnovers, but they surrendered a shitload of yardage to the Steelers in miserable weather. It's doubtful they'll give up 40 to NO, but you can't count on Tyrod Taylor to keep pace with Drew Brees. While Brees was delivering, Taylor was busy hanging on to the ball too long resulting in sacks, and when he did throw it, he was very inaccurate. Still, I can't pass on that many points for a Browns team that might be able to cover on the road. In a possible shootout/blowout, Jarvis Landry has a ton of value at $6,700, considering he'll see a ton of looks from Taylor on the turf.
BROWNS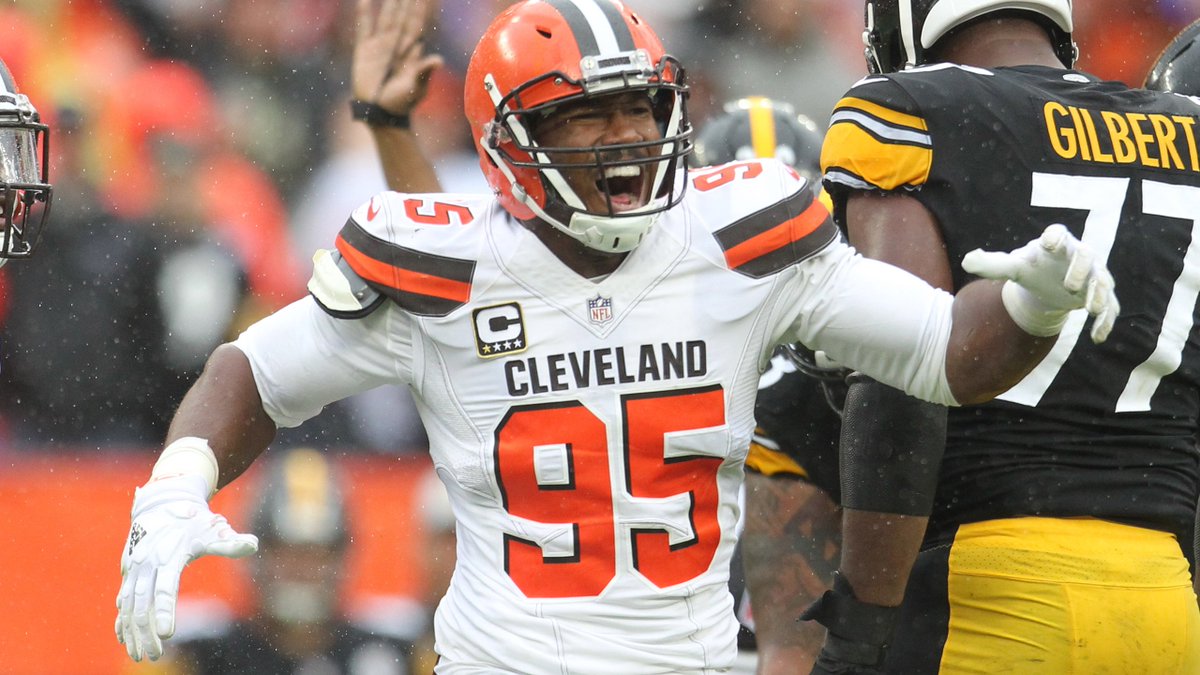 Arizona (+13) @ LA Rams
Todd Gurley is the best running back in football. At this point, you almost always have to have him or Alvin Kamara in your dailies to find pay dirt. They're pricey, but they tend to live up to it. I'm undoubtedly playing Gurley this weekend in mine. The Cardinals look awful, which means the Rams should have their way with them, score early, and rely on Gurley to carry it home.
The Pick?
Big spread but it's Arizona on the road.
RAMS
Detroit (+5.5) @ San Francisco
The hardest games to pick in week two are always the two teams that disappointed in week one that have some serious changes from last year. It's Jimmy Garropolo's first full year with San Fran, while Matt Patricia is the new boss in Detroit. Detroit gets smoked by the Jets, while San Fran looked inept in a loss to the mighty Vikings. Now Detroit gets to head across the country and gets five and half for their troubles.
The Pick?
Jimmy G should obviously fare better against the porous Lions defense than he did against the stout Vikings. I'm not confident enough to give him a nod for $7,3000 when there's plenty guys around that cost that are safer bets. I just don't know if we can count on them to win by six or more. My money's on Detroit bouncing back on the road and Matt Stafford having a big one.
LIONS
New England @ Jacksonville (+2)
Losing Leonard Fournette so early last week was devastating to fantasy owners who loved his upside. It's his hammy, and that's an awful injury for anyone to deal with, but it's a deal breaker when it comes to dailies. Don't pick him whatever you do because he's one tweak away from done again. For running backs, I really like Rex Burkhead at $6300 as a cheap option. It's always risky picking a Patriot back, since the game plan is so unpredictable from week to week. He's cheap enough that you could have him as your flex, and couple Gurley and Gordon together as the pricey guns.
The Pick?
Always tough to pick against New England when the spread is this small. In case you're horrible at math, the Patriots only need to win by a field goal. I love those odds.
PATRIOTS
Oakland (+6) @ Denver
I'm bummed out Oakland looked poor after hoping Derek Carr and Jon Gruden would have shit clicking, but it was a tough one against the Rams. Case Keenum had three interceptions against Seattle, which could bode well for Oakland. Other than Emmanuel Sanders, I'm not keen on anyone in this one for fantasy purposes. Sanders converted 11 targets into 10 catches and 135 yards. While Keenum also targeted Demaryius Thomas 10 times, it looks like Sanders is the Keenum favorite.
The Pick?
When you're in doubt, take the points. That's pretty much my motto this week. We're still feeling these teams out, and giving Oakland a touchdown is a nice gift. I also love Jared Cook at tight end. Carr targeted him a bit, and Cook took advantage. I'm liking Cook to find the end zone, maybe twice(!) this weekend, and giving Oakland an outright win in Denver.
RAIDERS
NY Giants (+3) @ Dallas
Saquon had a monster 68-yard touchdown run, but was otherwise bottled up by the tenacious Jaguar D. He should find more room to roam against Dallas, but I'm not confident enough to peg him as a fantasy pick. Dallas predictably struggled against Carolina because they're not very good this year. There's always a chance Zeke could go off, but this isn't the 2016 Cowboys. Everything will be more difficult for them this year. Dak must do more than ever, and that's just not his game.
The Pick? 
I really liked how NYG kept it close against a very good Jaguars team. You give them a field goal against a Dallas team I think sucks ass, and you got yourself the makings of nice cover for the dawg.
GIANTS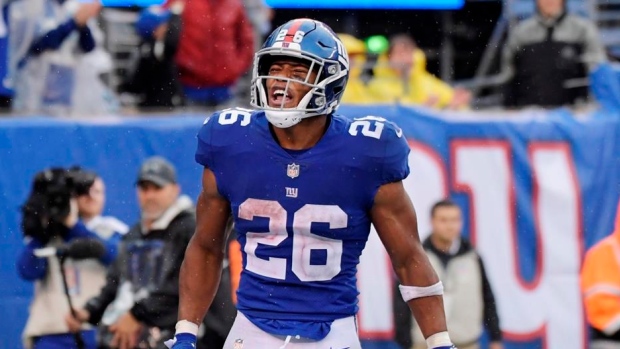 Seattle (+3) @ Chicago
Twas a tale of two halves for da Bears. A first half of dominance, a second half of being dominated. Lost amid all the attention placed on Aaron Rogers was how the Bears' defense disappeared in the second half. With a two headed monster of Jordan Howard and Tarik Cohen, they should be getting way more than 20 total carries in a game, particularly in a game when they're up 20 in the second half.
The Pick?
Seattle sucks this year. I don't have any proof for that, but it's just a feeling. Keeping with the Broncos for four quarters doesn't mean you're good. It means you're not good enough to beat another team that's not very good.
BEARS
Week 2 Optional Daily Lineup
QB Matt Ryan ($7100)
RB Todd Gurley ($8900)
RB Melvin Gordon ($8200)
WR JuJu Smith-Schuster ($7200)
WR Jarvis Landry ($6700)
WR Randall Cobb ($6200)
TE Jared Cook ($5000)
FLEX Rex Burkhead ($6300)
D Chargers ($4400)
TOTAL $60K
Standings
Last Week: 7 – 8 – 1
Subscribe to our shows!
Fantasy RBs and SEC Network's very own Cole Cubelic talking College Football!
LIVE w/ Browns LB Mack Wilson! Have a question for the upcoming star? Leave it in the comments!
BIGPLAY Gaming LIVE w/ Browns Week 1 vs Titans matchup between MUTGuru vs. BIGPLAY Dave. LET'S GO