Well I had some shit to start this column out with, but the violence in the Bengals-Steelers clash last night made me forget whatever the hell it was. The good news is Ryan Shazier has feeling back in his lower extremities. Shazier wasn't the only player carted off, as Vontaze Burfict also left the field after being obliterated by a JuJu Smith-Schuster crackback block.
BOOOOOOOOOY JUJU ROTY NOW IDC pic.twitter.com/fnW4iz8qaW

— Lucas (@NotMikeTolbert) December 5, 2017
The NFL has cracked down on these types of blindside hits, so there was a flag thrown on the play. It's not the hit that is troublesome, as that type of play was legal and celebrated for decades before concussion safety surfaced. It's rather the image of JuJu standing over Burfict after leveling the devastating hit. It's not a good look for JuJu…until you take Burfict's body of work into account.
No one active in the NFL has more of a penchant for dirty, cheap, bullshit than Burfict. All you snowflakes won't like me shaming the victim, but turnabout is fair play. When you're notorious for dishing out brutal hits on people with no remorse, you can pardon me for not particularly giving a shit about someone decimating you and celebrating it at your expense.
Last week I went 7 – 9 against the spread to bring the season total to 93 – 94 – 5.
New Orleans @ Atlanta (+1)
A game of the week nominee out of the gate! Sadly, it's a Thursday night game, which never bodes well for top performances. There are immense playoff implications, as the Falcons trail the division leading Saints by two games.
The Pick?
The Saints dispatched the number one contender in the Panthers last week, and now have a chance to put themselves in the drivers seat for control of the division. Relying on Alvin Kamara and Mark Ingram is a fantasy must these days. Both guys always seem to find pay dirt and earn that lofty cost in your dailies. With the Falcons struggling against good defenses, a point isn't enough to entice me.
SAINTS
Detroit @ Tampa Bay (+1)
Well thanks to Jameis Winston's return, the Buccaneers lost last week. Other than getting sacked seven times, Winston played well. But they lost, to the Packers, who have sucked without Aaron Rodgers.
The Pick?
I love Detroit and like Tampa much better with Fitzdawg under center. Need about five more points to consider the underdog in this one.
LIONS
Chicago (+6.5) @ Cincinnati
It was a shock to see Chicago lose to the 49ers. I know both teams suck, but come on! Chicago has at least shown some signs of dominating. Believing the porous Niner run defense would allow Jordan Howard to go off was a blunder, as he was held to under 40 yards. It was a devastating blow to everyone who trusted my prodding to go with him in your dailies.
The Pick?
I'm going to double-down and take the points in this one. Cinci is another bad team against the run, so I'm not going to trust them to limit the Chicago attack.
BEARS
Indianapolis (+4) @ Buffalo
Indy is a dumpster fire.
The Pick?
Buffalo should roll easily.
BILLS
Seattle (+3) @ Jacksonville
Damn, Daniel! How you going to do the Seahawks like that Vegas? They just beat the Eagles and now you're giving them a field goal?
The Pick?
Russ Wilson's been a maestro, and he's just the guy to buy himself time against a vaunted defensive front. He mitigates the strength of the Jaguars, and that Seattle defense will confound Blake Bortles. This will be an outright win for the underdog.
JAGUARS
Oakland (+4) @ Kansas City
The Raiders got that second straight win against a team they were supposed to beat. Now, they've got a reeling Chiefs team on a four game skid. Alex Smith was amazing, tossing for 366 and four touchdowns, but that defense let the Jets score 38.
The Pick?
So you're going to give the Raiders four? I'll take them. They can put up points on this Chief defense and getting a few extras is a big help. I'm on the money line without a doubt on this one that'll go a long way in deciding who wins the AFC West. Not to mention, a cheap Derek Carr should be a fine fantasy option this weekend.
RAIDERS
Minnesota @ Carolina (+2.5)
It's rather insane that the Vikings are so damn dominant they're on pace for a playoff bye with their third string quarterback. Case Keenum has been the man, and this Viking defense stymies the best offenses in the league. Not even a resurgent Falcons offense could get in the end zone against them.
The Pick?
The Panthers were pretty good against the Saints, but they came up short. They'll have to be incredibly good to win this one on the Vikings. I don't see it happening. But I do see Kyle Rudolph being the best TE this weekend in fantasy.
VIKINGS
Green Bay @ Cleveland (+3)
So Josh Gordon returns and Cleveland covers for the first time in like seven seasons. Gordon was good in his return, but he could've been great if DeShone Kizer had any sort of touch on the deep ball. Twice Gordon had yards of separation behind the defense, and both times Kizer overshot him. As someone who took a flier on Gordon in my daily, it was incredibly fucking frustrating and makes me hate Kizer even more as a Browns fan.
The Pick?
As much as I want to see the 0 – 16 parade in Cleveland, I've got a real weird feeling about this one. It'll be cold and wet and miserable in Cleveland. Odd things happen when the weather gets funky. The Browns have proven they can stop the run, so Brett Hundley will have to beat them. I'm not about to start believing he can. Browns on the money line!
BROWNS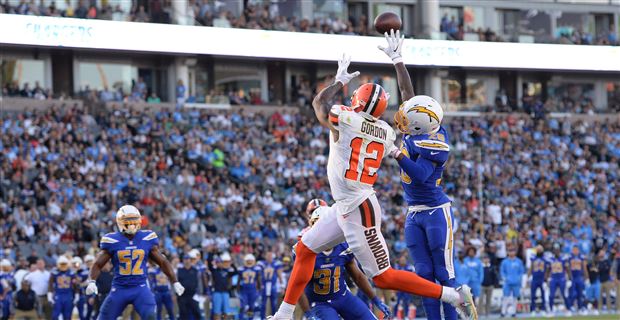 San Francisco (+3) @ Houston
Jimmy time in San Francisco started well, as they got the win and he played good quarterback. He's  cheap option at QB this week, and it might be a good play if you want to go pricey elsewhere. Houston's not good and getting worse. Might be a good time for San Francisco to put up some points.
The Pick?
Houston's arguably the most depressing story of the season. Sans JJ Watt and Deshaun Watson, the promise has turned into abject failure. They're giving a field goal against a two-win team at home…and you can't even trust them to cover.
49ERS
Redskins (+6) @ LA Chargers
Getting crushed last Thursday by the Cowboys really put a damper on the Redskins. Kirk Cousins continues to put up impressive, if not elite, numbers that don't translate into wins for the Redskins. With the Chargers failing to cover against Cleveland, I'm not even sure what to do with this one.
The Pick?
Honestly, the Chargers were a bad bounce away from giving the Browns their first win last week. That has me warming quickly to the idea of Cousins getting six. Let's book it.
REDSKINS
NY Jets @ Denver (+1)
I've been telling you for weeks the Broncos have no pride left. They're done. It's official now after they got shellacked by the lowly Dolphins.
The Pick?
I'd cash in the 401K and lay it on the Jets this weekend without hesitation if I knew how to do it. They have incredible pride and play hard each week, which is the exact opposite of what's going on in Denver. Money line the underdog again and thank me later.
JETS
Tennessee @ Arizona (+3)
First, get Larry Fitzgerald in your fantasy lineup. Drew Stanton targets him like a mofo, and Larry racks up the points.
The Pick?
Tennessee is the worst 8 – 4 team in the league, but they're 8 – 4. They do a good job of beating the shitty teams, and Arizona qualifies.
TITANS
Philadelphia (+2) @ LA Rams
Vegas doesn't trust Philly going cross-country to play an elite NFC foe apparently. Not after the loss to the Seahawks. It's a lot of travel to go from Philly to Seattle to Philly to LA. It has to take a toll right?***
*** UPDATE *** Reader Jake Wood informed me Philly went straight to LA from Seattle. Thanks Jake! Still, that's a long time to be away from home. So we'll go with that angle on the travel.
The Pick?
Were this game in Philly, the spread's flipped and it's a no brainer for the Eagles. But all that travel is bothering me. I don't like to think of the Eagles losing two in a row, but this is a particularly unique situation that bring it to fruition.
RAMS
Dallas @ NY Giants (+4.5)
Well Ben McAdoo's key card no longer works, albeit a week late. When you're a terrible head coach, it's not a good idea to bench your franchise's legendary starting quarterback to end his active starting games streak. I mean what the fuck is this porn-stached dipshit thinking?
The Pick?
Is Dallas back? Meh. I dunno. Thursday nights shouldn't be used to draw any conclusions in my book. You've got that whole "we fired a coach we hated and now we're going to play with incredible pride this week to prove it!" dynamic for the Giants. They're getting points. Eli is back. It's at home. The Cowboys sucked ass for a few weeks before last Thursday….shit am I seriously trying to convince myself to pick the Giants?
GIANTS
Baltimore (+6) @ Pittsburgh
I can't stop thinking about how I just picked the Giants. It's spilling into this game.
The Pick?
I tried to claim Pittsburgh wouldn't sludge out of the gate against the Bengals, but they did. Granted, the Shazier injury may have impacted their energy level, since it happened in the first quarter. They're just a hard team to count on to cover at this point. Rivalry game against Baltimore, I'm taking the road dog.
RAVENS
New England @ Miami (+11)
No Gronk in Miami thanks to his cheap shot against the Bills. It was like he forgot he was playing football and went WWE big time. It was seriously a straight WWE move. Honestly, as cheap as that was, it wasn't even the play that irritated me most. If you'll allow this old man to yell at a cloud for a minute, what really chaps my ass is when a guy gets a first down and they extend the ball to signal first down, and then drop it. I saw Hunter Henry do it and I just got so irritated. All I can think about is the official then has to go pick up the fucking ball because this guy couldn't simply toss it to him. If you celebrate a non-touchdown and the ball is a prop, it should be a fifteen yard penalty. Now get the fuck off my lawn.
The Pick?
Yeah, New England by 27.
PATRIOTS
The BIGPLAY Podcast
sunday nights @ 8:30pm