If you were born after 1977, it was the greatest arcade game of all time.  Sure, the Sega Genesis version was awesome, but the franchise has really slid downhill into oblivion along with the decline of arcades.
It's 2015 and the NBA is jam packed (see what I did there?) with superstars.  No more would Midway have to trot out Blue Edwards and Brad Lohaus on the Bucks, or a Mavs squad of Derek Harper and Mike Iuzzolino.  (Seriously, Who?)
It's time for Midway to take advantage of all the studs and young stars in the NBA today to revamp the franchise, and release the original style game.
Here's the definitive rankings for each team's two-man squad, along with a few honorable mentions on the bench as an homage to the TE version of the game.
30.  Boston Celtics
Marcus Smart and  Brandon Bass, while not very exciting, comprise a solid Celtics NBA Jam squad. Smart's strength and peskiness allows you to wreak havoc defensively.  While Bass would be the knock down mid range guy, he's not athletic enough to get it done on the better shot blockers in the game.
Subs:  Jared Sullinger gives you some size and power off the pine.
29.  Phoenix Suns
Goran Dragic and Eric Bledsoe would give the Suns a couple of speedy guys, but real limited in size.  If your game is generating steals and you're cool with getting no blocks and having no power, this is the team for you! Unfortunately for Phoenix fans, these guys have neither the notoriety or skill sets to be desirable in NBA Jam.
Subs:  Markieff Morris would get quite a bit of run from players to give a little thunder along with the lightning of either Dragic or Blesdoe.
28.  Orlando Magic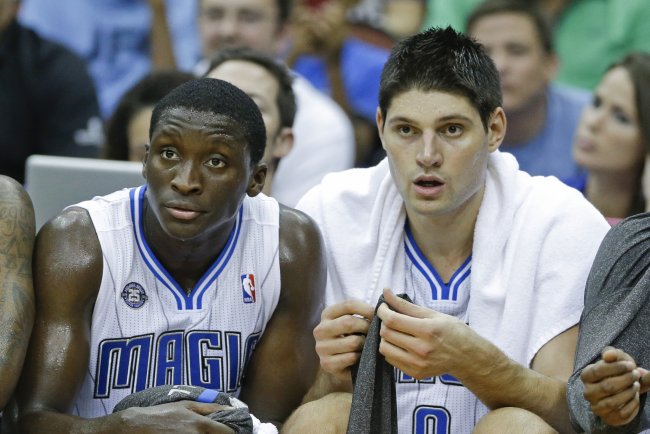 Victor Oladipo and Nikola Vucevic are a nice young core, and would probably fare pretty well in NBA Jam's ratings areas.  Oladipo would be a nice defender with enough height to get a few blocks.  While Vucevic's size would be good on the boards, he's not much of a shot blocker.  In a few years these guys could be solid, but for now, BORING!
Subs:  Aaron Gordon and Tobias Harris would add a lot of excitement to the squad, but aren't quite yet ready for the big time.
27.  Milwaukee Bucks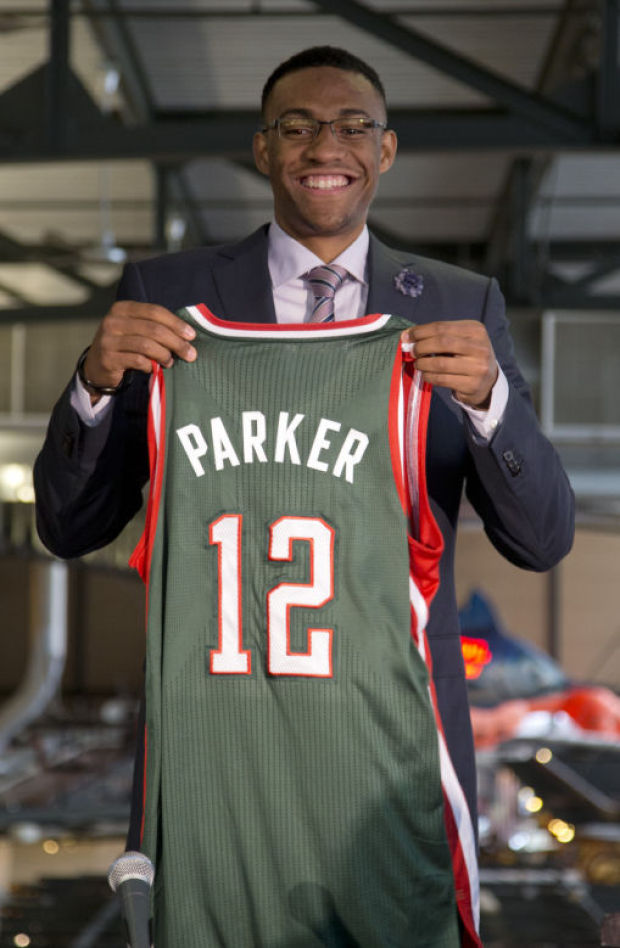 These young Bucks would be long and lean, but lack a certain something.  Sure Jabari Parker* has a lot of hype while Giannis Antetokounmpo was a breakout revelation last year, but unless you're a big gyro guy or love Duke, this team isn't going to do much for you.  Give it a year, and let's see if Giannis can keep it up and if Jabari can live up to the hype.
Subs:  Larry Sanders could easily leap frog either of these guys and be a force, while Ersan "Lurch Looking Motherfucker" Ilyasova lacks the star power to get you excited.
*Roster determined before season ending injury
26.  Minnesota Timberwolves
The T'Wolves are left with Spanish passing sensation Ricky Rubio and 2014 number one pick Andrew Wiggins as their starting 2.  Wiggins' defense and athleticism make him an incredibly exciting prospect in NBA Jam, but we've got him ranked low until he proves his abilities in the NBA.
Subs:  Anthony Bennett and Gorgui Dieng round out the squad.  If Bennett continues to improve, he could be a Karl Malone type force.  Odds are, he's more Oliver Miller than The Mailman.
25.  Philadelphia 76ers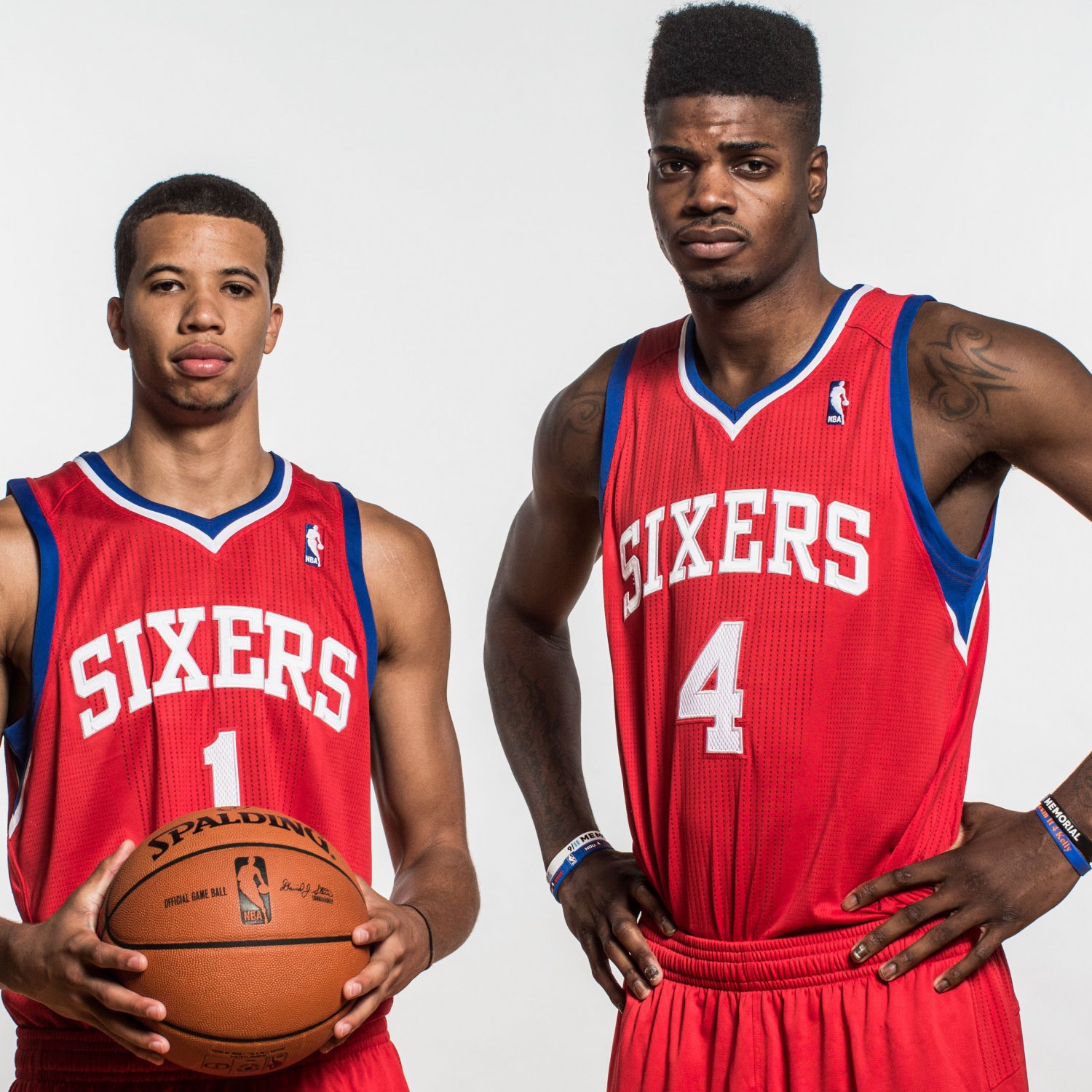 Reigning ROY Michael Carter-Williams and 2014 ROY candidate Nerlens Noel are a good combo for the game.  MCW has the height and all-around skill to complement Noel, who has the size and shot blocking that are vital to success.  Could be fun, but the young'uns need to prove they're worth high rankings.
Subs:  Thanks to their tanking strategy, Joel Embiid and Tony Wroten would be the next logical additions to the squad.  Embiid and Noel could be fucking dominant together if they're as good as advertised, though susceptible to steals.
24.  Washington Wizards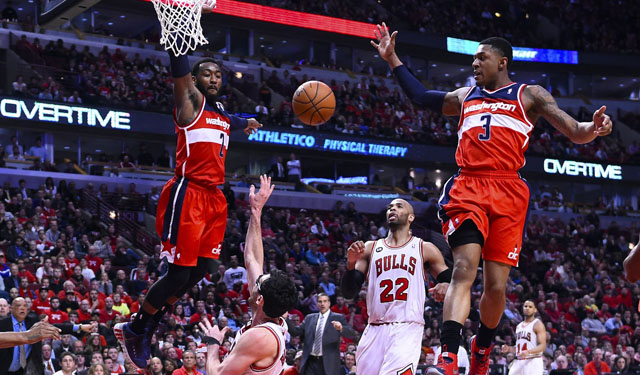 Another team on the smaller side, but there's no doubt John Wall and Bradley Beal would be a fun squad to play with.  Wall's speed and athleticism would be hindered a bit by a lack of power, but a talented Wizards' fan could get it done.  Beal gets the nod since the duo goes hand-in-hand at this point, but this squad would benefit from their subs.
Subs:  Paul Pierce's best days are behind him, but the old man would still be rated high enough to get results, while Marcin Gortat's skill set translates well into Midway's gem.
23.  Indiana Pacers
Before he bent his lower leg in half, Paul George was one of the most exciting players in the game. With George out for the year, the Pacers would have to combine to big guys in David West and Roy Hibbert.  You could protect the rim and have lots of power, but good luck getting the ball up the court against a team with a guy highly rated in steals.
Subs:  George Hill and C.J. Miles could give you some speed and ball handling off the pine if you wanted to pair them up with one of the bigs.
22.  Denver Nuggets
Ty Lawson is fast as fuck, and Kenneth Faried has got the power!  This team would be a lot of fun to use, and in the right hands, could be tough to beat.  A
Subs:  Danilo Gallinari would probably suck, but you have to throw the Italian on the team along with JJ Hickson, whose only ability in the league is to throw down dunks, so you've got to get him in the game!
21. Memphis Grizzlies
With the closeness between these two, it's a no brainer Mike Conley and Marc Gasol would team up to represent Memphis.  Gasol is a beast, and while he might not garner a lot of speed in the game, his power and defense would make up for it.  Meanwhile, Conley's speed and steals would be rated very highly, giving you the thunder and lightning combo that works real well in NBA Jam.
Subs:  Zach Randolph is a no brainer, while newcomer Vince Carter gets the nostalgic nod.
20.  Utah Jazz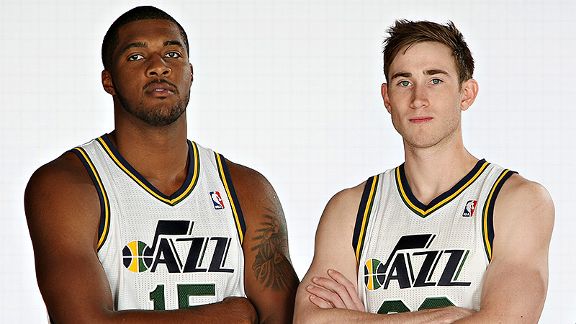 Derrick Favors and Gordon Hayward have the size and athleticism to be a force on both ends of the floor.  2014 should be a big year for these two in real life, and it would translate well into the land of video games.  A lack of experience prevents these guys from ranking  much higher.
Subs:  Trey Burke is small and speedy, while rookie Dante Exum gets the nod for his sheer potential and hype.
19.  Brooklyn Nets
Deron Williams is one of the best PG's in the game, and his strength and speed would make him dominant.  KG's over the hill, but still has the size and intensity to make him a desirable player in NBA Jam.  Together, they crack the top twenty, but no higher.
Subs:  Brook Lopez and Joe Johnson coming off the pine makes Brooklyn exactly what it is in real life:  great on paper but not that fun.
18.  Toronto Raptors
Kyle Lowry's strength and speed in a small package along with incredibly competitiveness have caused him to rise to the top of NBA PG's, while DeRozan has become one of the league's reliable scorers.  The Raptors' would be a ton of fun thanks to the sheer athleticism and way these two complement each other.  Clearly Lowry's excited about being around DeRozan!
Subs:  Terrence Ross and Jonas Valanciunas get the pick, but odds are you'd never use them with the duo above.
17.  Detroit Pistons
Brandon Jennings is a little guy with big game.  While not the strongest player, his speed and scoring pair well with the power of Andre Drummond.  Drum is a load in the paint, and is a solid compliment to the speedy Jennings.
Subs:  Greg Monroe and Drummond together would lack ball handling, but if you're a bully type player, it's the Bad Boys all over again in Detroit!
16.  Atlanta Hawks
While not the sexiest names on the marque, Al Horford and Paul Millsap are two big-man All-Stars that get results in the NBA.  With the size and shot blocking of Horford and Millsap's strength to get buckets, they'd be rated high enough to beat just about anyone.  Too bad no one's getting all fired up to use them…
Subs:  Jeff Teague has the speed and pretty boy Kyle Korver can drop buckets, but they don't help make Atlanta any less boring.
15.  San Antonio Spurs
The reigning champs are undoubtedly the best the NBA has to offer, but the synergy Gregg Popovich gets out of his players is lost in the land of NBA Jam.  Finals MVP Kawhi Leonard would be an absolute beast in the game, while first ballot Hall of Famer Tim Duncan is going to complement him well.  It'd be a solid duo, but not very sexy to say the least.  Typical Spurs!
Subs:   Obviously Tony Parker and Manu Ginobili, duh.
14.  Dallas Mavericks

Dirk Nowitzki is another can't miss Hall of Famer, while Rajon Rondo is a passing nightmare that can score in the paint at will. The excitement they'd create on the offensive end makes them perfect for NBA Jam.
Subs:  Chandler Parsons has a solid skill set for the game, while Monta Ellis gets the nod for draining buckets.
13.  New York Knicks
Carmelo Anthony is one of the best scorers in the NBA, and though he isn't much of a high-flyer, Midway would have no choice but to make him one in the game (if John Stockton and Mark Price could dunk, then Anthony's going to be a beast!).  Amar'e Stoudemire has the size and used to be such an amazing athlete, he'd still get generous abilities from Midway.  A decade ago, this would be a top tier team, but now it's second quartile.
Subs:  Andrea Bargnani gives a bit more size and a…wow the Knicks suck.
12.  LA Lakers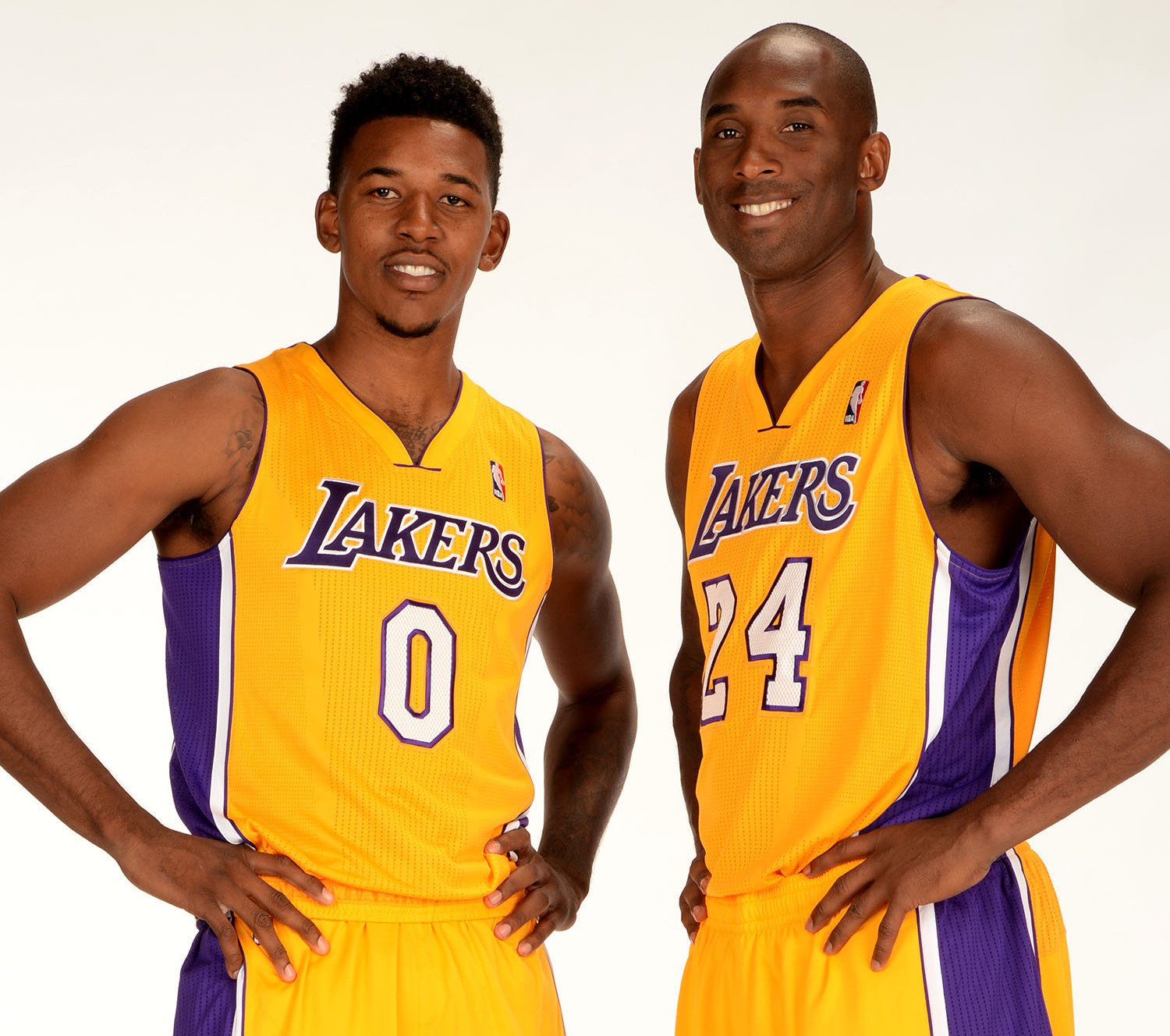 The Black Mamba is obviously a no brainer, as he's one of the top five players you'd want on your team in this type of format.  With Steve Nash and Julius Randle done for, the default teammate because Nick Young.  Swaggy P and Kobe would be insanely fun to play with, despite lacking the power to compete with some of the stronger big men tandems.
Subs:  Jeremy Lin gives a little bit of Ivy League flavor to the game, while Jordan Hill's dreads would probably look pretty sweet in big head mode.
11.  Miami Heat
The leftovers in Miami are still pretty good in their own right, so a duo of Dwyane Wade and Chris Bosh make the top ten.  Fortunately for Wade, durability isn't an issue in NBA Jam, so he'll still be one of the best players in the game, while Bosh will most definitely get big rankings and be a force on both ends of the floor.
Subs:  Josh McRoberts is a white guy who can throw down big dunks, so he's a no brainer, though he's out for the year.  Rookie Shabazz Napier gets the nod for his run in the NCAA Tournament.
10.  Charlotte Hornets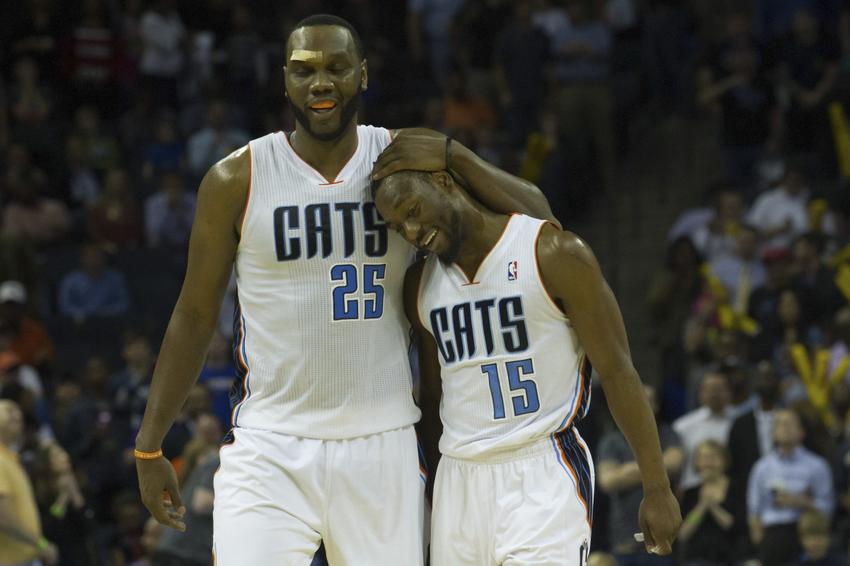 Al Jefferson is one of the best big men in the NBA, despite casual fans not realizing it.  He'd be off-the-charts rankings wise, and that dominance would be a lot of fun to control.  Kemba Walker, while pint-sized, is ridiculously fast.  Together, they're the quintessential thunder-and-lightning combo that you want and need to dominant your friends.
Subs:  Lance Stephenson could be better overall than Walker, while Gerald Henderson would be a boring fourth option.
9.  Golden State Warriors
Stephen Curry is one of the league's most prolific scorers, but he's hindered by a lack of size and power in the world of NBA Jam.  Klay Thompson's not the most athletic, but he can defend and has a bit of size to make him a formidable wing.  Together, they'll be a popular duo for the game, but Curry's physical limitations prevent Golden State from ranking higher.
Subs:  Adding in Andre Iguodala and David Lee for depth improves their prospects, but you can only play two at a time and those two are Curry and Thompson.
8.  Sacramento Kings
Here's where shit gets interesting.  Rudy Gay, long, fast, high-flying…everything you need to be fucking outstanding in NBA Jam.  Boogie Cousins, big, strong, powerful…everything you need to be fucking outstanding in NBA Jam.  On paper, these two are fucking outstanding, and fortunately for Sacramento, paper's all that matters in Midway's world.
Subs:  Ben McLemore has the promise to be great in the game, while Nik Stauskas gets the nod for Canadian kids and losers who like Michigan.
7.  New Orleans Pelicans
Anthony Davis is a bonafide superstar, and his size and athleticism would be outrageously fun in NBA Jam.  As a running mate, Tyreke Evans has all the tools to be great in the game, but he's going to be carried by the Unibrow if the Pelicans are your weapon of choice.  Big Head Mode would be a ton of fun with Davis' brow!
Subs:  Eric Gordon was once the heir to best SG in the NBA, but injuries have really derailed him, while Jrue Holiday gets the last spot.
6.  Portland Trail Blazers
It might seem too low for this duo, but let's dig deeper.  As far as PG's go, Damian Lillard is one of the strongest and highest-flying.  He's also got the speed and scoring ability to be an NBA Jam favorite.  All-Star LaMarcus Aldridge is a gifted PF, but he's just missing the "it factor" to beat out the duos ranked above them.
Subs:  Nicolas Batum and Wesley Matthews, but unless either of them is a friend or relative, you're not subbing Aldridge or Lillard.
5.  Chicago Bulls

Derrick Rose's balky knee will be 100% in the game, so you'll be getting the incredibly fast and high-flying version that makes him a veritable force.  Partnered with Joakim Noah protecting the rim, the Bulls are almost good enough to make the top five.  If Noah was more dominant in the dunk department, he and the former MVP would be ranked higher.
Subs:  Pau Gasol would be a poor man's Marc Gasol, and Doug McDermott would be a nice option for those who poorly opt to try and shoot threes in NBA Jam.
4.  Oklahoma City Thunder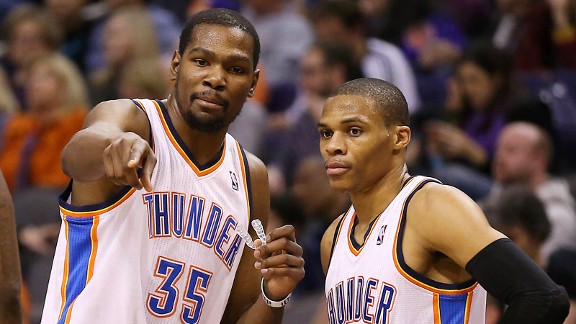 In reality, Kevin Durant and Russell Westbrook are the best duo in the NBA.  In NBA Jam land, they're fucking awesome, but Durant's lack of strength as the big man in the pairing keeps them at #4.  While you've got lightning in Westbrook, you've got…well, more lightning in Durant.  Lightning never strikes twice, so by that logic these two are great, but not quite the best.
Subs:  Serge Ibaka would give you the thunder the Thunder's top duo is missing, but are you really going to use him or Kendrick Perkins over two of the biggest stars in the game?
3.  LA Clippers
Blake Griffin has the power and insane dunking ability to make him a top player in Midway's rankings, so he alone puts the Clippers in the top three.  His skill set really makes him nearly unstoppable.  Chris Paul's too good to not pair up with Griffin, and can get steals and facilitate for the man who puts the power in power forward.  This is the squad that could give the Pistons fits!
Subs:  Adding DeAndre Jordan with Griffin would be an NBA Jamgasm of power dunks, but would be very susceptible to steals due to a lack of ball handling.  JJ Redick could get the pick for white guys everywhere.
2.  Houston Rockets

Dwight Howard's incredible athleticism for his size is the stuff NBA Jam legends are made of.  He can throw down powerful dunks and block the dunk attempt of anyone in the game.  Meanwhile, James Harden supplies the ball handling and enough power to throw down his own dunks at will.  Both guys bring solid amounts of thunder and lightning individually, creating an NBA Jam synergy that would be nearly impossible to beat.
Subs:  Josh Smith has the length, shot blocking and athleticism that NBA Jam legends are made of.
1.  Cleveland Cavaliers

When the reigning All-Star MVP can't crack your top pair in NBA Jam, you know you've got a magical duo.  LeBron James is the real life equivalent of creating a player in NBA Jam that's a 10 in speed, dunk, pass, power, steal, block, and clutch.  In other words, he's built to be dominant as fuck in NBA Jam. Kyrie Irving's handle is too much to resist in the game, so he gets the nod.
Subs:  Kevin Love would probably get great ratings on the game, but it'd be just too fun to play with LeBron and Kyrie.
What do you think is the best duo?