[sociallocker id="1288"]
Have an extra $100k lying around? You can be the proud owner of Michael Jordan's sweat stained, game worn Converse's from the 1984 Olympics.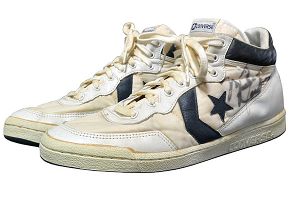 Apparently this guy, who chooses to remain anonymous, has had these things lying around his apartment for the past 30 years.  How did he get his hands on this piece of history? He was a ball boy at those Olympic Games which were in Los Angeles.
Jordan's "Flu Game" Nike's sold at auction last year for $104,765. Jordan is awesome, but dropping $100k on a pair of old sneakers just ain't worth it. These aren't even Dream Team kicks.
[/[/sociallocker]p>