The Miami Dolphins have been trying to find a tight end, well, for essentially my whole life. Keith Jackson was the last actually good tight end the Dolphins's have had and that was back in 1995. Since then, they've had a few guys that played well for a few seasons and by played well I mean they were average. Fasano was alright, McMichael was alright, Jordan Cameron couldn't stay healthy and there's plenty more that couldn't even see the field. Like Ahab finding his white whale or Newman being the white whale of the NYC police department, the Dolphins have been searching for anyone to play tight end at a high level.
The Dolphins addressed this in last year's draft and this offseason. Tight End is going to be a position of interest for the Dolphin's this year in camp due to so much uncertainty. It's a position that I feel if it gets smart people operating them, then they can really be a reliable bunch. There's a reason that most coaches and analysts say that TE is one of the hardest positions to do well at early in your career and that is you get so few opportunities and that you have to block supreme athletes at edge rushers, catch passes, run routes, and create running lanes. That's a full plate and doing it well early never really happens.
Mike Gesicki- I completely loved this pick not just because I'm a PSU alum, but because Gesicki's skill set is taylor made for 2019 NFL. He can jump out out of the building, has some speed, and sucks at blocking. What more do you want? But Gase and company must of felt that every day was opposite day for Gesicki because instead of utilizing his strengths they decided to make him into a blocking TE. Classic Dolphins. Gesicki had a blistering 22 catches in his rookie year and never got on the same page with Tannehill or Osweiler, but to his credit nobody has ever got on the same page with either of those guys. I'd like to say that Chad O'Shea is smart enough to send Gesicki down the seams and use his superior athleticism, you know, like he's built to do but I guess we'll see. He's a suspect blocker for sure, but they can scheme him in where it doesn't totally tell the defense that they are passing.Now, he needs work in being able to get off the line of scrimmage so I'm really hoping that he added some muscle because this ain't the Big 10 anymore. I'd imagine that Gesicki will come out of training camp as their #1 TE. The #FreeGesicki crusade that I started last year continues. Oh and hopefully he can do something amazing sooner than later so that this isn't what everyone thinks of first when they think of him.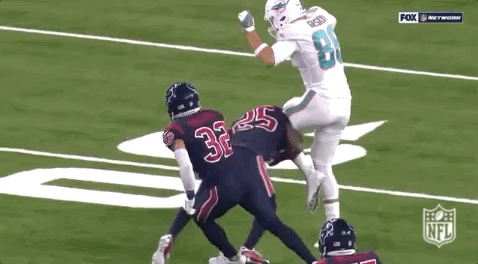 Dwayne Allen- One of the only free agent signings that the Dolphins made last year was bringing in Dwayne Allen from New England. Allen is interesting because everyone thought that once the Patriots got their hands on him that he was going to put up big time numbers due to Brady and offense loving to take advantage of mismatches and throw to the TEs. In classic Patriot form, they zigged and Allen only had three total catches for the season. Obviously, Allen is here because Chad O' Shea liked him while he was there and my guess is that he likes his run blocking. Last year Allen wasn't to stellar at it but in 2017 he was ranked in the top 10 of run blocking TEs. Using that logic, I wouldn't be to shocked to see Allen being the leader in catches and yards for TEs on the roster. It be very Miami to do that. Ultimately, I think Allen has game and will be a nice addition.
Nick O'Leary- The man with Golden Bear Blood coursing through his veins turned a few catches and yards into a one year contract worth $1.5m. Not bad for a guy who wasn't given much chance to do much of anything in the NFL. Where does this leave O'Leary this year? Probably looking up to both Gesicki and Allen. He possibly could overtake Allen and others as the #2 TE, but I think he'll be a big help on special teams. I like the guy. Not sure how anyone can't.
Durham Smythe- Another one the TEs drafted in last year's draft. Smythe got meaningful time but didn't really do anything of note. He's not really here to be a pass catcher meaning that he's here for his run blocking. I'll say that his run blocking was fair. Not great, not awful just sort of alright. But, pending that he makes the team, special teams is where he'll make the most impact.
Clive Walford- Here's an interesting cat. Clive Walford hardly played last year. In fact he only played in one game for the Jets. So, he should have a lot of gas in the tank. I remember Walford making some plays a few years back with the Raiders. They used him at TE and WR, so he's got some speed. I'll keep my eye on this guy because I think he can actually help the squad in terms of pass catching. TE is a hard position and he has had some success. Him taking a job from someone who was last year can certainly happen.
With so much uncertainty at this position it's going to be very interesting following it. It's such an important position because if the Dolphin's are going to run any variance of the Patriots's offense, due to O'Shea commanding it, then you're going to see many two TE sets. Well, it's going to be prime that we have confident guys out there. This position has been so maligned for so long that any kind of progress will be beloved.
Subscribe now!
WE ARE LIVE. Tonight's lineup: 🍺 @saucybrewworks review 🏆
We're chatting with the voice of NBA Jam, @Tim_Kitzrow and author of NBA Jam Reyan Ali!