By now, you've all seen celebrities and friends alike taking a bucket of ice cold water to the dome in order to raise awareness for ALS.  While the gimmick is going viral and doing wonders for fund raising for research for the disease, ALS was put on the map when it struck its most famous victim, Lou Gehrig.
A Star is Born
Everything Gehrig did was big.  He was born June 19, 1903, weighing almost 14 pounds.  As a 17-year old, he blasted a grand slam out of Wrigley Field for his high school team, a feat utterly unheard-of for a teenager.  He went to Columbia University and was a beast of a fullback, and also set the school's record by striking out seventeen batters in a game.  While his pitching and football skills were exceptional, it was his power hitting from the left side of the plate that would make him legendary.
Making Wally Pipp a Trivia Answer
Gehrig joined the Yankees at the age of 20 in 1923, and saw playing time as a pinch hitter here and there.
In 1925, on June 2, Gehrig got the start over regular first baseman Wally Pipp, who was mired in a slump. In an ironic twist of fate, Pipp had previously scouted Gehrig and helped develop him as his understudy.  Gehrig would not miss another start over the next 2,130 games, a streak of fourteen years.
Murders' Row

Gehrig his .313 and led the American League with 20 triples in 1926, to go along with 112 RBI's.  He hit .348 in the World Series that year.
In 1927,  Gehrig had a season for the ages, hitting .373 with 47 home runs and 175 RBI's.  He also had 52 doubles, 18 triples, and .765 slugging percentage.  The same year, Babe Ruth would become the first man to hit 60 home runs, so it's not surprising the Yankees swept the World Series that year.
Playing in Ruth's shadow for most of his career, Gehrig would go on to be one of baseball's greatest hitters.  He had 13 straight years with 100 or more RBI's and six seasons with a batting average of at least .350.  The guy straight up mashed.
2,130
Gehrig's record of 2,130 consecutive games played was an amazing trek through adversity over fourteen years.  He was hit in the head with pitches twice, but managed to come back to play the next day.  Once he had major back spasms before a game, and so the manager put him in at SS and batted lead off.  He singled in his first at bat and was removed, keeping the streak alive.  Once, the Yankees even postponed a game due to rain, despite the fact it was not raining, all because Gehrig had the flu.
But in 1938, the evil beast of ALS reared its ugly head and began to strip Gehrig of his physical prowess.  In 1938, Gehrig hit .295, compared to .351 in 1937.  Said Gehrig, "I don't know why, but I just couldn't get going again."
During spring training in 1939, it was evident Gehrig was not himself.  He no longer had the incredible power, and even his base running began to suffer.  At one point, he collapsed, and by the end of spring training he had not mustered a single home run.
At the end of April, Gehrig had abysmal stats, with only a lone RBI and .143 average.  He was making contact with the ball successfully, with only one strikeout in 28 at-bats, but the ball didn't go anywhere.  At one point, he struggled to make a routine play at first base, and then went hitless on April 30.
After a day off, Gehrig went to manager Joe McCarthy and told him, "I'm benching myself, Joe, for the good of the team."
The umpires were stunned to see the lineup card without Gehrig, and Tigers' fans gave him a standing ovation after the announcement was made that he'd miss his first game after 2,130 consecutively.
Gehrig stayed on as captain of the Yankees for the remainder of the year, but would never play in another game.
ALS Diagnosis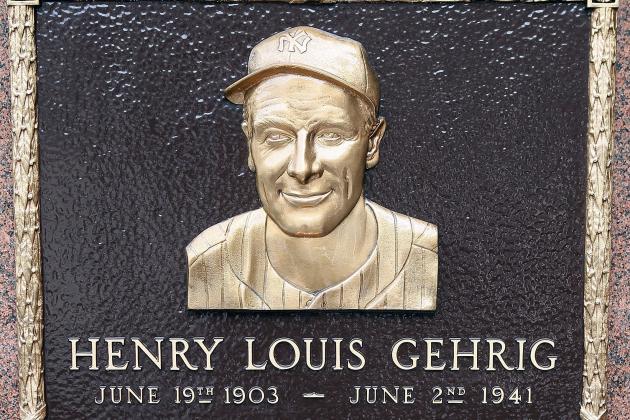 After six days of testing at the Mayo Clinic, Gehrig was diagnosed with amyotrophic lateral sclerosis on June 19, 1939, his 36th birthday.
The prognosis was brutal: rapidly increasing paralysis, difficulty swallowing and speaking, and a life expectancy of no more than three-years.  The cause was unknown, but it was painless, non-contagious, and since there would be no mental impairment, utterly cruel.
On July 4, 1939, the Yankees held "Lou Gehrig Appreciation Day" to honor the legendary ball player.
Holding back his emotions, manager Joe McCarthy spoke of Gehrig as "the finest example of a ballplayer, sportsman, and citizen that baseball has ever known."  Through tears, he said "it was a sad day in the life of everybody who knew you when you came into my hotel room that day in Detroit and told me you were quitting as a ballplayer because you felt yourself a hindrance to the team.  My God man, you were never that."
Gehrig would make what is described as "baseball's Gettysburg Address," famously:
Sixteen years to the day he replaced Wally Pipp at first base, Lou Gehrig died on June 2, 1941.