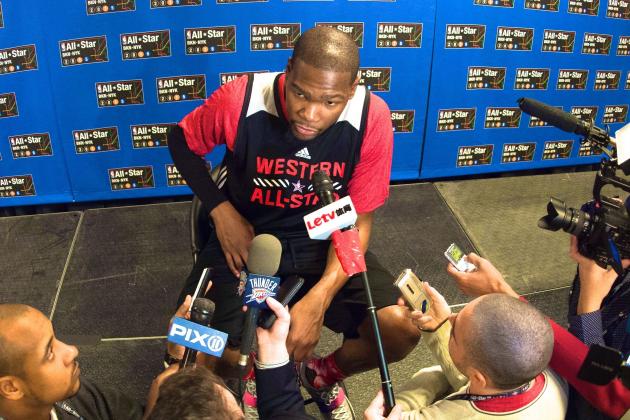 During Saturday's All-Star Weekend interview with the media, Kevin Durant didn't hold back.
At all.
Per NewsOK.com, here's Durant's response when asked about coach Scott Brooks' job security:
"You guys really don't know shit" Durant told reporters in his final interview session before Sunday's All-Star Game.

Durant was later asked what stories he would like the media to focus on more.

"To be honest, man, I'm only here talking to y'all because I have to," Durant said. "So I really don't care. Y'all not my friends. You're going to write what you want to write. You're going to love us one day and hate us the next. That's a part of it. So I just learn how to deal with y'all."
Kudos to Durant.
Instead of annoying everyone with a Marshawn Lynch one phrase answer, or spewing out some rehearsed, regurgitated bullshit answer, you put the media on blast for asking stupid questions. And when Durant puts you on blast…you know that you're asking some stupid questions.