The most anticipated hiring of the NFL coaching carousel has been made. Freddie Kitchens is the new head coach of the Cleveland Browns. Once seen as a dark horse candidate, Kitchens impressed John Dorsey enough in the interview process to assert himself as a front-runner for the job.
Kitchens, 44, edged out former head coaches and star coordinators for the job. Following Todd Haley's week 8 departure, Kitchens became a star in Cleveland as the offensive coordinator. The Browns finished the season 5-3 after starting 2-5-1, which was largely thanks to Kitchens dynamic play calling. More importantly, Baker Mayfield DEVELOPED under Kitchens:
The Browns will name Freddie Kitchens their new head coach.

That could be good news for Baker Mayfield.

Mayfield posted better numbers across the board after Kitchens was promoted to offensive coordinator this past season. pic.twitter.com/5OdJw9gI62

— ESPN Stats & Info (@ESPNStatsInfo) January 9, 2019
Not half bad, right? Mayfield's development was the most important part of this search, and Dorsey decided to go with the proven commodity.
I imagine this is Mayfield's reaction to the news…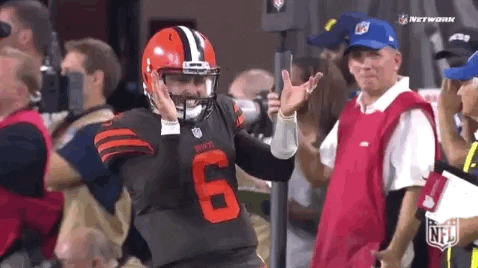 (GIF: Giphy)
Kitchens made great use of the Browns weapons, and Nick Chubb became a stud under his tutelage. Also, Duke Johnson was FINALLY properly utilized in the offense. Kitchens brings a very unpredictable, aggressive style which the Browns have seemed to lack for the past 20 years.
(Image: Yahoo! Sports)
Unfortunately, an earlier announcement stated that Gregg Williams will not be back next year, which is a considerable blow. Williams is one of the best defensive minds in the game, and it is always better when those guys are within your organization, rather than someone else's. But, I expect the first year head coach to hire a veteran staff, and I also expect them to continue running a 4-3. Per 247Sports, there is an interesting list of potential defensive coordinator candidates, which includes: Chuck Pagano, Todd Bowles, Kris Richard, Steve Wilks, Vance Joseph, Brian Flores, and a few others. Pagano or Bowles would be my first choice.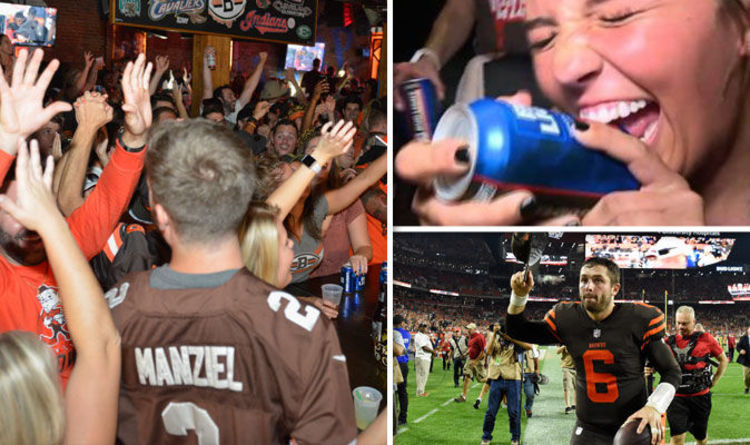 (Image: Daily Express)
The future is bright for the Cleveland Browns, and the combination of Dorsey, Kitchens, and Mayfield are ushering in a new era of success for the Cleveland Browns. This team should be the favorite to win the AFC North next year and could even be a trendy AFC Champion pick. The curse of Hue Jackson has been lifted and the Browns have their new man. Rejoice and have beer fellow Cleveland fans, we have earned it. 
(Featured Image: Sporting News)
Subscribe to our shows!
Fantasy RBs and SEC Network's very own Cole Cubelic talking College Football!
LIVE w/ Browns LB Mack Wilson! Have a question for the upcoming star? Leave it in the comments!
BIGPLAY Gaming LIVE w/ Browns Week 1 vs Titans matchup between MUTGuru vs. BIGPLAY Dave. LET'S GO