As the Indianapolis Colts limped into Sunday's contest against a struggling New Orleans team, it seemed like the rest of the season was full of optimism. They survived and weren't embarrassed by New England. They play in the most winnable division in football. Colts fans had every right to believe the worst was behind them. Then the first quarter ended.
No one questioned the Colts hiring of Chuck Pagano. After rarely handing Peyton any semblance of a defense, this organization knew it had to get tougher. Pagano seemed an almost perfect fit. His resume included stops at USC, The University of Miami, and secondary/defensive coordinator in Baltimore for the Ravens. One problem, this Colts defense lacks anything close to the athletiscm, instinct, or ferocity he had with the Ravens. He has tried to coach up the secondary and now it might be the worst in all the NFL, giving up 296 yds per game through the air against quarterbacks that have yet to make a splash in the NFL (sans Brady and Brees).
Most of the interceptions have been off dropped passes. If this is Pagano's supposed specialty, isn't it time to admit it might have had more to do with talent than coaching in Baltimore? This defense lacks any kind of pass rush even with names like Trent Cole and Robert Mathis attacking. The coaching aspect of this football team is lacking. It's time to let Pagano go.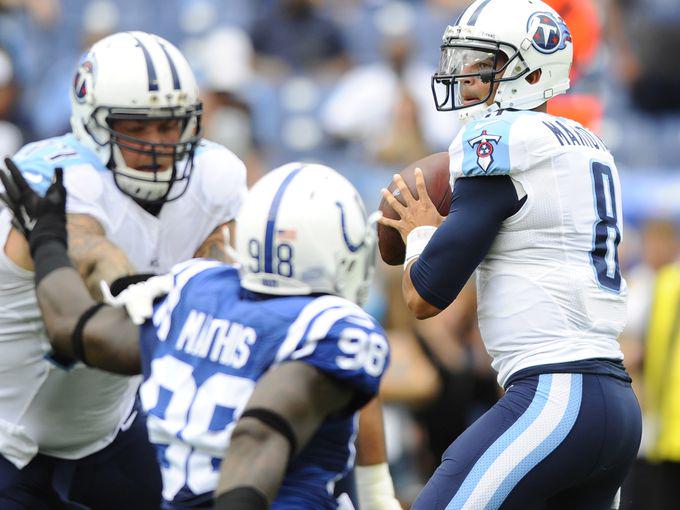 Indianapolis might not deserve better than Pep Hamilton as an offensive coordinator.  (They've already been handed Peyton and Luck by the football gods). His departure is necessary if they ever plan to win another ring. It's time to embrace this organization's offensive soul, cultivated by Peyton Manning and Tom Moore. When the Colts have needed him Andrew Luck has looked every bit as advertised against any team that doesn't play in Foxboro.
Before this season, Luck has led comebacks, carried an average roster on his back, and stood tall in Indy before the weight finally forced us to see his vulnerabilities this year. After Chuck Pagano was diagnosed with cancer Bruce Arians led an Indy team with nowhere near the talent in Indy currently, to a 9-3 record. He moved onto Arizona and it seemed a natural fit that Luck's college coordinator, Pep Hamilton take over. Well Pep has been a disaster. The colts have rushed for under 3 yards a carry with his power run scheme in place. Arians Colts' team was one of the best offenses in the league and Luck looked a sure fire superstar. Under Pep's direction currently Andrew Luck looks anxious and has thrown more picks than TD's and is on pace for the lowest completion percentage of his young career. Behind this porous offensive line he gets hit on any drop back over 3 steps. Not good signs for the future of the franchise.
It's time for the city of Indianapolis to demand an offensive minded coach. The last three "defensive" coaches in Indianapolis have coached 1 hall of fame QB, the best young QB prospect in the last 20 years, 3 Hall of Fame WR's, and have combined for one super bowl win. Contrast those coaches to one season in which Bruce Arians had Andrew Luck playing as a world beater with a paper thin roster. Indianapolis should have more to show for the talent they've acquired than these coaching ideals have managed to produce. The Colts under Pagano currently have a -6 turnover differential, are fifth in penalties called, fourth in yards penalized, and have no ability to run the ball or protect Andrew Luck. Chuck needs to be held responsible for the way this team has played and how his coordinators are performing.

How could you not salivate at the thought of a Shawn Payton coached Andrew Luck? How good could he be if Bruce Arians had stuck around? If John Gruden loves QBs so much couldn't this be the one to draw him back to the sidelines? The answer to ending this franchise being under achievers in the post season doesn't exist on the defensive side of the ball. It lies squarely in the hands of #12. Hand him the keys to the kingdom with an offensive mentor and he will lead you back to the Lombardi trophy.