Eric Weddle's a pretty damn good safety for the San Diego Chargers.  He's an All-Pro at his position and has made the Pro Bowl three times.  While having a poor memory is a prerequisite for a defensive back, Weddle has overcome this shortcoming on the field because off of it, he never forgets.
Back in 2011, (now former) NFL Network's Warren Sapp did not agree with the contract Weddle signed at the time.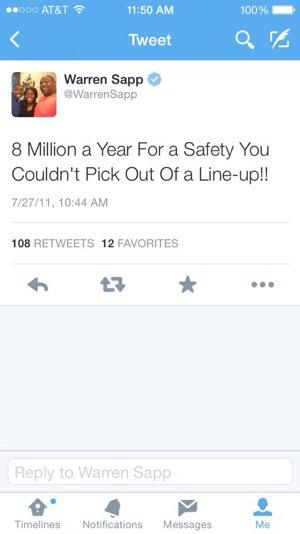 Weddle apparently held a grudge over the tweet, since he wasted little time taking to Twitter with this blast of Sapp after the former lineman was arrested for solicitation of a prostitute.
Thank you for the motivation the last 4 yrs. E really appreciated it. #whoisinthelineupnow pic.twitter.com/A0nDNMABZi

— Eric Weddle (@weddlesbeard) February 3, 2015
Burn!
There was plenty of fodder for Weddle to slam Sapp for over the years, but kudos to Weddle for waiting for that perfect moment.
Revenge is indeed a dish best served cold.