On Sunday, a brawl erupted in that stands between Cardinals and 49ers fans.  As security stepped in to stop the bloody mayhem, one asshole began to choke out a staffer, who had no chance to defend against the choke.
In steps a monster of a man wearing a Darnell Dockett jersey, who does his best to tear the kung fu grip of the security guard's throat before delivering a few punishing blows to the attacker's face.
[embedplusvideo height="250" width="320" editlink="http://bit.ly/1pd2DIL" standard="http://www.youtube.com/v/AN6Bs7Emix4?fs=1&vq=hd720" vars="ytid=AN6Bs7Emix4&width=320&height=250&start=&stop=&rs=w&hd=1&autoplay=0&react=1&chapters=&notes=" id="ep7877" /]
Dockett saw the video, and hit up his Twitter followers for the man's ID, which ultimately led to the hero showing up as a guest at a radio event with Dockett.  Dockett presented the fan with his Pro Bowl jersey as a thank you for stepping in to save the guard.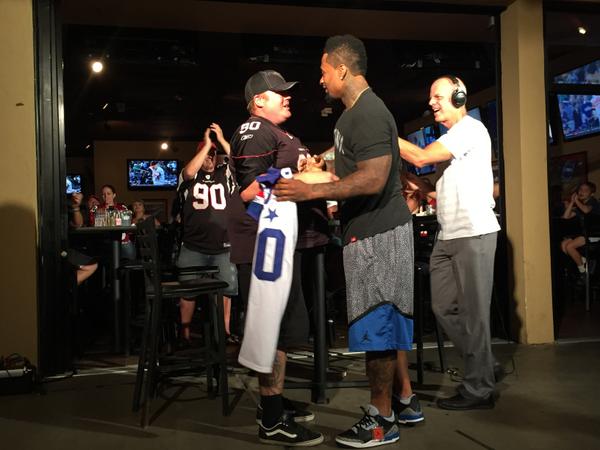 Classy moves all around.  Big of the Dockett fan to step in and help the security guard, and a solid move by Dockett to hook the guy up for his effort.