Welcome to the latest edition of Studs and Duds, as we look at which players you should target and which players you should avoid when playing DFS at DraftKings for Week 9 of the NFL regular season.
Looking at the salaries over at DraftKings, we're listing the best value plays for each position as you field your team and hopefully win some money.
By the way- why haven't you entered your free lineup on DraftKings to win 100k? It's free courtesy of bigplay.com, and the winner takes home 100k in cash. So instead of sitting on the couch not winning $100,000…take your finger, press your iPhone on the picture below, and start thinking about how many cases of beer $100,000 can buy.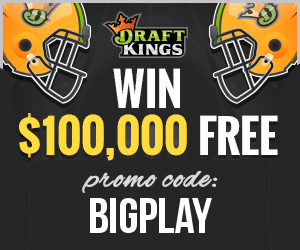 QB Studs
Philip Rivers (San Diego Chargers) $6900
The loss of star wide receiver Keenan Allen will leave many fearing to insert Philip Rivers into lineups. It will hurt the team but it's clear that they are all-in on the passing game this season. Rivers is averaging 43.6 passing attempts per game. Over the last five games, he is averaging 373 passing yards with a total of 13 touchdown passes. Rivers is going to throw the ball enough times to remain an elite fantasy option and will have great luck against the terrible Chicago Bears defense on Sunday.
Tyrod Taylor (Buffalo Bills) $5300
After sitting out a couple of weeks due to a knee injury, Tyrod Taylor is back at 100% and should be in store for a huge game against the Miami Dolphins. Taylor shredded the Dolphins in their first meeting of the season with 277 passing yards and three touchdowns. Before injury, Taylor was one of the best valued daily plays most weeks so don't be afraid to trust him again.
Kirk Cousins (Washington) $5100
This pick is in the name of "garbage time" points. The New England Patriots are going to destroy Washington on Sunday. With a big lead early, New England will force Washington to throw more than the average team would in an attempt to catch up on the scoreboard. The Patriots pass defense isn't impressive and Kirk Cousins has proven he can put up solid garbage time fantasy points. This Sunday will be his best chance as he'll have a great opportunity to throw for lots of DraftKings points.