Welcome to the latest edition of Studs and Duds, as we look at which players you should target and which players you should avoid when playing DFS at DraftKings for Week 5 of the NFL regular season.
Looking at the salaries over at DraftKings, we're listing the best value plays for each position as you field your team and hopefully win some money.
Here's one FREE entry to try out a lineup. 1 Million dollars on the table…none of which you contributed.
Promo code: BIGPLAY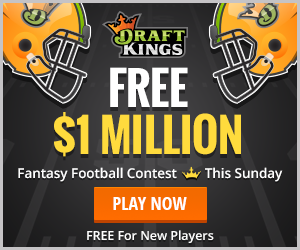 QB Studs
Eli Manning (New York Giants) $6800
Eli Manning has been quietly having a very good start to the season with at least 19 fantasy points over the last three games. The New York Giants will face a San Francisco 49ers defense that has been exposed by Ben Roethlisberger and Carson Palmer, two QBs in the same tier as Manning. Eli has a reputation of being inconsistent but he's looking like one of the more reliable fantasy QBs these days.
Carson Palmer (Arizona Cardinals) $6600
Last week Carson Palmer showed he was not just having a field day with bad defenses as he delivered another 20 fantasy points against a very good St. Louis Rams defense. Palmer looks like an elite fantasy QB as he's averaging the fourth most points at the position and should have an easy time passing on the Detroit Lions defense. Arizona has become a pass-first team and Palmer will get all the opportunity to lead another big game.
Jameis Winston (Tampa Bay Buccaneers) $5100
This play is a gamble as you never which games a rookie QB will have their best performances in. Jameis Winston has been as inconsistent as you'd expect for a rookie on a bad team but he's also been shown to have a high floor with his worst games being in the 13-16 points range. The match-up against a very weak Jacksonville Jaguars pass defense should give you a tremendous lottery ticket as Winston is one of the cheapest starting QBs. Mike Evans looking healthy and Vincent Jackson looking like himself should help Winston out.