Welcome to the latest edition of Studs and Duds, as we look at which players you should target and which players you should avoid when playing DFS at DraftKings for Week 3 of the NFL regular season.
Last week was hit and miss with the best calls being Carson Palmer and Stevie Johnson. The worst call was the stack play of Drew Brees and Brandin Cooks as the New Orleans Saints no longer seem to be a fantasy friendly offense. You live and you hopefully learn as we move into Week 3.
Looking at the salaries over at DraftKings, we're listing the best value plays for each position as you field your team and hopefully win some money.
Here's one FREE entry to try out a lineup. Winner takes home 1 Million.
Promo code: BIGPLAY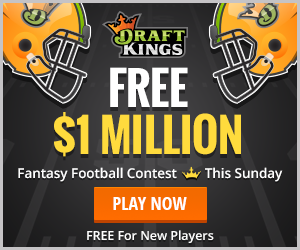 QB Studs
Russell Wilson
Seattle Seahawks ($7000)
With a delightful match-up against the atrocious Chicago Bears defense and a near must-win game for the Seattle Seahawks, Russell Wilson is the best QB play on the board this weekend. Between his rushing and his passing, Wilson should have a field day with the Bears and Seattle should put up a lot of points this weekend. Start your lineup with Russell Wilson at QB if you want to go with a moderately priced elite option.
Carson Palmer
Arizona Cardinals ($6600)
For some reason, DraftKings have yet to realize Carson Palmer is a viable top QB this season and the numbers should continue to roll in on Sunday. With a solid deal at just $6600, Palmer has been the third best fantasy QB this season after Tom Brady and Ben Roethlisberger. The 49ers defense was picked apart by Pittsburgh's passing game last week so have no fear going with Palmer this week.
Tyrod Taylor
Buffalo Bills ($5800)
Still very cheap, Tyrod Taylor is the best value play still going under 6 grand despite having a large role in the Buffalo Bills offense. Rex Ryan clearly believes in Taylor and is giving him the chance to shine and so far, Taylor has done a good job as the QB. With 40 rushing yards each week, you're getting a steal if you take Taylor.