Collegiate "student athletes" have until five o'clock today to declare for the NFL Draft. Among underclassmen, the most widely discussed prospect is Ohio State quarterback Cardale Jones.
Jones began the 2014 campaign by losing his backup status to J.T. Barrett on the depth chart at OSU.  When starter Braxton Miller re-injured his shoulder, Barrett filled his shoes and Jones was an afterthought as the season commenced.  Not even a horrible loss to Virginia Tech managed to bring Jones into the quarterbacking discussion.  Barrett kept all that talk at bay by having one of the best seasons in Ohio State quarterbacking history.
As a freshman, Barrett blossomed after the debacle against Virginia Tech, in which he was 9 of 29 and threw three interceptions.  He finished fifth in the Heisman Trophy voting after compiling 34 passing touchdowns and 11 rushing, amassing only 10 total picks en route to a QB rating of 169.8 for the season.
When Barrett suffered a season ending leg injury in the regular season finale against Michigan, Jones went behind center.  Known more for an ill advised Tweet that no longer need mentioning, the massive kid from Cleveland had one week to prepare for the vaunted Wisconsin defense in the Big 10 title game.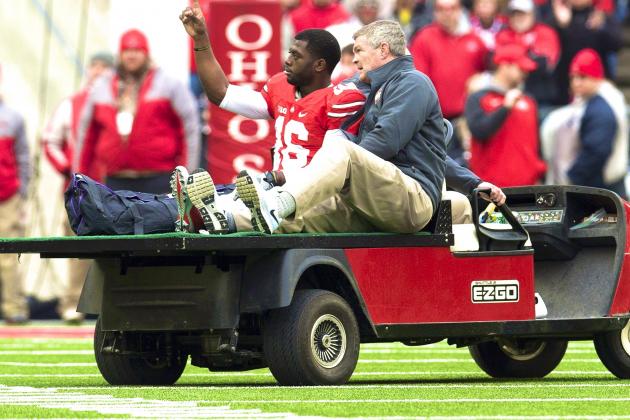 In prime time, everyone expected Urban Meyer to utilize Ezekiel Elliott and attack the Badgers with a steady dose of the ground game.  Instead, Meyer let Jones' atomic arm loose, as he heaved touchdown passes of 39, 44, and 42 yards.  He finished 12/17 for 257 and 3 TD's and no interceptions as the Buckeyes rolled to a 59 – 0 rout.  A thorough shellacking of Wisconsin was the only way the Buckeyes could leap TCU and Baylor to make the first ever playoff, and they were rewarded with the fourth seed by the committee.
Jones' reward for dismantling the stingy Badger defense was another incredibly difficult test, this time in the form of Nick Saban's juggernaut Alabama.  Once again, Jones proved the stage was not bigger than his 6'5" 250 pound frame, as he went 18 for 35 for 243 yards along with a pick and a touchdown.  He also ran for 43 yards, and showed poise and knack for making big plays on third and long.
It didn't get any easier, as the Buckeyes would face Oregon for the title a week later.  Heisman Trophy winner Marcus Mariota found himself in Jones' shadow, as the QB nearly duplicated his Alabama line, going 16 of 23 for 242 yards, a touchdown and an interception.  He picked up 38 yards and a touchdown on the ground as well, and no run was more resounding than when he picked up a first down by bulling right through an Oregon defensive lineman.
It's seems like Jones' arrival on the national stage was scripted in Hollywood.  It's the underdog triumphing in the face of incredible adversity that everyone loves.  The rags to riches story for a kid from Cleveland with a wife and baby, who now has reached a crossroads no one could have foreseen just one month ago.
When the Buckeyes return to practice this spring, they have an opportunity to be blessed with two Heisman Trophy candidates:  Ezekiel Elliott and whomever gets the starting nod at QB.  With three gifted quarterbacks, Urban Meyer is in the enviable position of making that very difficult decision.
Jones should make it easy for him and declare for the NFL Draft.
It's not just the fact that Jones had a first three games unparalleled by any quarterback in NCAA history, it's how he performed in those three games.  At 6'5" 250, Jones is as massive as he is athletic.  He has that Ben Roethlisberger knack for shedding linemen while in the pocket, along with an absolute cannon for an arm.  A local Cleveland high school coach told a story of how he witnessed Jones throwing the ball through the goal posts from the fifty yard line.  Jones was on his knees.
Maybe Jones comes back and wins the starting job at OSU, and gets to man the helm of the defending champions under, arguably, college football's best head coach in Urban Meyer.  The team is stacked, and he'll have a chance to put up some incredibly gaudy numbers.  But there's also the possibility of injury, and even worse, under performing all the massive exceptions of him.
A pedestrian 2015 campaign as OSU starter would submarine Jones' draft prospects next year. Not to mention, Jones was unable to beat out Barrett and Miller last season.  If whatever caused Meyer and his staff to slate him third surfaces again in the off-season, Jones may never find his way to an NFL camp.
Instead, Jones should strike while the iron is hottest, and submit his name for the draft.  Sure, he's not likely to be drafted ahead of Heisman winners Jameis Winston and Marcus Mariota, but there's not a hotter name on the draft board at QB after them.  If you don't think there's a GM and coaching staff that would jump at the opportunity to select Jones, you're crazy.  This is a league that reaches for potential, and when that potential comes in the form of a kid with prototypical NFL quarterback size and arm, who has just performed at an incredibly high level on college football's biggest stage three straight weeks, Cardale Jones is going to get paid.
Jones entering the draft is a no-brainer, and everyone wins.  Braxton Miller can return to start as Meyer's quarterback.  We're talking a two-time Big 10 player of the year.  You don't just let him go to another program for his final season.  J.T. Barrett can spend his sophomore year backing Miller up, prepared to take the reigns if Miller succumbs to another injury.  Barrett will have two more seasons of eligibility to pad his already impressive resume, even if he doesn't get an opportunity in Miller's final year.
Meanwhile, Jones goes pro and gets paid.  He's a guy who wasn't likely to sniff the NFL without the injuries to Miller and Barrett, and you don't look a gift horse in the mouth.  Maybe he returns, leads OSU to a second straight title and even wins the Heisman, making him the number one overall pick next season.  But maybe he returns, can't win the starting job, loses the starting job, or gets hurt.  Then what?
In a perfect world, Cardale Jones would come back to Columbus and begin the sequel to his fairy tale. But this is the NFL and the NCAA we're talking about, and Jones will never be in a better position than he is now.  He just beat the world when no one gave him a chance.  With the spotlight on him, Jones played like a must have NFL prospect.
With such a small sample size of college games for NFL scouts to digest, Jones' performance keeps all his negative uncertainty in the shadows.  Because of that, his stock is likely never to be higher.  There is no early season stinker for scouts to point to as support of not drafting him.  There is only three games, three rings, and three brilliant performances in which all his best attributes were on display.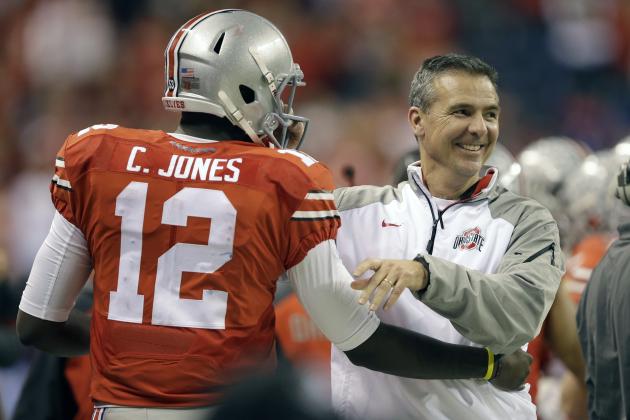 As much fun as it would be to see Cardale Jones in scarlet and gray again next year, and even though he has declared himself not ready for the next level yet, it doesn't matter.
Ezekiel Elliott would be a first round pick, but as a true sophomore, he's not eligible to earn millions from the NFL just yet.  Instead, he has to return as a running back, take another beating at the position with the shortest shelf life in football for free, and likely diminish future earnings due to the nature of the position.
Cardale Jones has no such restriction.
Maybe he's college football's next superstar quarterback.
Maybe he was an incredibly brilliant flash in the pan for three games.
Cardale Jones shouldn't risk millions by finding out in Columbus next year.  He should let an NFL team risk it and go prove himself at the next level, all while financially securing his and his young family's future.