CLEVELAND, OH—The Browns were 7-4. Things were looking up. Then in a blur, it was back to business as usual.
Kyle Shanahan sat down with Browns owner Jimmy Haslam this week to plead for release of his remaining 2 year deal in Cleveland. Haslam obliged, sending QB  coach Dowell Loggains packing alongside the offensive coordinator.
Cleveland had some of its best quarterback play under the leadership of the two coaches, so why the desperation to jump ship? According to Cleveland.com, it appears that a Jerry Jones-like figure exists in the Browns front office suite.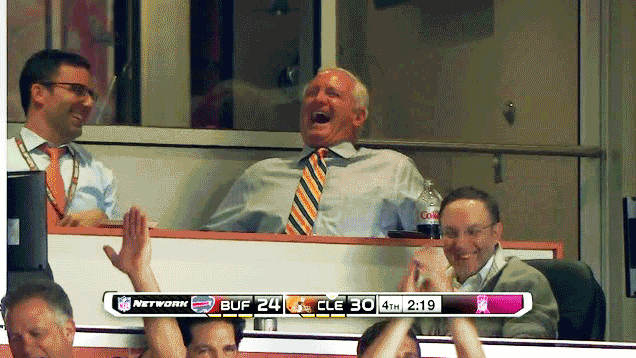 "Coaches were also upset that a high-ranking member of the Browns front office texted down to the sidelines with opinions on playcalling."
There's only one man up in the stands crazy enough to think he should be texting in opinions on what plays to run. It wouldn't be the first time he took the reigns on a job he clearly wasn't qualified for. Per ESPN Arkansas radio:
 "We're sitting there and they keep showing Johnny on TV and Johnny and I are texting and he shoots me a text and he says, 'I wish you guys would come get me. Hurry up and draft me because I want to be there. I want to wreck this league together,'" Loggains told the station's Bo Mattingly.  "When I got that text, I forwarded it to the owner and to the head coach. I'm like 'this guy wants to be here. He wants to be part of it.'

"As soon as that happened, Mr. (Jimmy) Haslam said, 'All right, pull the trigger. We're trading up to go get this guy.'"
We'd love to get our hands on Haslam's phone to see what he actually sent.