Worst of the Worst
32. Raider

s
(1 – 11; L1)
Previous:  32
Result:  Lost to St. Louis 52 – 0
Looks like whoever turns in the fastest 40 time at the combine is headed to Oakland!
31.

Jaguars

(2 – 10; W1)
Previous:  31
Result:  Beat NY Giants 25 – 24
Everyone beats the Giants.  Doesn't move you up.  Sorry Jacksonville.  At least you know the Raiders will leave you with a good QB in the draft.
30. Titans

(2 – 10; L6)
Previous:  30
Result:  Lost to Houston 45 – 21
Mettenburger is gone.  Like it really mattered for the Titans anyway.
Not Even Remotely Good
29. Giants

(3 – 9; L7)
Previous:  27
Result:  Lost to Jacksonville 25 – 24
Seven straight for Coughlin's crew could spell disaster for the old ball coach.  Might be time to move on in NY.
28. Panthers

(3 – 8 – 1; L6)
Previous:  26
Result:  Lost to Minnesota 31 – 13
Eight weeks since the Panthers won a football game.  Eight long weeks.  That's two months.  They really suck.
27. Jets

(2 – 9; L1)
Previous:  29
Result:  Lost to Miami 16 – 13
Gino Smith had thrown 8 passes going into his two-minute drive on Monday night.  Somehow, they still stuck with an impressive Dolphins team.  It's the little things.
26. Buccaneers

(2- 10; L2)
Previous:  28
Result:  Lost to Cincinnati 14 – 13
It was a very strange way to blow a game, but the Bucs managed to do it.  Twelve men on the field overlooked, an illegal challenge that allowed officials to actually review something they shouldn't have reviewed, and now they're 2 – 10.
25. Redskins

(3 – 9; L4)
Previous:  25
Result:  Lost to Indianapolis 49 – 27
Game was a bit closer than it looks, but they still got smoked by a vastly superior Colts team.  Not a good year one for Jay Gruden in the nation's capital.
24. Bears 
(5 – 7; L1)
Previous:  19
Result:  Lost to Detroit 34 – 17
Laid an egg on Turkey Day against the Lions.  They'll beat crappy teams, get blown out by good teams, and just lose outright to decent squads.
23. Vikings

(5 – 7; W1)
Previous:  24
Result:  Beat Carolina 31 – 13
Hung with Green Bay and beat up on the Panthers.  That's the inconsistency that's gotten them to this pursuit of .500 this season.
22. Falcons

(5 – 7; W1)
Previous:  22
Result:  Beat Arizona 29 – 18
Don't get too excited Falcon fan.  Sure, somehow you appear to be making the playoffs, but the Cardinals aren't the quality they once were this season.
21. Rams
 (5 – 7; W1)
Previous:  21
Result:  Beat Oakland 52 – 0
If the Rams are true to their 2014 form, they're due for a bad showing against the Redskins this weekend.
Not Too Shabby
20. Saints 

(5 – 7; W1)
Previous:  23
Result:  Beat Pittsburgh 35 – 32
Just when you right them off after three straight home losses, the Saints go to Heinz Field and save their hopes of being .500 this season, just as this column predicted all along.
19. Texans 

(6 – 6; W1)
Previous:  20
Result:  Beat Tennessee 45 – 21
Another JJ Watt led victory for the Titans.  It's about time he's eligible at TE for fantasy purposes, no?  I mean he's comparable to Tim Wright at this point.
18. 49ers

(7 – 5; L1)
Previous:  14
Result:  Lost to Seattle 19 – 3
They edged out three wins against teams under .500, and then went and couldn't find the end zone, at home, against Seattle.  Jim Harbaugh can't handle the noise because he has the maturity of a child and they Niners are going down in flames.  You heard it here first.
17. Browns

(7 – 5; L1)
Previous:  9
Result: Lost to Buffalo 26 – 10
It was so bad in Buffalo the Browns had to turn to Johnny Manziel to hope for lightning in a bottle.  It failed.  With so many key injuries, it's shaping up to be a December to forget in Cleveland.
16. Steelers

(7 – 5; L1)
Previous:  12
Result: Lost to New Orleans 35 – 32
Another disappointing loss for the Steelers, this time at home to a reeling New Orleans team.  The offensive line is doing its best to stifle Big Ben's previously prolific passing prowess.
The Better Half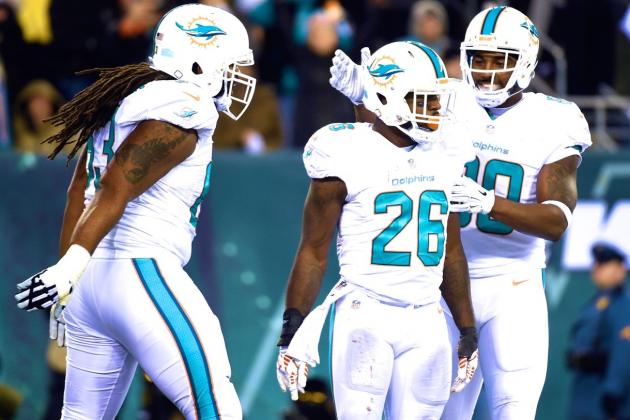 15. Bengals

(8 – 3 -1; W3)
Previous:  16
Result: Beat Tampa Bay 14 – 13
After two good weeks, they win ugly against the Buccaneers.  You never know which Bengal team is going to show up.
14. Bills 

(7 – 5; W2)
Previous:  18
Result:  Beat Cleveland 26 – 10
Bills have triumphed in the face of adversity two straight weeks now.  With a dominating defensive front, Kyle Orton just needs to avoid costly mistakes and the Bills can be tough to beat.  Unfortunately, they've got Green Bay, Denver, and New England left on their plate.  Yikes!
13. Chiefs 

(7 – 5; L2)
Previous:  10
Result: Lost to Denver 29 – 16
Did a good job of limiting Denver to field goals.  Unfortunately for the Chiefs, it was enough field goals to hand KC their second straight loss.
12. Ravens

(7 – 5; L1)
Previous:  13
Result: Lost to San Diego 34 – 33
Tough loss to a suddenly revitalized Chargers team.  Be interesting to see how the Ravens fare in the home stretch, as they haven't beaten a team over .500 since Cleveland in week 3.
11. Dolphins

(7 – 5; W1)
Previous:  15
Result:  Beat NY Jets 16 – 13
Went down to the wire against the lowly Jets, but a win is a win.  Three winnable home games and a tough visit to Foxboro to finish for the Phins have Miami thinking playoffs.
Strong to Quite Strong
10. Chargers 

(8 – 4; W3)
Previous:  17
Result:  Beat Baltimore 34 – 33
First West Coast team to win at Baltimore in 12 chances.  Don't look know, but the Chargers are playing well heading into a Sunday night game against New England.
9. Cardinals

(9 – 3; L2)
Previous:  4
Result: Lost to Atlanta 29 – 18
Cardinals are freeeeeeeeeeeeeeee!  Freeeeeeeeeee fallin'!
8. Cowboys

(8 – 4; L1)
Previous:  6
Result: Lost to Philadelphia 33 – 10
Nothing like getting humiliated in front of all of America on Thanksgiving.  They've got Chicago to prepare for the rematch against Philly.
7. Lions

(8 – 4; W1)
Previous:  11
Result: Beat Chicago 34 – 17
There was that outburst we've been waiting for from Detroit.  If the offensive is now rolling, they could easily win their next three before facing Green Bay in the final regular season game.
6. Colts

(8 – 4; W2)
Previous:  7
Result: Beat Redskins 49 – 27
This offense can score with the best of them.  If they stay focused, there's no reason they shouldn't win out and finish 12 – 4.
 The Five
5. Seahawks

(8 – 4; W2)
Previous:  8
Result: Beat San Francisco 19 – 3
It looks like the Seattle defense is back after keeping Arizona and San Francisco out of the end zone.  If they can stifle the Philly offense, the sky is the limit for the defending champs.
4. Eagles

(9 – 3; W2)
Previous:  7
Result: Beat Dallas 33 – 10
After thrashing the Cowboys, the Eagles offense faces a huge test against the Seahawk defense this weekend that will shape the top five in the NFL.
3
. Broncos

(9 – 3; W2)
Previous:  3
Result: Beat Kansas City 29 – 16
A solid victory against a good KC squad.  Denver's new found running game has made them a very scary opponent to face going into the cold weather games.
2. Patriots

(9 – 3; L1)
Previous:  1
Result: Lost to Green Bay 26 – 21
In the match up of the two best teams in football, perhaps the difference was the home field advantage for the Packers.  Either way, there's a good chance they meet up again on a neutral field come February for all the marbles.
1. Packers

(9 – 3; W4)
Previous:  2
Result: Beat New England 26 – 21
Aaron Rodgers got the better of Tom Brady in their first match up.  As good as the Packers are, they'll have to be at their best with Detroit nipping at their heels.