Worst of the Worst
32. Raider

s
(1 – 10; w1)
Previous:  32
Result:  Beat Kansas City 24 – 20
Finally a win for Oakland!  Good job Raiders!  You're still awful.
31.

Jaguars

(1 – 10; L4)
Previous:  31
Result:  Lost to Indianapolis 23 – 3
Did we mention there's a pool in the Jags' stadium?
30. Titans

(2 – 9; L5)
Previous:  30
Result:  Lost to Philadelphia 43 – 24
That's five straight in the L column.  The Titans are an absolute mess.
Not Even Remotely Good
29. Jets

(2 – 9; L1)
Previous:  29
Result:  Lost to Buffalo 38 – 3
Buffalo spent the week shoveling snow and snowmobiling to the airport to play the Jets in Detroit.  That's how bad the Jets are.
28. Buccaneers

(2- 9; L1)
Previous:  28
Result:  Lost to Chicago 21 – 13
Two games out of first in their division, yet only a game away from the number one overall pick in the draft…
27. Giants

(3 – 8; L6)
Previous:  27
Result:  Lost to Dallas 31 – 28
At least Odell Beckham Jr. made the single greatest catch in NFL history in their sixth straight loss.
26. Panthers

(3 – 7 – 1; L5)
Previous:  26
Result:  Bye
Seven weeks since the once formidable Panthers won a football game.
25. Redskins

(3 – 8; L3)
Previous:  25
Result:  Lost to San Francisco 17 – 13
Lost in the Redskins' drama is the running of revitalized Alfred Morris.  There's your silver lining, Redskins fan!
24. Vikings

(4 – 7; L2)
Previous:  24
Result:  Lost to Green Bay 24 – 21
Stayed closer to the Pack than anyone was willing to give them credit for before the game.  Nonetheless, a loss is a loss and this moral victory after choking to the Bears is bad news.
23. Saints 

(4 – 7; L3)
Previous:  22
Result:  Lost to Baltimore 34 – 27
Three straight losses in the dome for the Saints means their season is over.
22. Falcons 

(4 – 7; L1)
Previous:  21
Result:  Lost to Cleveland 26 – 24
Brutal clock management by Mike Smith gave the Browns the chance to steal this game on the road.  Has to be the final straw to break Arthur Blank's back.
21. Rams
 (4 – 7; L1)
Previous:  19
Result:  Lost to San Diego 27 – 24
If the Rams played against lesser opponents as they do against top tier teams, they'd be a top tier team.  But they don't, so they're not.  They're just the middling Rams.
Not Too Shabby
20. Texans 

(5 – 6; L1)
Previous:  18
Result:  Lost to Cincinnati 22 – 13
.500 squad keeping it even keeled.  A big road win followed up by a stinker at home.  That's what .500 teams do.
19. Bears 
(5 – 6; W2)
Previous:  23
Result:  Beat Tampa Bay 21 – 13
Don't look now, but the Bears have won two straight.  Maybe they got it all figured it out now…we'll just wait and see.
18. Bills

(6 – 5; W1)
Previous:  20
Result:  Beat Jets 38 – 3
With seven plus feet of snow wreaking havoc on Buffalo, they Bills embraced the chaos and played a home game in Detroit and beat the shit out of the Jets.  Pretty impressive.
17. Chargers 

(7 – 4; W2)
Previous:  17
Result:  Beat St. Louis 27 – 24
Two straight against St. Louis and Oakland isn't much to get excited about.  If they're back to early season form, they'll have to prove it against Baltimore this weekend.
16. Bengals

(7 – 3 -1; W2)
Previous:  16
Result: Beat Houston 22 – 13
Hard to get excited about this team, but they've had two great weeks since the debacle against Cleveland.  A tough remaining schedule should put them in their place, which is right about the middle of the pack.
The Better Half
15. Dolphins

(6 – 5; L1)
Previous:  14
Result:  Lost to Denver 39 – 36
Gutsy performance in Denver, but ultimately came up short.  It's a pass/fail league, and the Dolphins didn't get it done against the Broncos.
14. 49ers

(7 – 4; W3)
Previous:  15
Result:  Beat Redskins 17 – 13
Sure, the Niners are winning some ballgames.  You just wish they'd do it in a bit more convincing manner against some very questionable teams.
13. Ravens

(7 – 4; W2)
Previous:  13
Result: Beat New Orleans 34 – 27
A few weeks ago, a win in New Orleans would've looked good on the resume.  Now, it's just meh.  So was the win against Tennessee.  That's two straight meh wins after losses to Pittsburgh and Cincinnati.
12. Steelers

(7 – 4; W1)
Previous:  12
Result: Bye
If the Steelers can't beat New Orleans at Heinz Field after the bye week, then they have no business being in the top 20, yet alone 15.
11. Lions

(7 – 4; L2)
Previous:  6
Result: Lost to New England 34 – 9
Couldn't beat Arizona, then gets utterly blown out by New England.  New England's very good, but the Lions were supposed to be better than the score indicated.
Strong to Quite Strong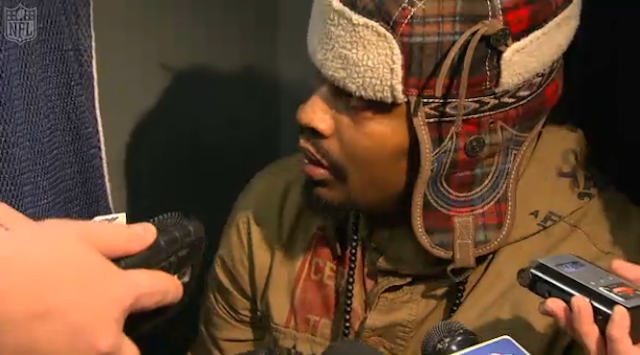 10. Chiefs 

(7 – 4; L1)
Previous:  5
Result: Lost to Oakland 24 – 20
Five in a row and then they gave Oakland their first victory.  With Denver and Arizona coming up next, KC's playoff hopes may be haunted by that Raider victory.
9. Browns

(7 – 4; W1)
Previous:  11
Result: Beat Atlanta 26 – 24
Brian Hoyer played as bad as he could, but he took advantage of the final minute to engineer a game winning drive.  With Gordon back and Tate gone, the offense looks like its best games are still to come.
8. Seahawks

(7 – 4; W1)
Previous:  10
Result: Beat Arizona 19 – 3
Good home victory for the Seahawks against the red hot Cardinals.  Maybe, just maybe, they're figuring their shit out in Seattle before it's too late.
7. Colts

(7 – 4; W1)
Previous:  8
Result: Beat Jacksonville 23 – 3
A solid bounce back W for the Colts.  Washington gives them another nice warm up for a pivotal encounter in Cleveland in two weeks.
6. Cowboys

(8 – 3; W2)
Previous:  9
Result: Beat Giants 31 – 28
With two straight W's, Romo's back is no longer the story.  Romo just has a knack for winning games via the comeback.  The showdown with Philly is huge this week.
 The Five
5. Eagles

(8 – 3; W1)
Previous:  7
Result: Beat Tennessee 43 – 24
Got back to their winning ways after being dominated by Green Bay.  NFC East supremacy is on the line against Dallas.
4. Cardinals

(9 – 2; L1)
Previous:  2
Result: Lost to Seattle 19 – 3
Just when you thought it was safe to believe in Arizona, they go out and lay an egg in Seattle.
 3
. Broncos

(8 – 3; W1)
Previous:  4
Result: Beat Miami 39 – 36
Outlasting the Dolphins was a major victory for the Broncos.  With a formidable slate to finish out the season, the Broncos need every win they can get.
2. Packers

(8 – 3; W3)
Previous:  3
Result: Beat Minnesota 24 – 21
Admit it:  you expected more from GB in Minnesota.  They got the win after weeks of throttling opponents so it'll have to do.  What really matters is what happens this week in New England.
1. Patriots

(9 – 2; W7)
Previous:  1
Result: Beat Detroit 34 – 9
Detroit is a good team, and the Patriots absolutely crushed them.  With Green Bay coming to town, it could be a Super Bowl preview this Sunday.