Welcome to THE NFL Mock Draft of BIGPLAY.com. The hypothetical cards have been turned in, as we now await April 27th. Who will your team pick?
Let's begin!
1:1 Cleveland Browns

The Pick: Texas A&M Edge Rusher Myles Garrett
The pick has to be Myles Garrett. Yes, the Browns have absolutely BUTCHERED the QB position in years past. It's very well known. However, with the uncertainty revolving around Trubisky, Watson and co. it would be another mistake to reach on a long term development piece.
Garrett has the ability to step in and help a Browns defense that is in fact,well…not good. He provides power and speed off of the edge, and can play standing up or with his hand in the ground.
Obviously the video of him clamoring for the Cowboys to trade up may rub Browns fans the wrong way, but all in all his production on Sundays will make fans happy for years to come.
1:2 San Francisco 49ers

The Pick: UNC Quarterback Mitch Trubisky
The 49ers shocked the world in multiple ways. First they hired John Lynch as their GM. They made a smart hire of Kyle Shannahan. However, they gave both of them 6 year deals, while also giving Lynch control over the 90 man roster and Shannahan control over the 53 man roster.
This pick is rather tricky, while the 49ers DESPERATELY need a QB this roster is 10-12 players away from being good. The smart move would be to trade back and hope to gain a few extra picks.
In any instance, Mitch Trubisky is the guy here. There can be a case made for Deshaun Watson, Trubisky provides a higher ceiling. Meaning that Trubisky may not be better than Watson at the moment, he "will" eventually surpass Watson. Trubisky only has one year of starting expereience, however is very capable of making throws within the pocket. The identification of defensive schemes will make of break the TarHeel Star. With 6 years to create a winner, look for Shannahan to build from the most important position on the field.
1:3 Chicago Bears
The Pick: Alabama Defensive Lineman Johnathon Allen
The Chicago Bears are one of those teams that have been very close to competing. I mean, they should be alot better than their record indicates. With that being said, the poor play of Jay Cutler and actually playing Matt Barkley have lead them here.
While quarterback is of the most need to the Bears, I feel as if they will find a signal caller through free agency. My guess right now would be Mike Glennon.
With quarterback off of the board (somewhat), the Bears should select Johnathon Allen. Allen fits more with a 3-4 team, with his ability to play all three line positions. With a good pass rusher like Pernell McPhee, having Allen cause chaos would help the Bears defense immensely. Allen will have to reassure teams that his recent shoulder surgeries went well, but otherwise this is a top flight player.
1:4 Jacksonville Jaguars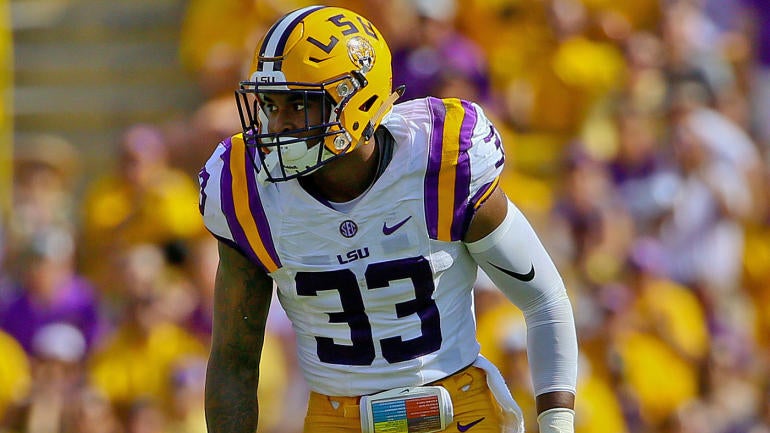 The Pick: LSU Safety Jamaal Adams
Stop me if you've heard this before, "The Jags are going to compete for the AFC South Crown this year." Welp they definitely didn't, which led to the firing of Gus Bradley. Blake Bortles was atrocious, with mechanics issues coming back to haunt the young gun-slinger.
The positions most likely to be drafted by the Jags would be QB, and LT. Well, you're not going to pick a QB at number 4 when you have Bortles. Look for them to hit that position in Day 2 (Rounds 2-3), while they have addressed the left tackle spot by trading for Brandon Albert.
With 2016 1st round pick Jalen Ramsey playing like a stud, the cornerback position should be fine for years to come, however a talent like Jamaal Adams doesn't come around that often.
1:5 Tennessee Titans (Via LA Rams)
The Pick: Ohio State University Safety Malik Hooker
I've been a fan of Marcus Mariota since I can remember, however no one could have expected a jump like what we saw in the 2016-2017 season. Sadly his year was ended with a freak leg injury, but he should be fine. Rookie Derick Henry also made a huge impact as well.
The 9-7 Titans had two HUGE weak spots. The wide receiver core and the secondary were huge issues for a team that could have won the horrid AFC South. With that being said, I expect this team to go after the top wide receiving targets in Free Agency. This team has a lot of money to spend and not a lot of high priced guys to resign.
The pick here is Malik Hooker, I know some people think he will be available at pick number 12 (cough BIGPLAY President Davey Mac) but Hooker is such a talented safety that you cannot pass on him. Hooker is a day one starter who will use his ball-hawking ability to help this up and coming Titans Defense.
1:6 New York Jets
The Pick: Ohio State University Cornerback Marshon Lattimore
The J-E-T-S need a Q-B. However, this class is rather weak and I expect the Jets to compete for a Free Agent Gun-Slinger. That being said this team STUNK last year. Their best players just so happened to be on the defensive line with guys like Leonard Williams.
Conventional thinking would point to a pass rusher being the pick. BUT NOT SO FAST MY FRIEND! There are a lot of pass rushers available in the draft and the Jets can wait. A guy like Tim Williams could be available in the second round.
Besides the quarterback position, the Jets just released Darelle Revis, which pushed corner help to the top of the list. The pick here is arguably the best corner in the draft, in Marshon Lattimore. A good corner who should thrive under Todd Bowles.
1:7 Los Angeles Chargers
The Pick: Clemson Wide Receiver Mike Williams
The Chargers are not bad…but they're not great. This team is stuck in a terrible purgatory between being a contender and being in Cleveland Browns Territory. The Chargers could not seem to catch a break in terms of finishing games out, or losing in the last few seconds.
There were some positives to this past season. Joey Bosa is LEGIT, an edge rusher who can line up across the defensive line is a future star in this league. Next, Melvin Gordon actually scored a touchdown…he actually scored a lot. The negatives revolve around a terrible record, having to move to LA, and the loss of Keenan Allen.
In any other draft, this pick would have been an offensive lineman. However with this years offensive tackle class being loaded with one year starters, I expect the Chargers to build a top wide receiving core with the number one wide receiver in the class in Mike Williams. Williams can be a red zone beast, and work well with Keenan Allen and Travis Benjamin. A core like this could allow Rivers to attack all three levels of the defense.
1:8 Carolina Panthers
The Pick: Solomon Thomas, EDGE Rusher, Stanford
The panthers have a huge need at the EDGE rusher position. Thomas was one of many who vaulted themselves up the draft board with a great bowl performance along with an amazing combine performance. Even with the extension of Mario Addison, Thomas provides defensive flexbility and a long term option as well.
Thomas brings a tenacity and has dominated some of the best offensive lineman of the bunch. Along with that, he brings a high football IQ and high character as well. With Thomas you are gettning a player you can trust on and off of the field. Thomas provides a good bend off of the edge along with brute force strength.
The case could be made for Leonard Fournette or an offensive lineman. However, with teams valuing BPA (best player available) other than need…Thomas would make Panthers fans happy if they were able to nab him.
1:9 Cincinnati Bengals
The Pick: Reuben Foster, Inside Linebacker, Alabama
For the Bengals, there sure is a lot of talent. A perennial East competitor, this team took a big step back in 2016. A large part of this was due to the losses of Mohammed Sanu and Marvin Jones. This was paired with the terrible injury woes of Tyler Eifert.
For the Bengals, the selection of Foster adds assurance to the defensive staff. With Vontaze Burfict being a slight headcase, someone to play along side him would be very beneficial.
While the Bengals do need a center and someone to man the edge, it's just seems early for either position. With a class as loaded as this one on the defensive side, teams like the Bengals have the benefit of waiting.
1:10  Buffalo Bills
The pick: John Ross, Wide Receiver, University of Washington
What an offseason for the Bills right!? With Rex Ryan out, the Bills were left with a lot of questions and not alot of answers. Who who be the Head Coach? Would they retain Tyrod Taylor? Well both questions were indeed answered as the Bills got Sean McDermott to be their HC and Tyrod Taylor restructured his deal.
The question the Bills must ask themselves revolves around their standing in the AFC East. Are they a contender? Should they rebuild? With the restructuring of one of my favorite QB's in the league, you'd have to assume that they are trying to contend. However, with Stephon Gilmore and Robert Woods gone, they will either need to spend big or try and build through the draft.
While Deshaun Watson has been mocked here consistently. Watson fits the type of QB that GM Doug Waley covets. However, I believe that the Bills will go in a different direction. Same goes for the EDGE rusher position. With Shaq Lawson basically taking a medical redshirt, his ability to come off the edge should be showcased heavily. With that being said, I think the Bills go with Washington Wide Receiver John Ross. With Sammy Watkins, you are getting a big physical receiver. Pairing him with the blazing Ross will only help Taylor and this offense.
1:11 New Orleans Saints
The pick: Haason Reddick, Linebacker, Temple University
The Saints have always had the offense to compete in the NFC South. Their struggles have come in the defensive secondary. Their defense has had spans of being absolutely garbage. The Saints have invested A LOT of draft capital in the defense. With Sheldon Rankins being the latest of the bunch. Sean Payton even came out to say that DB and EDGE were the top 2 needs for them this offseason.
Also, rumors have been flying around that Brandin Cooks is on the move. Personally, I think they need to flip him in order to acquire more picks. The rumors have shown that the Saints are looking for a 2017 First Rounder AND a defensive stalwart. Before the Eagles signed Alshon Jeffrey, it was reported that the Eagles offered Brandon Graham and their 2017 First Rounder (14th Overall). UPDATE: Cooks to the Patriots. 
While Haason Reddick isnt a name that many common fans are aware of, he is an absoltue stud. This pick is personally based purely off of talent. While Reddick played at Temple, boy does he have potential! He can either bulk up and position himself on the edge OR play inside linebacker for whatever club drafts him.
1:12 Cleveland Browns
The pick: Sidney Jones, Cornerback, University of Washington
The Cleveland Browns need to actually be taken seriously now. Yeah I didn't believe that either, but hear me out. Signing two of the top interior offensive lineman is nothing to slouch at. Also, extending Bitonio and signing Kenny Britt is a step in the right direction.
The Browns have a need at DB, with Jamar Taylor playing admirably…it's time to add onto an up and coming secondary. Sidney Jones is a tough player who was arguably the best DB in the Pac-12. While I have been known to put Marlon Humphrey here, I just believe in the Pac-12 Product.
However in all honesty, I would be SHOCKED if the Browns made this pick. simply because I believe that Jimmy Garapolo will be traded. The package would be steep, but Jimmy G offers the Browns a chance at contention right away.
1:13 Arizona Cardinals
The pick: Obi Melafonu, Safety, UConn
The Cardinals were a few special teams mishaps away from being a contender. However, this team showed signs of fatigue and overall lack of fire. Well that and 80% of your starting offensive line ending up on the IR.
The Cardinals need a QB of the future. This team CANNOT afford to let another offseason go where they dont findn their guy. However, I personally believe that the Cardinals can find a better option next year. The front office has said that there are 5-6 options at the QB position.
With that being said, the Cards just lost arguably one of their top defensive players in Tony Jefferson. While this team usually drafts best player available. They also want to get younger and faster. Melafonu is a fast rising prospect who dazzled in drills at the combine.
1:14 Philadelphia Eagles
The pick: Corey Davis, Wide Receiver, Western Michigan University
What a difference a year makes huh? Matter of fact, less than one year ago the Eagles "threw away" their future in acquiring Carson Wentz. Unfortunately for the Eagles haters, they flipped Sam Bradford for a first round pick. Like most big market teams, the Eagles shored up some of their holes early on. Signing Alshon Jeffrey and Torrey Smith gives them stability.
By most likely taking themselves out of the Brandin Cooks sweepstakes, their needs have been filled for now. With that being said just because you fill a whole doesnt mean that you have to stop.
By taking Corey Davis, you get a legit receiver who has the height weight and speed to effect any field he steps on. Especially with Jeffrey being a free agent after this upcoming seaosn, building depth is how good teams stay good.
1:15 Indianapolis Colts
The pick: Leonard Fournette, Runningback, LSU
The Colts have had one of the most dysfunctional front offices in NFL history. Ryan Grigson was not able to properly iidentifytalent and it cost them. With such GREAT picks like Bjoern Werner, Grigson was forced out of Indy.
The Colts are a rather mysterious team. With barely any offensive line and a horrid defense who just lost one of its best players to retirement (Robert Mathis). That being said I just dont see a way in which the Colts don't draft the best player available.
Honestly, I don't think Fournette lasts until the middle of the first. Some teams were turned off by his combine performance but the dude is still uber talented. The Colts also have the option of trading back. Which always helps.
1:16 Baltimore Ravens
The Pick: Dalvin Cook, Runningback, Florida State University
The ravens have done A LOT to shore up one of the weakest secondary's in the NFL. Much to my dismay they went and signed SS Tony Jefferson and just a few days ago went out and signed reliable Corner-back Brandon Carr. Adding on Eric Weddle, this Ravens defesse will become even scarier.
The Ravens continued their onslaught of the free-agency market by signing free agent running back Danny Woodhead. The running back position was one of weakness for the Ravens. and it has been quite a while since the Ravens had a true bell cow.
With the Ravens taking Dalvin Cook, they get a physical runner who is a three down back. While Christian McCaffrey is a better all-around back, the Ravens basically got that in Woodhead. Why not go after a true workhorse who can take 30 carries a game.
1:17 Washington Redskins
The Pick: Derek Barnett, EDGE Rusher, University of Tennessee
The Redskins have had a tumultuous offseason. With the circus that is revolving around former GM Scott McGloughon, and also Kirk Cousins, this team is in shambles. Losing your number one receiving threat, and two anchors on the defensive line is not good. With uncertainty in the front office, what do the Redskins do?
They started by signing stud D.J. Swearinger. After that, nothing has been done. With the Redskins losing a lot of defensive line depth, the pick of Derrick Barnett makes sense. While he isn't as versatile as some of the other top defensive lineman, his ability to bring pressure off of the edge can surely help the Redskins. This team also HAS to draft best player available.
1:18 Tennessee Titans
The Pick: O.J. Howard
The Titans are hitting it out of the park. They signed one of the top run stopping corners in Logan Ryan. He has the ability to cover as well, which most likely addresses one of the biggest holes on the Titans roster.
With them taking another DB in the top 10, this pick is based upon hearsay. Multiple reports are coming out that the Titans wish to use schemes similar to the New England Patriots. In particular, their amazing 2-Tight End scheme.
With O.J. Howard, you're getting quite possibly the best Tight End prospect in the last 5-7 years. Howard may not have the college production of some of his peers, but he has shown flashes of being special. His Senior Bowl practices forced him into the upper half of the first round.
1:19 Tampa Bay Buccaneers
The Pick: Tre'Davious White, Cornerback, Lousiana State University
The Buccaneers are not the most visual appealing team in the NFL, let's be honest. This team was blown out by teams they probably should have beat, and stayed competitive with some of the best. Jameis Winston flashed some greatness, but has a ways to go.
They went to Washington and picked Desean Jackson up to give Winston the top blowing deep threat he may have been missing. They then went and stole d-lineman Chris Baker from Washington as well. With Baker, they addressed a huge need along the defensive line.
With stars like Kwon Alexander, Lavonte David, and Vernon Hargraeves on the defense, LSU corner Tre'Davious White makes alot of sense. White can play on the corners, however he doesn't have too just yet. With Grimes sticking with the Bucs for a little longer, this pick builds depth at a position they've been trying to fix for a while.
1:20 Denver Broncos
The Pick: Taco Charlton, EDGE Rusher, Michigan University
The Broncos took a huge step back in 2016, with TERRIBLE quarterback play in the form Trevor Semien and Paxton Lynch. With the QB position being in flux, the rumor mill has been running with names like Tony Romo.
However, if I am the Broncos I have other fish to fry. With the huge loss of Demarcus Ware, the Broncos will look to add onto a pass rushing unit that they love to have at least two deep. With Taco Charlton, you're getting a 4-3 edge rusher. While this would be a huge disadvantage, the Broncos staff has always loved creating schemes around talented pass rushers.
1:21 Detroit Lions

The Pick: Jabril Peppers, Defensive Back, Michigan University
The Lions lost Calvin Johnson, and did not really miss a beat. Marvin Jones Jr. looked like an absolute steal. Both him and Golden Tate allowed Matthew Stafford to truly flourish. Theo Riddick dominated the touches in the backfield, and we finally saw that Eric Ebron is actually a good player.
In all honesty, most of the Lions problems are on the defensive side of the ball. With Darrius Slay and Ziggy Ansah being the only big producers, it's time to add a defensive star. That star of course, coming in the form of Swiss Army Knife Jabril Peppers. Deandre Levy hasn't been all that healthy the last few years, so there is a huge hole at linebacker. With Peppers, you get a player who can come down into the box and defend, while also covering tight ends in the slot.
1:22 Miami Dolphins
The Pick: Quincy Wilson, Cornerback, University of Florida
The Dolphins made a huge jump into the playoff conversation last year. With Jarvis Landry emerging as one of the top fifteen wide-outs in the league, The Dolphins were able to also develop a great run game which was led by sophomore sensation Jay Ajayi.
The Dolphins shored up the linebacking position with longtime Steeler Lawrence Timmons. With the trade for Julius Thomas, that most likely takes them out of the running for another receiving threat. With that being said, Reshad Jones could sure use some help in the secondary. As the safety of the Dolphins, Jones has had to deal with below average corner back play. That problem who get solved immediately as Wilson provides a fill-in spot and can contribute massively from day one.
1: 23 New York Giants
The Pick: Garett Bolles
The New York Giants rode the coattails of Odell Beckham to a playoff spot…right!? Well they did somewhat. The front office spent millions of dollars in the prior offseason to make the Giants defensive good. Boy did it work. Damon Harrison was graded as the best run stopper in football, Oliver Vernon produced with good sack production, and Janoris Jenkins entered his name into being one of the top ten corners in football.
That being said, what's next? Well the Giants need to find a left tackle. Ereck Flowers is looking more and more like a bust with each passing day. Bringing in Garrett Bolles would give the Giants many options. For Bolles, he is perhaps the best tackle prospect in the draft. The issue being can he stay on the left side, or rather if he can play either tackles position. Personally, I believe Bolles would be a MASSIVE upgrade over Flowers.
1:24 Oakland Raiders
The Pick: Teez Tabor, Cornerback, University of Florida
The Raiders made a huge jump this season. With Derek Carr behind center, the Raiders were able to finish 12-4 and were able to make it to the playoffs. The season however, did not end well in terms of Star Gun-Slinger Derek Carr as he ended the year on IR. When a Quarterback gets injured, usually a team weakness is the offensive line. The Raiders however, still have one of the league's best.
The Raiders have made smaller moves throughout free agency. With the signings of Jared Cook and Cordarrelle Patterson, this offense has become even more explosive. E.J. Manual also gives them a serviceable backup option alongside Connor Cook. With the team losing Malcolm Smith, the signing of Jelani Jenkins at Linebacker should be fine.
The Raiders have multiple needs including interior defensive line, the linebacking core, and cornerback. The linebacking core should be fine with Jenkins stepping in, there are also options in later rounds. Also, the interior defensive line can definitely be shored up in the second day of the draft. With Teez Tabor, you get a pure man-to-man corner. Tabor doesn't provide electrifying speed, however he is a great replacement for D.J. Hayden. Also, he can eventually replace Sean Smith at CB1 who showed signs of age last season.
1:25 Houston Texans
The Pick: Deshaun Watson, Quarterback, Clemson
The Texans have been one of the more consistent teams in the NFL. Not being terrible, however not really taking the next step. Yes they did have a #1 overall pick recently, however they were able to turn their fortunes rather quickly.
Guided by a strong defense with yearly DPOY candidate JJ Watt, Houston has enjoyed a fearsome defense. Stars have continued to rise with notables like Whitney Mercilus and A.J. Bouye. The problem is, Bouye recently signed with the Jags this offseason. While Bouye is a huge loss, the Texans have lanky corner Kevin Johnson in the bag.
The biggest problem for the Texans was quarterback play. Brian Hoyer was very eh, and Brock Osweiler is most likely the worst free agency siginnign in the NFL's history. While I believe Patrick Mahomes provides more upside, Watson allows you to plug and play with the least amount of interference.
1:26 Seattle Seahawks
The pick: Ryan Ramczyk, Offensive Tackle, University of Wisconsin
The Seahawks are the greatest one ring dynasty of all time. Okay, jokes aside, the Seahawks have had success over the last half decade. The "Legion of Boom" has had many iterations, however this past year it began to break down. Earl Thomas was put on IR when the Hawks were catching their stride.
However, the Seahawks have had one of the worst offensive lines the last two years. I mean, when Bradley Sowell is your starting Left Tackle there's a problem. There was hope when Seattle took Texas A&M Tackle Germain Ifedi in the 2016 First Round. They then moved him inside to right guard.
Like I have stated before, this offensive tackle class is pretty bad. Alot of these guys are tweener's when it comes to playing tackle in the NFL. Ryan Ramczyk has the size but only one year at the position. Tom Cable is one of the best offensive line minds in the league, giving him a talent like Ramczyk would go a long way to solving the o-line issues.
1:27 Kansas City Chiefs
The pick: Patrick Mahomes, Quarterback, Texas Tech University
Alex Smith and Andy Reid are about as perfect a matchup as you can find. Couple that together with one of the best tight ends in the NFL, one of the most explosive wide receivers in the NFL, and an up and coming running back like Spencer Ware.
This team might be the most talented team from top to bottom, in terms of their roster. Let's not forget about Marcus Peters, Eric Berry, and Justin Houston. This explosive yet fundamentlaly sound team was able to win the AFC West, and make it all the way to the Divisional Round. With that being said, the holes on this team aren't to apparent.
That's why Patrick Mahomes makes sense. While Mahomes may not be the best player at this position, he makes sense for many reasons. With taking Mahomes in the first round, you gurantee another year on the players contract in terms of an option. Also, scouts have said that Mahomes has by FAR the most potential out of any QB in this draft.
1:28 Dallas Cowboys
The Pick: Charles Harris, EDGE Rusher, University of Mizzouri
The Cowboys were written off very early. With Tony Romo's back getting pulverized, most believed that this year was another throw away. Not so fast, as Dak Prescott and Zeke Elliot lead the Cowboys to the best season by a rooke quartberack.
The Cowboys have the best offensive line in the NFL, no question, so offensively they're fine. Their biggest issue was their defensive. Daniel Irving showed up as he reached 4 sacks in a limited amount of starts. Morris Claiborne, and Brandon Carr both bolted during Free Agency.
With so many questions on defense, what do you do? I believe the Cowboys will select Charles Harris. I understand that this defense already has Randy Gregory penciled in the lineup, hoewever Gregory has been a headcase off of the field. Harris recently impressed at his pro-day and his endless high-motor should allow him to flourish in Dallas.
1:29 Green Bay Packers
The pick: Takarist McKinley, EDGE Rusher, UCLA
The Packers are the always atop the NFL. The "tradition" with the team has allowed continued success over the last so many years. Aaron Rodgers was masterful last year and will most likely continue to operate in that way. With the return of Jordy Nelson, the Packers offense was officially back.
Defensively the Packers were able to hold themselves together, Clay Matthews continued to his normal thing against offensive lines. The two biggest needs come in the form of a pass rusher and cornerback help. Ted Thompson has failed to find a great corner over the last few years.
With that being said, the loss of Julius Peppers is huge. Meaning that pass rusher is atop their draft boards. Thompson went with a UCLA product in Kenny Clark last year at defensive tackle, and i beileve that Takarist McKinley makes the most sense here. McKinley provides great pass rusing ability and seems to only be on the precipus of his true talents.
1:30 Pittsburgh Steelers
The Pick: Deshone Kizer, Quarterback, Notre Dame
The Killer B's of Pittsburgh have set the AFC on fire. Antonio Brown has set himself up as the best wide receiver in the game, with Le'veon Bell being neck and neck with David Johnson for the title of best running back.
The Pittsburgh defense has been good as well. With terrible cornerback play has plagued this team, they seem to make it work. While the talent isn't there, they make it seem like a smaller weakness. James Harrison continues to get sacks, and Bud Dupree is slowly becoming the pass rusher they yearned for years ago.
The biggest question mark for this team is Big Ben. He questioned his return to football after the loss to the Patriots, and it seems like he's leaning towards coming back. With that being said, why not take a QB? Kizer is a big bodied, strong armed gun-slinger. He still needs time to develop but by taking him in the first round, you get more time to groom him.
1:31 Atlanta Falcons
The Pick: Forrest Lamp, Offensive-Guard, Western Kentucky University
Everything seemed to come together for the Falcons this year. After an average season, the Falcons were able to becoming the Class of the NFC. Vic Beasley came on strong notching 15.5 sacks. Safety Keanu Neal and slot corner Brian Poole also flashed in their rookie years.
When picking 31st of 32nd, that means that you don't really have alot of weaknesses. Which is why I am not going to try and bore you with a wordy breakdown. In terms of how this Mock Draft has shaken out, Forrest Lamp makes the most sense. Lamp provides depth and talent to an already young offensive line.
1:32 New Orleans Saints
The Pick: Joe Mixon, Running Back, University of Oklahoma
The Saints traded their star wideout Brandin Cooks for the 32nd pick. While I may be one of the few who agree with this move, the Saints will have the opportunity to make a splash, and that's something I think they will do.
This leads me to think Joe Mixon makes sense for the Saints. While it is a VERY unpopular pick in terms of team and round, Mixon is still very talented. He will have to deal with his DISGUSTING act of domestic violence. Sadly, I do not think it will stop GM's from taking him in the first round.
In terms of Joe Mixon, let us all remember what Arizona Cardinals GM Steve Keim uttered a little less than two years ago.
GM Steve Keim on weighing off-field issues for prospects: "If Hannibal Lecter ran a 4.3, we'd probably diagnose it as an eating disorder."

— Darren Urban (@Cardschatter) April 22, 2015
That wraps up 1.0 of the BIGPLAY NFL Mock Draft. We have less than 1 month until the actual NFL draft begins. Grab your popcorn.