It's been just under 24 hours since the once promising Bears season kicked off. What the hell happened out there?
Week 1 at home against the Bills was a game that was supposed to be firmly in the win column. With a tough opening few weeks, the Bears needed to get off to a 1-0 start in order to set the tone for a playoff run.
Instead? We're now faced with the reality the Bears aren't who we thought they were.
The opening drive of the game at least, the celebrated Bears offense looked unstoppable. Cutler was surgical completing a 40 yard pass to Alshon Jeffrey and then a touchdown to Martellus Bennett for a quick 7-0 lead. Thoughts of an offensive juggernaut danced in Bears fans heads.
Then, nothing. At times it looked as though Marc Trestman was trying to do too much — flea flickers, fancy bubble screen passes, roll out passes to nowhere. Cutler looked like vintage Cutler… and that isn't a good thing. Every time you thought he was righting the ship and would lead the Bears to score, he made a patented horrible decision which yielded two interceptions —  the first can be blamed on Bennett, but it looked like Cutler under threw it into coverage. Worst of all, Cutler pouted on the sidelines after both — the Bears need him to be a leader this season, especially after their poor start.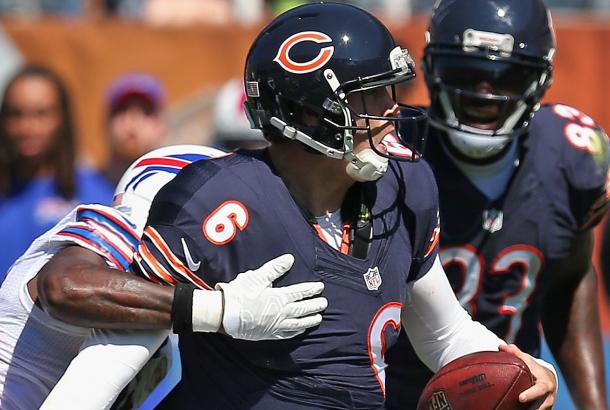 Never expecting much from the defense, they failed to surprise us. CJ Spiller, Fred Jackson and Anthony Dixon ran for a combined 193 yards against the Bears. That's not a good sign for when they play the 49ers and Colin Kaepernick next week. Jared Allen, the team's biggest off-season addition, was a non-factor for most of the game making EJ Manuel finally look like the first round pick he was in 2013.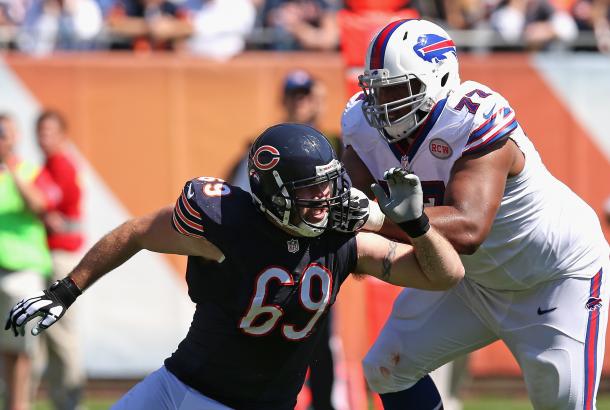 If the disappointing offensive performance and swiss-cheese inspired defense weren't enough on Sunday, the team looks fragile as well. Matt Slauson and Roberta Garza both missed playing time (Bears can't afford to risk putting Cutler behind a second team offensive line), and Jeffrey didn't play the entire second half. All reports suggest Alshon should be back next week, but without him on the field serving as a deep threat, Marshall did not pose any challenge to the Bills secondary.
It's still way too early to give up hope, but the Bears need to seriously take a long hard look at themselves before next week's game. This team is built to win now — not next year or three years down the road… Cutler is in his prime and has arguably the best wide receiver duo in the league. All we can do now is hope the Bears can ruin the 49ers christening of Levi's Stadium and leave the Bay Area with a much needed win. That unfortunately doesn't seem likely.