Antonio Brown found his way back into the headlines again.
Back in July, AB showed up to training camp in a hot air balloon. Brown usually arrives in something fancy anyways but he wanted to mix it up a bit.
Clearly, he didn't land on any practice field, but you get the idea.
Very shortly after that, he was placed on the non-football injury list. I assumed it was Jon Gruden laying down the law in regards to AB's antics but it might have been the result of not taking proper precaution in regards to his training.
About a week later, AB posted a picture on his Instagram of the bottoms of his feet. Unless you're one of THOSE people, pictures of feet, in general, are never good. And in this case, I'd be right.
For those of you who haven't seen it yet, and those that can't get enough.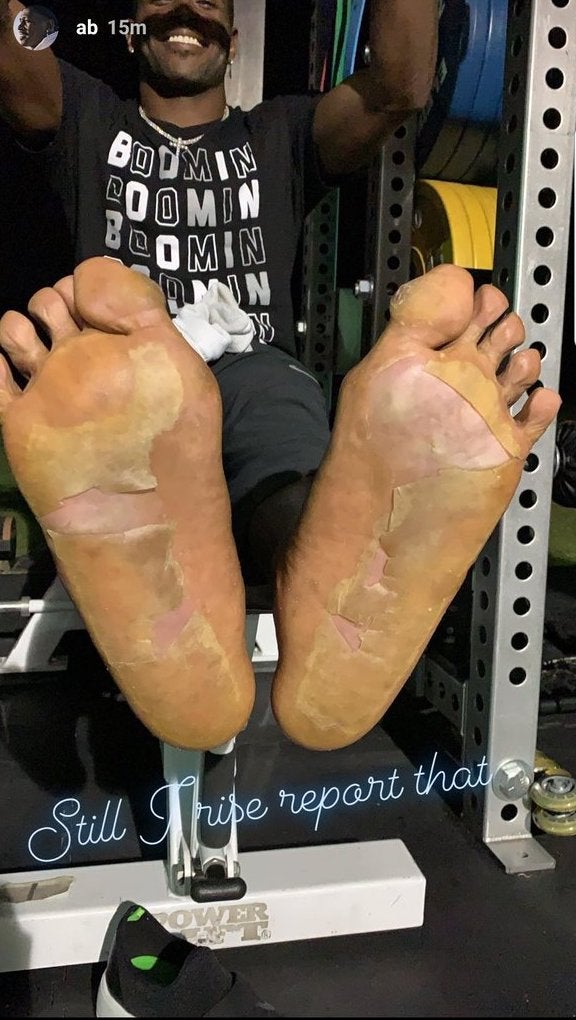 Apparently, Brown did not have the proper footwear when inside one of those fancy cryogenic therapy chambers.
Per this article, written by Paul Guggenheuner of Tribelive, Brown is no stranger to these chambers and should have known to wear protection. On top of that, experts say anyone using the chamber has to wear layers on their feet as well as gloves on their hands. Brown clearly wasn't following directions or the employees there were negligent.
The piece went on to say that Brown should have known something was wrong because his feet would tingle, burn and eventually go numb. There's no clear story as to what exactly went down in that chamber but whatever it was, I doubt OSHA would approve.
At this point, there's no the way to tell how this injury will affect Brown, the doctor in the article said frostbite can take one to three weeks to heal but if it's worse, he could lose all feeling in his feet.
Brown has yet to participate in a full practice, it's already been two weeks and their first preseason game is Saturday against the Los Angeles Rams. It's unclear as to what exercises Brown is doing to keep in shape but we know he hasn't been able to work with the team.
That being said, it seems as if AB has gone MIA since word came out about his mishap. Per Chase Williams, the Raiders have not heard from Brown nor do they know the severity of his injuries.
If the foot problem is worse than it looks, then AB might be kissing his career as a wide receiver goodbye.
Furthermore, Adam Schefter just reported that Brown has filed a grievance against the NFL in regards to the type of helmet he can wear.
Schefter states that AB has been wearing this specific type of helmet for years, but it has since been discontinued and the NFL no longer allows players to wear them because they are not certified by NOCSAE — the National Operating Committee for Standards and Athletic Equipment.
There could be a hearing next week to see who wins this battle, but if the NFL declines AB's request he will have to find a new favorite headpiece. Keep in mind, players that don't wear the appropriate helmet will be disciplined, something the league is serious about enforcing.
The article also states that this has been an issue since training camp and could be one of the reasons why AB hasn't been seen around.