There's nothing better than fantasy football, a cooler full of Bud Lights, and NFL Redzone…unless you drafted Dez Bryant or Tony Romo. In that case, it's time to crack open that cooler and enter a free fantasy lineup to win 1 million dollars. It's free, 85,000 people get paid out, so you might as well be one of them.
Last week we made you a 33% return on our lineups. If you didn't play alongside us, that sucks. But don't worry, we're back at it this week. So pretend you're back in high school, and lean over the desk and copy our picks.
Enter your free lineup here, courtesy of bigplay.com using the promo code: BIGPLAY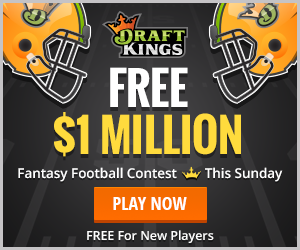 Here's 3 Sunday lineups, ranked by confidence, that we think will make that 85,000 person cut.
3. In Peyton We Trust
Peyton Manning has been abysmal thus far in 2015. Although he did rally after throwing yet another pick 6 last week, it doesn't exactly breed confidence heading into week 3. Having said that, Peyton Manning faces off against the 0-2 Lions who have struggled in every aspect of the game. A tandem of Manning and Demaryius Thomas is too good to pass up in what could end up being a shoot out. Going slightly cheaper to snag Manning leaves room to start Jamaal Charles at RB1 with Ameer Abdullah as our Sunday wildcard.
We expect big things out of Michael Crabtree against the Browns' secondary, and a pass heavy Lions to target the versatile Eric Ebron all game long.
2. Big Ben to Antonio Brown
We're playing with house money this week thanks to Big Ben and Antonio Brown, and we see no reason to take the foot off the pedal now. While it's possible that the two could fall off slightly with Le'Veon Bell back in the lineup, the impact should be extremely minimal given how productive DeAngelo Williams has been thus far.
Starting two cheap running backs is always dangerous, yet we have more faith in these two studs than most upper echelon backs this week. Dion Lewis has found his niche in New England, while Latavius Murray should roll over the 32nd ranked Browns run defense.
No wide receivers have been more consistent that Landry and Marshall, while Moncrief has reaped the benefits of a scrambling Andrew Luck. Add our sleeper Ebron back in, and we've got our 2nd favorite lineup this week.
1. The Perfect Lineup
Whenever you can swing a lineup starting Tom Brady, Rob Gronkowski and Adrian Peterson, you do it. Let's face it…all 3 players could arguably be first rounders in your season long league. After paying up for the trio, it's time to find some value plays.
Gio Bernard should see roughly 50% of the snaps in Cinci. Marvin Lewis will trust Bernard over Jeremy Hill in the redzone based off of last weekend's fumble fest, warranting a Bernard start in week 3. Crabtree will see multiple targets against Cleveland's weak 2nd string cornerback in Tramon Williams, while Larry Fitz and Stevie Johnson remain their respective QB's favorite targets yet again this week.
Look for Dallas to trail early, leading to some deep Brandon Weeden bombs to Terrance Williams. As long as he can bring in at least one, he's worth the value pick.
Oh, and enough money to start Seattle's defense vs Jimmy Clausen and the Bears. Yes please.
Enter those lineups and win big, bros. We've entered all 3 of these today, so copy us and split that money. We're not greedy.
Enter here for free using the promo code: BIGPLAY