There's nothing better than fantasy football, a cooler full of Bud Lights, and NFL Redzone…unless you drafted Dez Bryant. In that case, it's time to crack open that cooler and enter a free fantasy lineup to win 1 million dollars. Costs zero dollars, 85,000 people get paid out, so you might as well be one of them.
Enter your free lineup here, courtesy of bigplay.com using the promo code: BIGPLAYFANTASY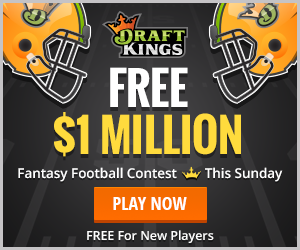 Here's 3 Sunday lineups we think will make that 85,000 person cut and make bank.
3. In Luck We Trust
Andrew Luck is poised to rally from an average performance last week against a sub-par defense in the New York Jets. If Josh McCown can easily drive the field before getting concussed, Andrew Luck should have a field day.
Cole Beasley is the sleeper in this lineup, and is a bit of a wildcard. This is our third favorite Sunday lineup.
2. Big Ben to Antonio Brown
All Antonio Brown does is catch footballs. He's poised to go off against a San Fran defense that outplayed their talent level last week.
We think that Carson Palmer's hot streak continues into week 2, with Larry Fitzgerald the key contributor in the red zone. Jason Witten and Terrance Williams will be Romo's top two targets all day long, so we feel that playing Romo's favorite receiving tandem will pay off big time.
Add in a solid core of RBs, and Stevie Johnson as our sleeper…and you've got our second favorite lineup this week.
The Perfect Lineup
Our top lineup includes a 1-2 punch of Drew Brees and Brandin Cooks. We feel that Cooks is going to have a breakout game, with at least one long bomb for a TD.
We've been high on Ameer Abdullah since the preseason, and Detroit's OC is starting to agree with us. Look for Abdullah to significantly out carry Joique Bell for big yardage. Combine him with Matt Forte and Jeremy Hill, and you've got an insanely talented RB core.
Lastly, after Drew Brees and B. Cooks go off on Tampa Bay early, Jameis Winston will be chucking the pigskin all second half…including a TD to his safety blanket, Seferian-Jenkins.
Enter those lineups and win big, bros. We've entered all 3 of these today, so copy us and split that money. We're not greedy.
Enter here for free using the promo code: BIGPLAYFANTASY