Welcome to THE Mock Draft of BIGPLAY…okay that might be a stretch but we will roll with it.
Football is over. However with the end of non stop action and brain rattling hits, comes Mock Draft Season. Where schmucks across the media try to assess college football players and put lofty expectations on them, only for them to not reach their full potential.
Some people hate mock drafts, while others love them. Of course a large chunk of you are probably Browns fans, who live and die with the draft (sorry).
Let's set up the ground rules here, this mock draft will be a little different than your normal mock. Following along with the BIGPLAY motto that our readers attention span is 30 seconds max, I'm going to be short and to the point.
Let's begin!
1:1 Cleveland Browns

The Pick: Texas A&M Edge Rusher Myles Garrett
The pick has to be Myles Garrett. Yes, the Browns have absolutely BUTCHERED the QB position in years past. It's very well known. However, with the uncertainty revolving around Trubisky, Watson and co. it would be another mistake to reach on a long term development piece.
Garrett has the ability to step in and help a Browns defense that is in fact,well…not good. He provides power and speed off of the edge, and can play standing up or with his hand in the ground.
Obviously the video of him clamoring for the Cowboys to trade up may rub Browns fans the wrong way, but all in all his production on Sundays will make fans happy for years to come.
1:2 San Francisco 49ers

The Pick: UNC Quarterback Mitch Trubisky
The 49ers shocked the world in multiple ways. First they hired John Lynch as their GM. They made a smart hire of Kyle Shannahan. However, they gave both of them 6 year deals, while also giving Lynch control over the 90 man roster and Shannahan control over the 53 man roster.
This pick is rather tricky, while the 49ers DESPERATELY need a QB this roster is 10-12 players away from being good. The smart move would be to trade back and hope to gain a few extra picks.
In any instance, Mitch Trubisky is the guy here. There can be a case made for Deshaun Watson, Trubisky provides a higher ceiling. Meaning that Trubisky may not be better than Watson at the moment, he "will" eventually surpass Watson. Trubisky only has one year of starting expereience, however is very capable of making throws within the pocket. The identification of defensive schemes will make of break the TarHeel Star. With 6 years to create a winner, look for Shannahan to build from the most important position on the field.
1:3 Chicago Bears
The Pick: Alabama Defensive Lineman Johnathon Allen
The Chicago Bears are one of those teams that have been very close to competing. I mean, they should be alot better than their record indicates. With that being said, the poor play of Jay Cutler and actually playing Matt Barkley have lead them here.
While quarterback is of the most need to the Bears, I feel as if they will find a signal caller through free agency. My guess right now would be Mike Glennon.
With quarterback off of the board (somewhat), the Bears should select Johnathon Allen. Allen fits more with a 3-4 team, with his ability to play all three line positions. With a good pass rusher like Pernell McPhee, having Allen cause chaos would help the Bears defense immensely. Allen will have to reassure teams that his recent shoulder surgeries went well, but otherwise this is a top flight player.
1:4 Jacksonville Jaguars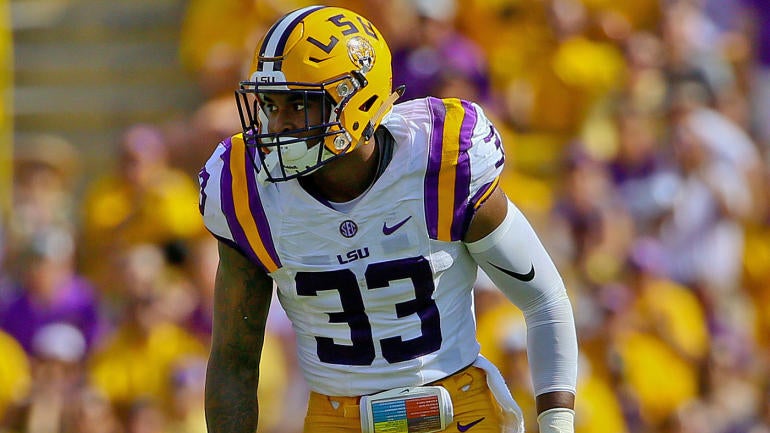 The Pick: LSU Safety Jamaal Adams
Stop me if you've heard this before, "The Jags are going to compete for the AFC South Crown this year." Welp they definitely didn't, which led to the firing of Gus Bradley. Blake Bortles was atrocious, with mechanics issues coming back to haunt the young gun-slinger.
The positions most likely to be drafted by the Jags would be QB, and LT. Well, you're not going to pick a QB at number 4 when you have Bortles. Look for them to hit that position in Day 2 (Rounds 2-3), while they have addressed the left tackle spot by trading for Brandon Albert.
With 2016 1st round pick Jalen Ramsey playing like a stud, the cornerback position should be fine for years to come, however a talent like Jamaal Adams doesn't come around that often.
1:5 Tennessee Titans (Via LA Rams)
The Pick: Ohio State University Safety Malik Hooker
I've been a fan of Marcus Mariota since I can remember, however no one could have expected a jump like what we saw in the 2016-2017 season. Sadly his year was ended with a freak leg injury, but he should be fine. Rookie Derick Henry also made a huge impact as well.
The 9-7 Titans had two HUGE weak spots. The wide receiver core and the secondary were huge issues for a team that could have won the horrid AFC South. With that being said, I expect this team to go after the top wide receiving targets in Free Agency. This team has a lot of money to spend and not a lot of high priced guys to resign.
The pick here is Malik Hooker, I know some people think he will be available at pick number 12 (cough BIGPLAY President Davey Mac) but Hooker is such a talented safety that you cannot pass on him. Hooker is a day one starter who will use his ball-hawking ability to help this up and coming Titans Defense.
1:6 New York Jets
The Pick: Ohio State University Cornerback Marshon Lattimore
The J-E-T-S need a Q-B. However, this class is rather weak and I expect the Jets to compete for a Free Agent Gun-Slinger. That being said this team STUNK last year. Their best players just so happened to be on the defensive line with guys like Leonard Williams.
Conventional thinking would point to a pass rusher being the pick. BUT NOT SO FAST MY FRIEND! There are a lot of pass rushers available in the draft and the Jets can wait. A guy like Tim Williams could be available in the second round.
Besides the quarterback position, the Jets just released Darelle Revis, which pushed corner help to the top of the list. The pick here is arguably the best corner in the draft, in Marshon Lattimore. A good corner who should thrive under Todd Bowles.
1:7 Los Angeles Chargers
The Pick: Clemson Wide Receiver Mike Williams
The Chargers are not bad…but they're not great. This team is stuck in a terrible purgatory between being a contender and being in Cleveland Browns Territory. The Chargers could not seem to catch a break in terms of finishing games out, or losing in the last few seconds.
There were some positives to this past season. Joey Bosa is LEGIT, an edge rusher who can line up across the defensive line is a future star in this league. Next, Melvin Gordon actually scored a touchdown…he actually scored a lot. The negatives revolve around a terrible record, having to move to LA, and the loss of Keenan Allen.
In any other draft, this pick would have been an offensive lineman. However with this years offensive tackle class being loaded with one year starters, I expect the Chargers to build a top wide receiving core with the number one wide receiver in the class in Mike Williams. Williams can be a red zone beast, and work well with Keenan Allen and Travis Benjamin. A core like this could allow Rivers to attack all three levels of the defense.
That's all for this week. Next week we will tackle picks 8-15.
If you would like to tell me how terrible my takes are, then you can find me on twitter @Alex_Boxwell.