Lebron's not so bad. He's won a bunch of titles and seems like a good guy! Dywane Wade is funny and dresses really cool! Bosh, well he's not even weird looking anymore, right? It's easy to get lost in the multiple titles this team has and will win…but let's not forget what absolute douche bags they are. Remember these when you are watching the finals this week. Click next to continue.

Lebron Got Posterized and You Never Saw It

Lebron got dunked on at his high school basketball camp during a pickup game years ago. Remember seeing the footage? Of course not. He and Nike confiscated each video from the event so it never leaked to the internet.
Pat Riley Told Lebron to Drop #23

"If I'm not going to wear number 23, then nobody else should be able to wear it" -Lebron James.
Pat Riley convinced Lebron that he should not wear Jordan's number. Lebron agreed, but made a big fuss about it because he wanted to make sure everyone knew he was the best.
 "Stay White, Miami!" – Micky Arison
Spoken like a true rich kid in the stands who inherited his father's fortune…who also wears all white and goes clubbing before each game ends.
This.
No Kobe Jerseys Allowed

In Vegas, a guy wore a Kobe Bryant Jersey to a pool party that Lebron James attended. The man was forced to remove his jersey because Lebron didn't like it, and later was removed from the party. This was particularly douchey because I saw it first hand.
Their fans are even douchier than the players
The fans left early in the 2013 Finals in which Miami sent the game to overtime and eventually won. But they got to the club 5 minutes earlier than expected. In purple uggs.

Shane Battier Dresses Like a Douche
Shane Battier. His doucheness is largely overshadowed by the Big Three. Yet he once showed up to a Cubs game in camo cargo shorts and a tuxedo t-shirt. Funny if you're not a huge prick. Also, everyone in the league despises him. Case and point.
Chris Bosh said he was a lock for the hall of fame.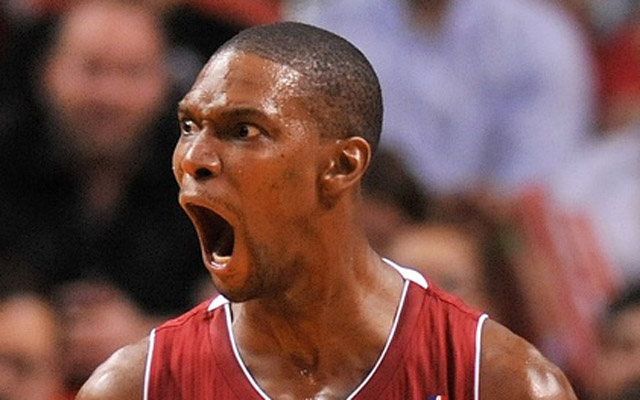 The only lock Chris Bosh has secured is as an extra in Jurassic Park 5. Also let's not forget,
Dywane Wade's Relationship Status
Dywane Wade cheated on his wife to hook up with Gabrielle Union. I don't blame him. Then he decided to propose to Gabrielle Union.  Good move. Then…he decided to knock up some chick while engaged to Gabrielle Union. Classy. However, the worst part was his apology for cheating…which he delivered via Instagram . Are you in 6th grade? You are a fucking loser.
"My #WCW my #beautifulblackqueen… My Life mistakes gave me you and my life mistakes almost made me lose you but your love has conquered all and I hope to spend the rest of my life with you."
 Cut My Steak Up
During his time in Cleveland, Lebron spent many a nights at a local steak house. One time (and probably many other times before this), his waitress brought him his steak. He looked up at her and demanded it be cut up for him right there on the table. Lebron James…the most powerful athlete of the modern era, incapable of cutting his own filet. To be fair, he did not require the waitress to feed it to him.